Patrick Rand, FAIA, DPACSA, Receives Fulbright Distinguished Chair Award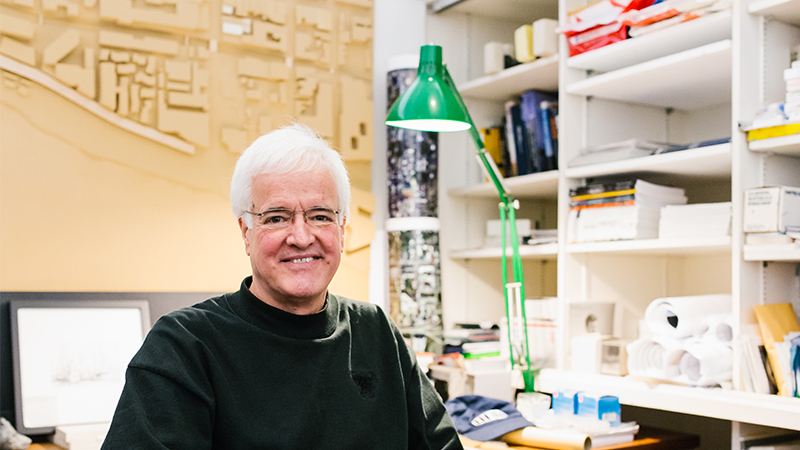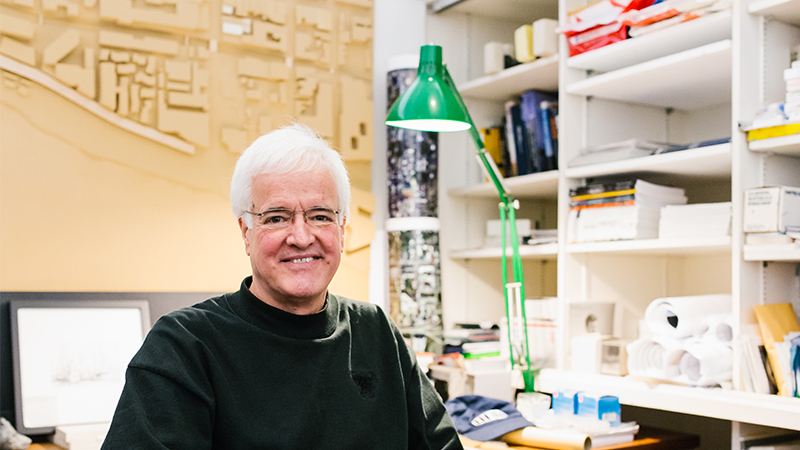 Distinguished Professor of Architecture Patrick Rand, FAIA, DPACSA, has become one of the first NC State recipients of a Fulbright Distinguished Chair Award. This award is highly competitive and is considered one of the most prestigious scholarships in the world. To be considered, applicants must be eminent scholars in their discipline and have a significant publication and teaching record. Rand will use his award to teach and research at Aalto University in Helsinki, Finland, from January to May 2019.
The Fulbright scholars program began after World War II as a way to encourage mutual understanding between the United States and foreign countries by the exchange of knowledge and skills. Rand says that he had been interested in pursuing a Fulbright position for some time. "I've always had a lot of respect for Fulbrights. The motive to have some kind of international exchange between faculty and students makes a lot sense." Even in the current age of information and vast scholarly publications, some areas of knowledge are "provincial and regional," and visiting the country, collaborating with other academicians, and investigating local texts and methods can open up new ways of thinking by "making regional knowledge accessible to a larger number of people," Rand says.
With this in mind, Rand submitted a Fulbright proposal outlining a 50-50 split of his time in Finland between teaching and research. He hopes to teach a graduate-level seminar, Materials for Design, similar to one he teaches at NC State. The seminar is interactive, requiring students to "find extraordinary projects and report about them," Rand says. Students do this by asking probing questions; leading discussions; and analyzing design, materials, and construction techniques to reveal key principles and technical innovations. Rand has successfully used this seminar format at NC State since 2009 and believes it will be a good fit because "Aalto University and our College of Design are very similar in our approach to architecture. Their highest priority is to prepare their students for cutting edge practice."
In his own investigation into Finnish built works, Rand has noted that "Finnish designers create architectural solutions that consistently address the complex challenges of sustainable design, natural resource management, and the timeless quality of design in a manner that merits more global exposure than it currently receives." He plans to investigate extraordinary Finnish buildings using a method similar to what he teaches in his seminar—a case-study method that questions "how contemporary architects insightfully connect design intentions and materials." He will be looking specifically at the "virtues and limitations" of the building materials and how the built work expresses the intrinsic material virtues and solves intrinsic limitations imposed by the materials. Additionally, Rand will also explore the process of material production and installation and the "uniqueness" of the embodiment of the material.
As a secondary research objective, if time and circumstances allow, Rand would also like to examine a set of Finnish documents called the Rakennustieto (RT) Building Information documents published by a Finnish nonprofit. Rand became aware of the RT documents when a Finnish student, Hanna Kuivalainen, took his Design of Architectural Details (ARC 534) graduate seminar in the spring of 2013. Kuivalainen was able to skillfully "fold difficult, technical areas into her design process," Rand says, partially because of her familiarity with the RT documents. The RT documents, Rand explains, "are the authoritative source of data on construction materials and assemblies in Finland, which all architecture students use in schools and all professionals use in practice." The RT documents, printed in small pamphlets, are available via subscription and are constantly updated with the most current knowledge. They are especially interesting, Rand says, because they "address standards of construction in a challenging climate, and they may provide lessons for designers in other settings," yet they are only published in Finnish and are virtually unknown in the United States. Rand notes that while much of the knowledge demonstrated in the RT documents may not be new, the approach or method may be. "The laws of science are global; our design responses to these laws should not only be local."
As a result of this exchange, Rand hopes to inspire students at his host and home universities and bring the lessons he learns in Finland to NC State and possibly beyond by writing articles or perhaps even another "Materials for Design" book. Though he will miss teaching at NC State for the six months he will be in Finland, Rand focuses on the long-term benefit to his students. "It will be good for my students at NC State and it might be good for the students at the host institution to see what people from other places have to say and have to teach about architecture and design and construction." Just as Rand encourages his students to "be more bold, be more ambitious with their design," he has designed a bold and ambitious experience for himself—"it will be challenging and exciting. Why not? It is a privilege to be able to represent our College and our University to another institution."
Only around 40 Fulbright Distinguished Chair positions are awarded annually. Rand's extensive Fulbright proposal went through seven rounds of review and included letters of recommendation graciously written by Head of the School of Architecture, Professor of Architecture, Co-Director Coastal Dynamics Design Lab David Hill, AIA; ACSA Distinguished Professor Emeritus of Architecture Roger Clark, FAIA; Professor Peter MacKeith, dean of the University of Arkansas Fay Jones School of Architecture and Design; and Professor Pekka Heikkinen, department head of architecture at Aalto University. Walter Jackson, Ph.D., from NC State's Department of History, also received a Fulbright Distinguished Chair Award in 2007.
---
Staci Kleinmaier is a professional writer and photographer living in Apex, North Carolina. She uses words and images to tell stories. To see her work, visit www.stacikleinmaier.com.