Designing an Entrepreneurship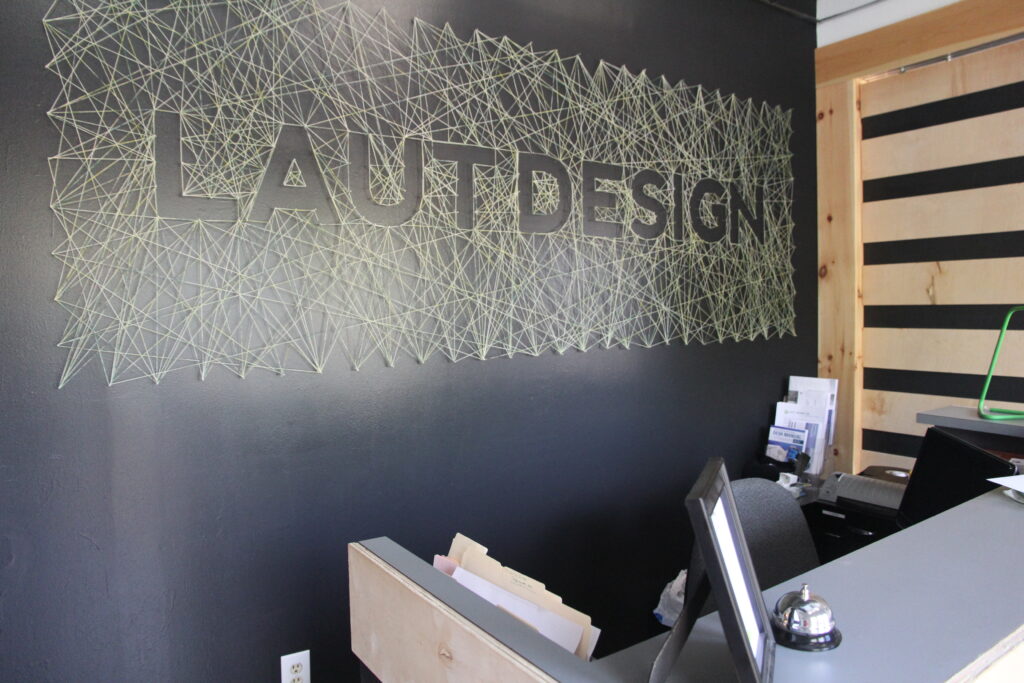 Alumnus Michael Laut, founder of the Raleigh-based product and brand design firm LAUT Design, grew up working on cars with his father and harboring aspirations for a career in automotive design. Unaware that a discipline of study like industrial design existed, Laut applied and was accepted into the Art + Design program at NC State in 2004, due in part to the recommendation of a friend who had attended Design Camp and the advice of a peer in the automotive industry that he should pursue a degree in art.
Laut's intent in going into Art + Design was to later study automotive design in graduate school, but his experiences at the College of Design quickly led him in another direction.
In his First Year studio, shared by incoming students of all studio-based majors in order to learn the fundamentals of design, Laut noticed his fellow industrial design students were working on projects that most suited his interest. In his sophomore year, he took his portfolio of everything he was working on for fun – in parallel to his schoolwork – to Associate Professor of Industrial Design Bryan Lafitte, who recommended him into the ID program for his junior year. It was a change that jumpstarted Laut's future career.
"I loved industrial design so much that I actually started [LAUT Design] as a junior out of my apartment, doing sketches at my coffee table with a couple of my friends," he says. "By the time I finished undergrad, I had built this to a point where I had four people working for me, and had saved up enough to buy a house."
Laut stayed at the College of Design after completing his Bachelor of Industrial Design in 2008, intent on pursuing a graduate degree in industrial design as well. Concurrent to his studies, he laid the groundwork for a product design startup that began to flourish, even in the height of an economic recession. He moved the business into the two-car garage of his new house, where he and his hourly employees — most of them his peers and friends from the College — mocked up sketches for prototyping. Even his masters thesis involved designing and producing a business case for a three-axis CNC machine that could be used to assist in the prototyping process.
"My thesis was half design project and half MBA-type project," Laut explains. "Which really helped, and it was really fun, because the numbers I was throwing around weren't theoretical. It was like, 'I'm going to go do this as soon as this project is over.' And so I got to see immediately the result of the time I put in, and it made me spend way, way more time on it than I probably needed to."
Some of his peers in the graduate program might have thought he was "playing house" with his desk and his tools and his client list, but "I was coming home and doing the real thing at night and trying to get the business off the ground," he says. He pitched his master's thesis to Associate Professor of Industrial Design Sharon Joines with some anxiety, believing his project needed to be more grounded in academic theory. "I sat down and told her what I wanted to do, and she said 'That sounds awesome. Tell me what you need.' It was great, because my master's degree really gave me the time to go do some of that work. I knew that if I had taken even a semester off in between I would've never made it back to grad school."
It's no small feat to grow a business while still in graduate school, or to house a business that uses tools like bandsaws, planers, sanders, CNC machines — many of the same tools students use in the College's Materials Lab — in small apartments, garages, and single-room offices. But the hard work and support from the industrial design program has paid off. Laut graduated with a Master of Industrial Design in 2010 and, after riding the wave of the recession, now runs a prosperous product and branding firm whose clients range from fortune 50 companies to tech startups to mom-and-pop companies looking to bring a product idea to life in a broad range of industries.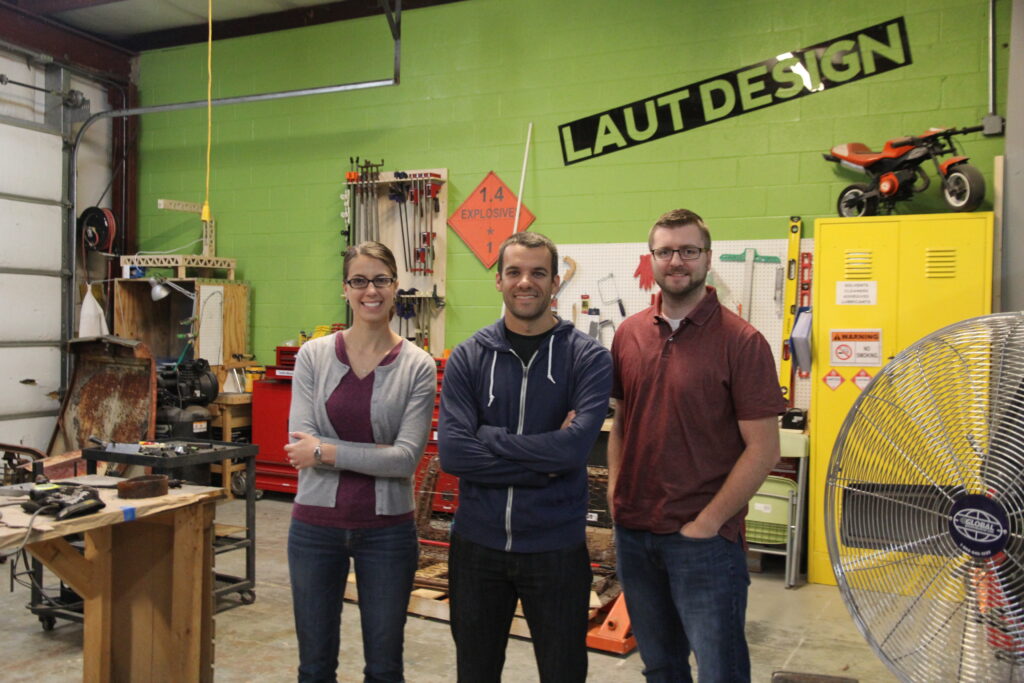 "We follow a design process that's the same as what NC State teaches: from research and ideation into concept modeling, prototyping and iterative steps, and then eventually design for manufacture," Laut says. And their employees include many NC State Design alumni as well — six, to be precise, including '08 BID alumnus Steve Bockmann and '13 BGD alumna Karen Widman. Laut considers the skills they've acquired from the Design program invaluable. "I've never been anywhere that's been superior to NC State's ideation program. They're putting out student work that's a cut above every semester. The interns we bring on from NC State — even they are able to ideate at a level higher than most of our job applicants are."
Laut values the lessons, skills, and experiences he's gained at the College of Design so much that he gives back by sharing that knowledge with younger generations of designers. He considers it rewarding to not only pass on his expertise to future candidates that will go out into the workforce, but also to share the world of industrial design with kids who, like him, grew up not knowing what it was. Currently he speaks on guest panels every summer at the high school Design Camps and teaches classes at the College of Design on Digital Ideation, Basic Ideation, Product Aesthetics, and Intermediate Drawing.
There's a bit of a personal component, too. For Laut, "teaching is a really cool way to keep up the skills that I don't get to do at work every day like I used to, and it's a great place to meet who our business will depend on in a lot of years."
But Laut also values giving back through financial means, too. "It allows you to direct where the money goes maybe a little bit more than it would with other places. If we want to buy a piece of equipment that [the College doesn't] have, [we can] donate it so that way students learn it. And when they come out of school, that's a skill they have that they wouldn't have had otherwise."