Making a Difference through Design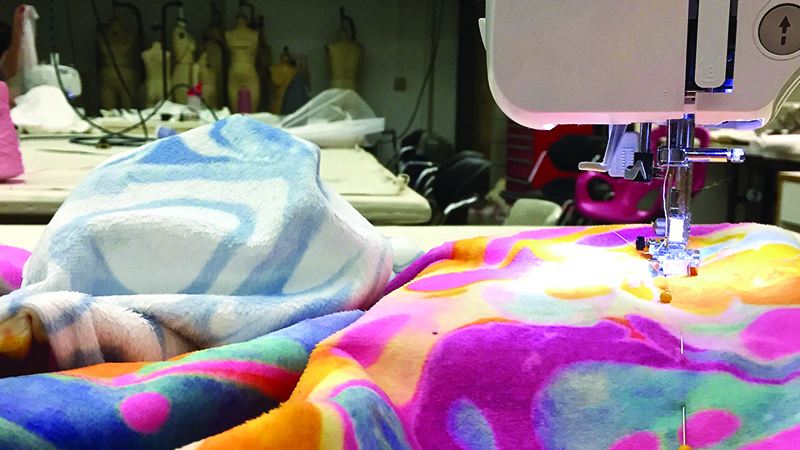 Sydney Jones, a senior in Art + Design with a focus on fashion and fibers, is finding ways to use her work for the good of others. "I've always been involved in service projects with my church, I volunteer in the soup kitchen, and I did Dance Marathon here [at NC State], which I've been participating in since freshman year. These opportunities are social and fun, and I've loved [participating in them] so much that it has led me to do more. Community outreach is something I love—I really like helping people," states Jones. Her senior project pays tribute to this passion.
Jones grew up in Wilson, NC, and was interested in art throughout high school, but she didn't truly understand what design was. She knew that NC State had a design program, and during a tour learned about the Art + Design degree and became hooked. "I like the program because you have more freedom," she states. In sophomore studio, "I learned I have an eye for pattern. We did many pattern projects, including a basic intro to pattern manipulation." Jones also enjoys photography, and through experimenting realized that she could take pictures of random things that drew her eye and then manipulate them with programs such as Adobe Photoshop to produce unique patterns. She was also influenced by Mallory Short [BAD '15], who is an avid photographer and a recent A + D graduate.
One of the pattern techniques that Jones recently discovered and has become focused on is the Japanese art of Suminagashi or "floating ink," which is the process of marbling plain paper with water and ink to transform it into something vibrant and colorful. She learned this technique while assisting Associate Professor of Art + Design Katherine Diuguid over the summer at Penland School of Crafts.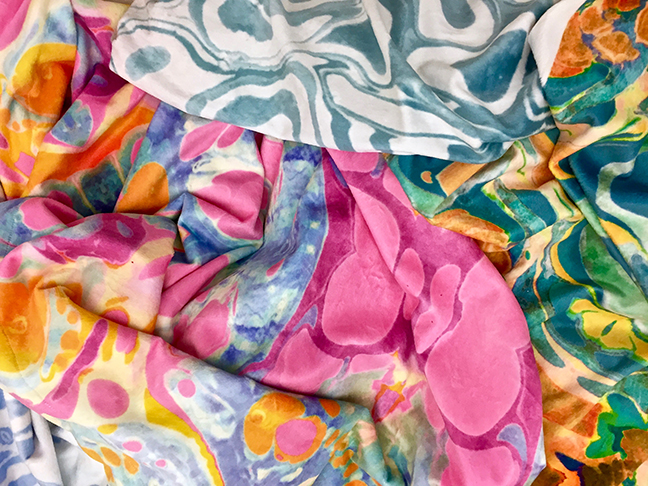 Earlier this year, Jones was awarded an internship with Arts for Life, a NC-based nonprofit that brings art education to children with serious illnesses and disabilities. Jones works at the Duke Children's Hospital & Health Center in Durham and follows in the footsteps of Diuguid and alumna Madison Bergen [BAD '15], who also participated in the program. For Jones, this is a perfect way to use her talents, passion, and energy to make a difference. In this role, she teaches art projects to patients and their families that can lighten the mood and sometimes provide the perfect distraction. "It's a good thing. I love the program, and it's such a great way to get involved," she says.
Jones realized she could do more and decided to develop something that could benefit the patients and bring cheer to their hospital environment. She was taking Diuguid's newly introduced class, ADN480: Product Development, which teaches students all of the steps, from packaging, fitting, sampling, and costing to construction, of developing a complete product. From this, she derived her Miracle Makers Collection. It is a line of patterned home goods aimed at adding energy, color, and positivity to a hospital environment, specifically for children and teens facing illness. Jones' sensitivity to patients dealing with an illness and her passion for interiors and patterns were catalysts for her product idea. "Often, kids bring their own bedding to the hospital for comfort and security, and I think there is a need to change this," she says.
Using the technique of Suminagashi, Jones developed patterns that represent cellular motifs, beautifying the original idea of the cell. "They don't scream, 'cells'—it's about bringing something different—a new twist on illness." The images might even bring patients some subtle awareness. "Why not use the idea of cells to do this?" she asks.
Jones explains her process for developing the prints she uses in her fabrics: "I make the motifs by hand, usually by painting or with a pigment dye. You drop different colors of pigment into the water and they float on top; then you dip the paper in and it [the pigment] adheres to the paper and forms these unique patterns. I then scan the pattern into the computer and manipulate them with photo editing programs and color manipulation to produce my final patterns." Her color palette is bright and playful. "The colors are happy colors," she states. "They are inspired by color research and influenced by works from Paul Klee and [Henri] Matisse."
This project was partially sponsored by Spoonflower's Emerging Designer Grant, which she received last fall. The award has funded the custom fabrics used in her products. She has also reached out for ideas and insights from Madison Bergen, a visual arts instructor at The Enrichment Center in Winston-Salem, a day center for adults with special needs and disabilities. "I asked Madison how art therapy helps patients, as I think it's important to address the connection between art and healing," says Jones.
The product Jones developed is a "hope tote," which she would like to see gifted to patients on their arrival and sponsored by area businesses. The totes would be made with the custom fabrics she has designed and would contain a blanket, pillow, and items that provide enjoyment and creative activities, such as coloring books. In addition, she may add a booklet providing information on local restaurants, activities, and attractions, which is often requested by patients and their families. The same businesses sponsoring her totes would be included in the booklet.
Jones is producing 10 hope totes with her own money. She plans to raffle them off at the Duke Children's Hospital with the intention that funds raised will support the hospital. She has other ideas and plans to continue developing unique products that have a positive impact and provide support to patients in a hospital environment.
"It's been a great experience, and I'm looking forward to what comes of all this," she says.