Hany Gaballa's Success Story: A Journey of Persistence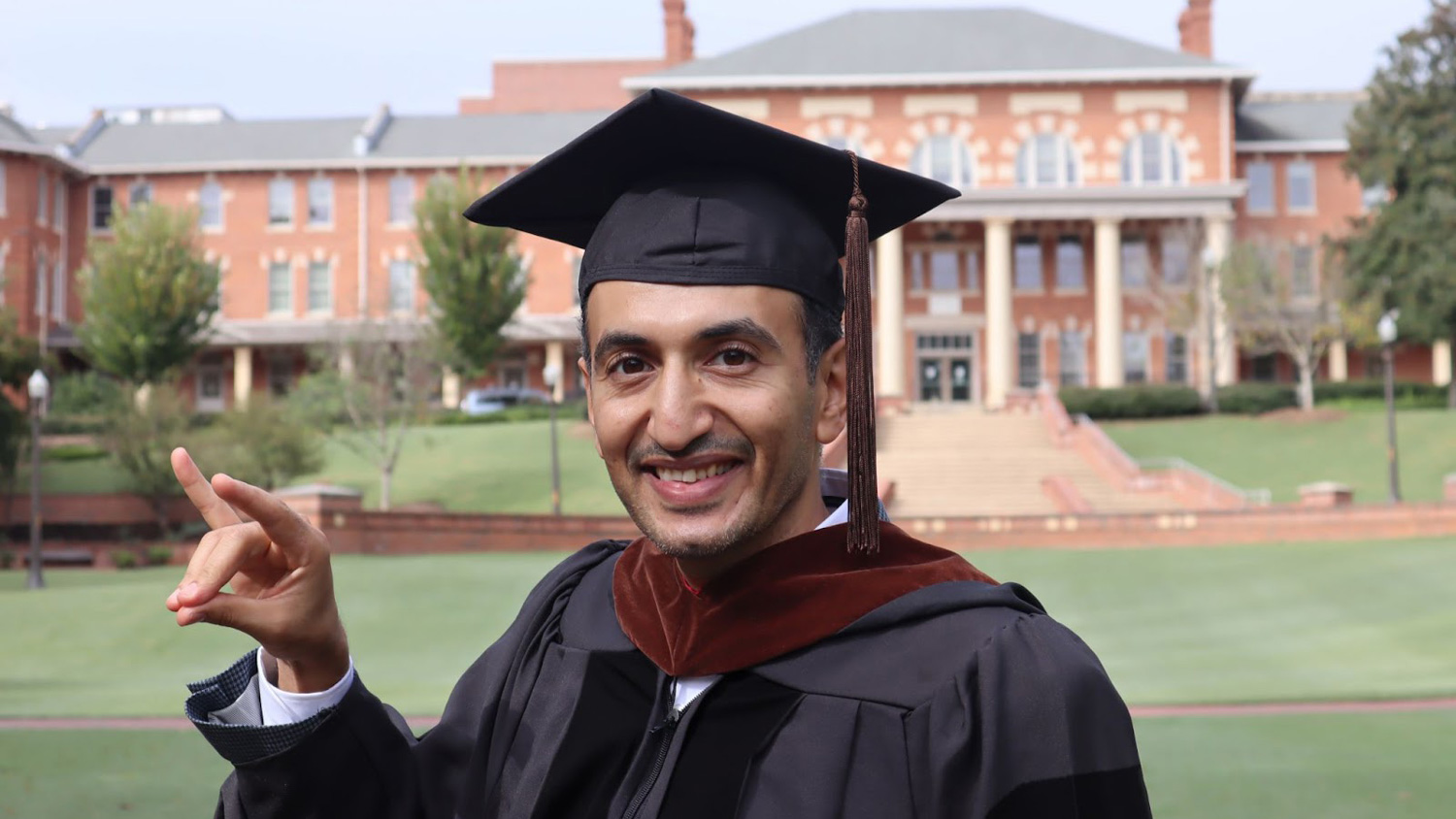 Hany Gaballa's journey in the NC State College of Design started in 2018 when he joined the PhD in Design program. He recently became an assistant professor in the architectural engineering department at the Military Technical College in Egypt. Read on to discover Hany Gaballa's journey and how he overcame personal and work-related obstacles to achieve a successful completion of his 3-year Ph.D. amidst the COVID-19 pandemic.
Hany graduated from Military Technical College in Egypt in 2006 with a Bachelor in Architectural Engineering, and became a lecturer in 2008 in the same department. In 2014, he received his master's degree and decided to pursue a Ph.D. degree abroad in 2017. 
Before beginning his Ph.D. program, Hany conducted thorough research to identify a topic he was interested in exploring during his studies. He also searched for an advisor with experience in the same field. "I conducted an extensive web search to find the top-ranked colleges in architecture related to my area of interest, and that's how I discovered the Ph.D. in Design program at NC State University," he said. "After identifying Dr. Cho's expertise in my field, I reached out to him and he accepted me as aPh.D. student. He helped me apply for the first-semester courses, and I started my journey in the program."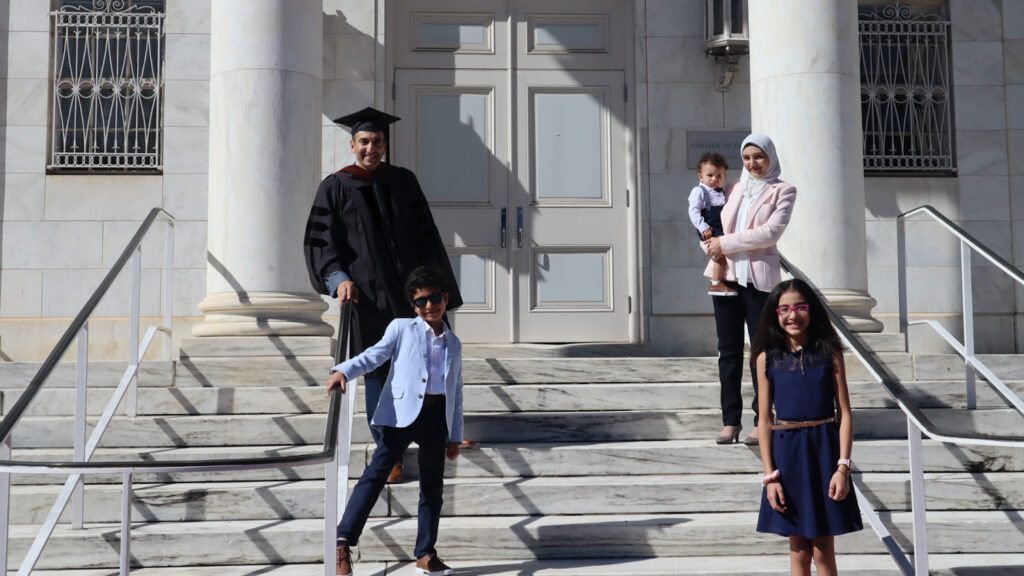 Hany and his family made the move from Egypt to the U.S. in January 2018 to begin the Ph.D. program at NC State University.. He immediately started his work in the BETLAB (Building Energy Technology Lab) under supervision of Dr. Soolyeon Cho. Within the first months of his arrival, he set himself a three-year schedule that included his courses, preliminary exam, final defense, and graduation date. Hany's first summer was spent working intensively with two other Ph.D. students under Dr. Cho's mentorship. They researched and explored the applications of artificial intelligence algorithms in their field. "Working with my advisor and colleagues, we developed an AI algorithm and published our first peer-reviewed paper. It was the best experience of my Ph.D. journey as it gave me self-confidence and a sense of contributing to the community. We then tested the algorithm on a real-case study building, both theoretically and practically," he said. Together, they published three more peer-reviewed papers before Hany's graduation in November 2020.
During the second year of the program, his family welcomed a new baby. While his wife was pregnant, he worked from home to take care of her and their children. After the baby was born, Hany continued to work tirelessly, often putting in long hours in the Ph.D. office space. There were times when he worked until 2 am, leaving him with only a few hours to rest before returning to work the next day. Despite these challenges, Hany remained committed to his work and his family, finding ways to balance both and persevere through the difficulties.
Research During the Covid-19 Pandemic
In his third year, the Covid-19 pandemic impacted his work and personal life, which forced him to shift to online platforms.. Even his field measurements for his Ph.D. were disrupted, forcing him to find alternative solutions. Fortunately, Hany was able to retrieve the building's real data, from the previous year, allowing him to continue his research and make progress towards his degree. Despite the difficulties, Hany was determined to stay focused and committed to his plan. He knew that distractions were plentiful during the pandemic, but he refused to let them sidetrack his goals. Whenever he felt exhausted or depressed, he reminded himself of the support and encouragement he had from his family, parents, advisor and colleagues. He knew that earning his Ph.D. would make them proud, and he refused to let them down. Through his hard work and unwavering dedication, Hany overcame the challenges he faced to achieve his dream.
Hany's hard work and dedication paid off when he successfully defended his dissertation during the quarantine, despite the challenges of online classes and presentations. As his final oral exam date approached, he knew he wanted something more than just an online presentation. He approached his advisor, Dr. Cho, and the College of Design administration with a request for a hybrid presentation that would allow him to share his achievement with his loved ones in person. Although some students might have found this unusual, he felt it was essential to fully experience and savor his hard-earned success. He was overjoyed when Dr. Cho and the college agreed to his request, taking all necessary precautions to ensure a safe and memorable event: "Completing a Ph.D. is not easy and comes once in a lifetime. I wanted to present my work face-to-face among my family and friends and experience that feeling of success," he said.
Helping Others Achieve a Ph.D.
When asked for his recommendations on completing a successful Ph.D., Hany emphasized the importance of maintaining a healthy work-life balance and taking time to rest. Despite dedicating three years to his Ph.D., Hany never lost sight of the value of spending time with his family, especially his wife and three young children. He believes that a proper work-life balance is key to a successful and fulfilling Ph.D. experience. Taking regular breaks and pauses can help prevent burnout and enable students to enjoy their work rather than viewing it as a chore. At the same time, he acknowledges that balancing work and personal life can be a challenging task. He advises other students to find ways to manage their time effectively, so they can stick to their plan while still satisfying their own needs and the needs of their family.
In addition to balancing work and life, Hany also recommends that students seek help and support when needed. The Ph.D. timeline can be filled with both highs and lows, and sometimes things can take longer than expected. During these frustrating times, Hany found that talking with others was incredibly helpful. He encourages other students not to feel isolated or alone and to seek out the support of family, friends, colleagues and advisors. By balancing work and life and seeking help when needed, students can create a healthy and supportive environment that helps them achieve their goals and succeed in their Ph.D. journey.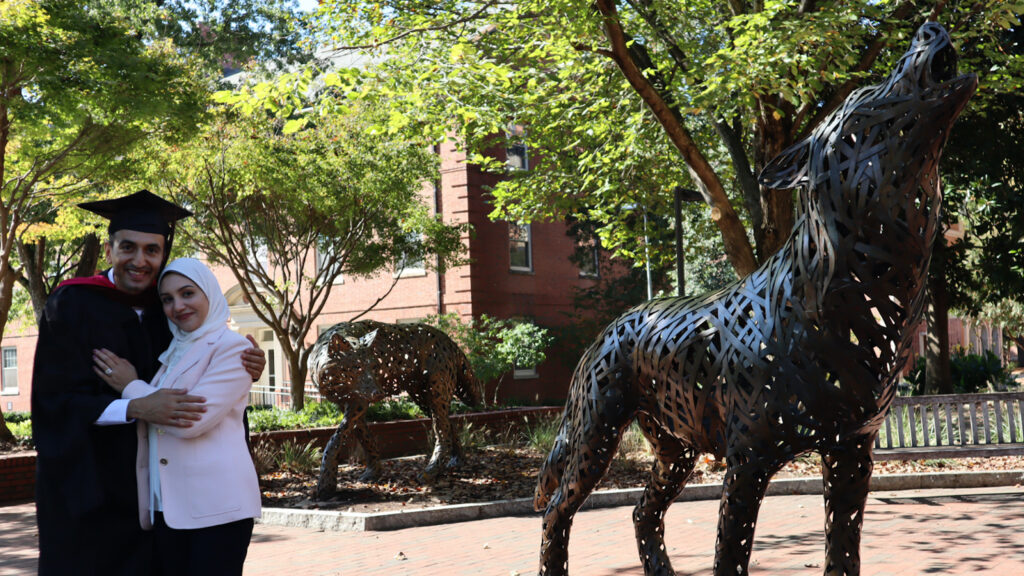 Hany shared some final  points that he believes will help new students succeed in their Ph.D. journey:
Begin with a topic and adjust as necessary. It's also beneficial to continue in the same field as your master's degree.
Choose the right advisor who is knowledgeable in your field – this should be your top priority.
Create a schedule and stick to it in order to finish on time.
Attend conferences to gain new knowledge and network with peers.
Take only one month off during the summer to avoid significant delays.
Keep your loved ones in mind as motivation for completing your Ph.D.
These points helped Hany navigate through the many challenges he faced during his Ph.D., while also balancing family obligations. In the end, his hard work paid off and he returned to his home country, Egypt, to work as an assistant professor in the architectural engineering department at the Military Technical College in Cairo.