Designlife Magazine: Drones, Automated Vehicles, 3D Ceramics and More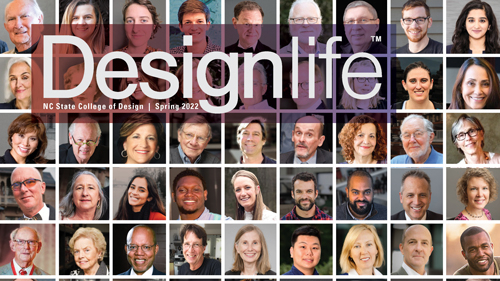 The spring 2022 issue of Designlife magazine is here! Our feature story celebrates the end of the Think and Do the Extraordinary campaign, and most notably, the many faces that not only made it our most successful campaign to date, but shaped the college and its direction, laying the groundwork for years to come.
We will be releasing the stories inside throughout the summer, but we encourage you to browse the pages, both digitally and in copies mailed to your homes.
Dean's Message:
Dear Friends,
The 2021-2022 academic year marked another historic year for the College of Design. We successfully completed our Think and Do the Extraordinary Campaign, setting fundraising records for the college. Thanks to your support, we were able to raise over $23.1 million towards scholarships, fellowships, endowments, lecture series, visiting designers, and more.
And so this issue of our Designlife magazine is about you – the generous donors, warm friends, spirited alumni, hardworking faculty and staff, and ambitious students that make the College of Design not just a place to earn a degree – but a welcoming community focused on the very best that design can offer. You are the reason I give a toast to good design at each and every one of our college events.
While we continue to celebrate the past five years of success, we have eagerly set our sights towards the future – namely, our 75th anniversary in 2023.
Committee members have been hard at work developing the programming and activities for our upcoming anniversary – we're pleased to say that we won't just be throwing one big party and calling it quits. We are working on a robust series of activities including community service projects throughout Raleigh and North Carolina, lectures, exhibitions, digital interactive experiences, maker and family days, a Community Growth Conference – and maybe a party or two.
I hope you will join me as we continue to look back and think forward in anticipation of 2023.
— Mark Elison Hoversten, Ph.D., FASLA, FCELA, AICP, Assoc. AIA
This post was originally published in College of Design Blog.