Q&A | Jenny Tiet on Advising for a Community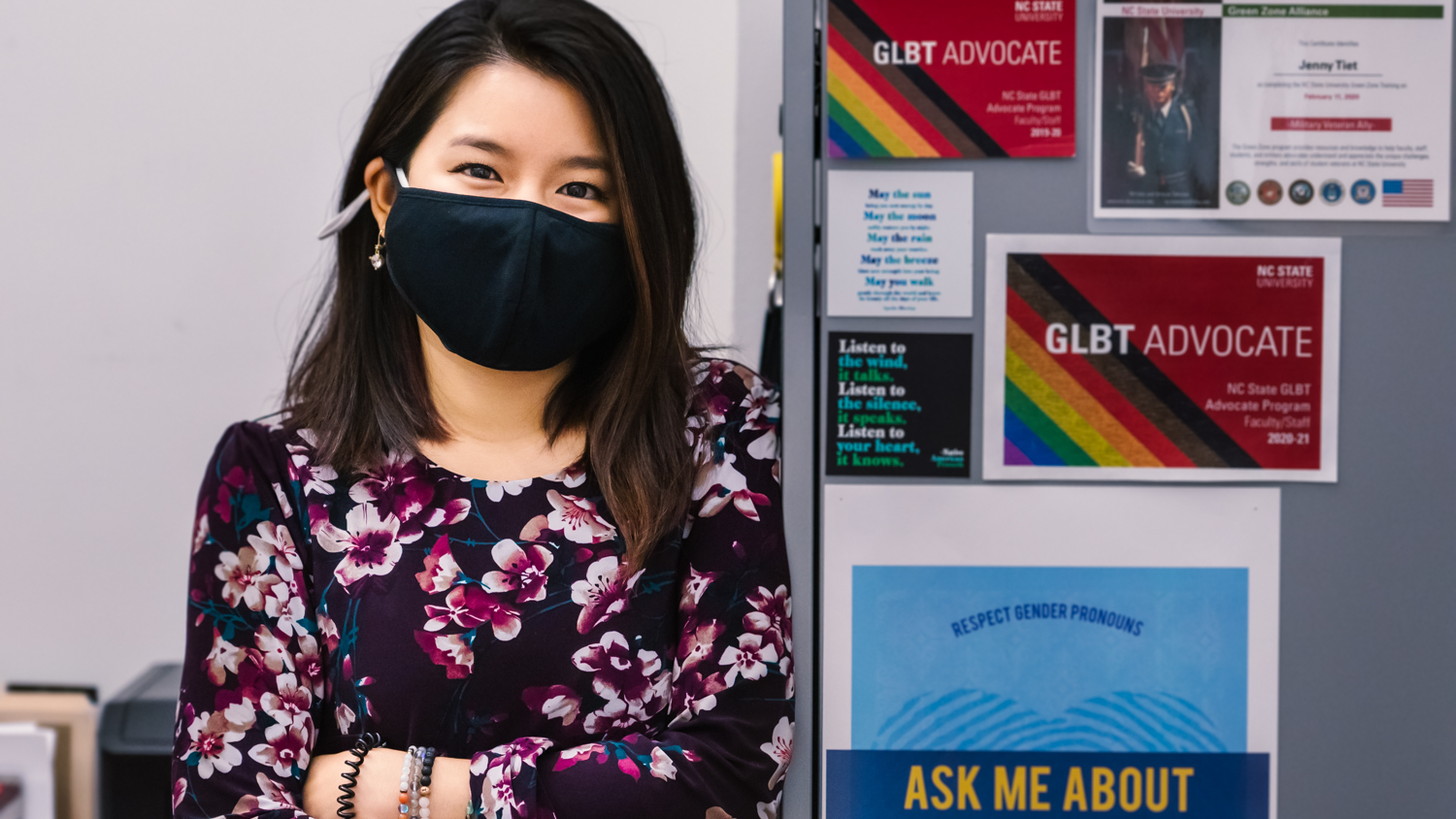 As students return to campus for the first time in over a year, it's understandable that reacclimating to life at the College of Design can be a challenge. Jenny Tiet started a completely new position at the college in April with the mission of providing support to students experiencing academic difficulty and working with student organizations to help the design students feel a sense of community.
We spoke with Jenny on what it means to advise a community of creatives, what services are available for students and her mission at the college.
Your position is new to the College of Design. What role do you see your work playing here?
The main role is to provide support to design students and provide a more welcoming and positive environment for our diverse college community. Especially to the ones who are having a challenging time at NC State for academic, social, economic, internal or other reasons.
My work will continue to evolve with more opportunities for programming and involvement with career services over time.
Tell us a bit about your background – what brought you into academic advising?
I can't find a short answer to this. To be honest, my experience with advising was not a straightforward path that originated with the intention of being an advisor.
When I was a transfer student at Wake Tech, I did not find my advisor to be helpful. I spent a lot of time combing through the transfer equivalencies list – back when it used to only be available by paper rather than online. Quite frankly, due to my negative experiences with advising, I rarely met with my own advisor unless I really had to.
It's gratifying for me to help and educate people. I have a history with child development and a mind for science, so I pursued dental hygiene. After some time as a hygienist and front desk specialist, I knew my true passion was in education with students – so I went for a master's degree to become a librarian after working as an admissions specialist at Wake Tech.
I saw technology drastically change the field of library science and its demand, so I stopped pursuing it. However, my time as an admissions specialist and high school librarian assistant helped me figure out my true career path. I want to be the one who advises students through their college experience and be the person who they frequently return to, not someone who just sees them off after a visit.
In a nutshell, I interned with the Exploratory Studies program at NC State, co-taught USC 111, finished my master's program, became a graduate services coordinator at the English Department for three years, then had the wonderful opportunity to come to the College of Design.
Why did I share such a long story?
I want students to know they're not alone in figuring out what they wish to pursue. I understand that many students, my past self included, want to rush through life to be where they want to be.
Life didn't turn out as I planned for it to be. Many others experience life the same way, and that's okay. As long as you understand what you like and keep pursuing it, your experience will feel rewarding in the long term – even if you decide to change directions. My intention is to see all of our students succeed, so I'm here to listen and help students figure out their passions and goals while they're here at the College of Design.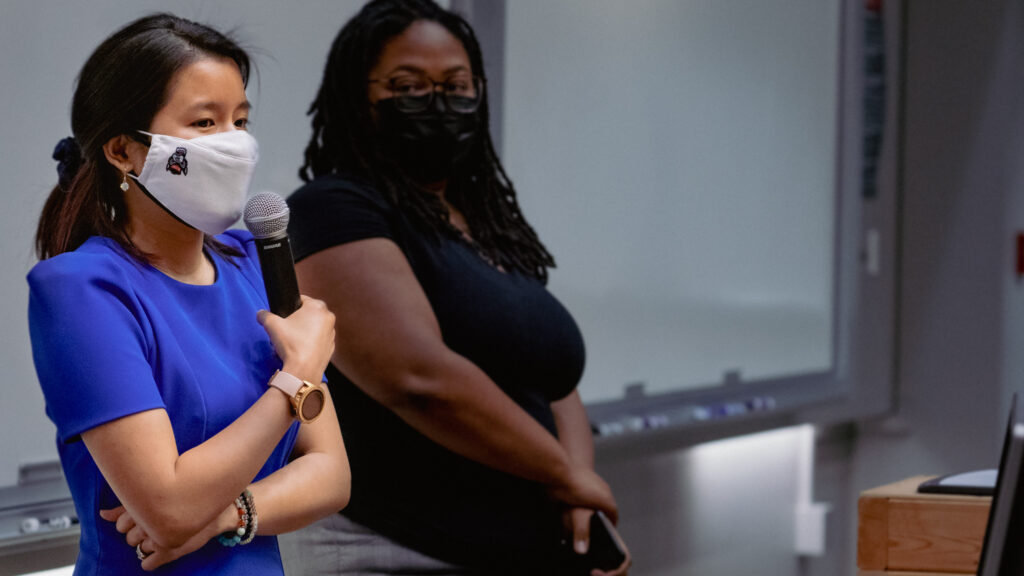 What kinds of challenges can students come to you for assistance with?
Students can come to me when they're feeling lost, frustrated, drained, or hit a wall. I'm here to be a sounding board or a liaison to the collection of resources on campus.
I'm happy to walk a student over to the Counseling Center or talk to them about free resources offered on campus like legal services. Students who wish to pursue a different academic route through CODA or add a minor/major should also contact me.
I can walk students through general advising with their GEP courses and if they wish to take courses elsewhere through our Inter-Institutional Program or Cooperating Raleigh Colleges (CRC). I also encourage student organizations to participate in certain events or programs and engage with them – not only for my own awareness but to share what they are doing as well. I will also be coordinating graduation, so all those questions can come to me as well.
Reflecting on the events of the past year and a half, what would a "successful" community at the College of Design look like? How can we attain it together as students, staff and faculty?
"Successful" sounds like an endpoint to me.
I think we have a lot to do beyond the College of Design to say we have a successful community because there's an intersectionality between the experiences and resources in the college.
In addition, there are too many factors to consider – societal, political, social, and health- for us to clearly say we can all meet at one place and be successful. It takes a lot of effort on many different levels to determine we have a cohesive, equitable, thriving community on campus.
What can we do to attain it together?
We not only listen to the students but actively step towards collectively working together for them with the same mission in mind. We need to make greater efforts – especially for the ones who are underrepresented.
"I want to be the one who advises students through their college experience and be the person who they frequently return to, not someone who just sees them off after a visit." – Jenny Tiet
That sounds simple, but the collective action required is difficult to plan and execute considering the complexity of these issues. Everyone wants to solve things quickly, but there's always a planning and testing phase – nothing is guaranteed. Feedback is required. It means more time and effort outside of your usual comfort zone but as you can see with COVID it won't be easy to do either.
At the College of Design, building that kind of environment will require people to work outside of their box. It's beyond taxing to ask that of faculty and staff because everyone already has a heavy plate of duties and responsibilities. Time is a resource itself and many can't afford to share that; especially if they're already not being fairly compensated.
If we can have everyone on the same page of being willing to help the students outside of their usual responsibilities, and that includes additional training such as QPR (Question, Persuade, and Refer workshop) or with OIED (Office of Institutional Equity), then we can get to a point where students feel more supported and heard because staff and faculty would understand how to respond to student needs better.
Is there anything specific to the College of Design that makes you particularly excited to work with students?
I am excited to see the students' work and progression!
I loved to draw and sew until my hands were cramped up, so I enjoy watching people work on their craft. I have such an appreciation for the time and effort they put into it.
At the same time, I can understand their work being so personal to them because it's expressive and interpretive. It can be demoralizing to receive negative feedback. I want to be there to remind them that feedback is not intended to be personal. It means their instructor believes he or she can do better which means there is potential!
Who doesn't want to reach a higher level as a designer or artist? The growth you can see in the students is quite literal at the College of Design and I'm particularly excited to see their creative and innovative development. I look forward to seeing how they all interact with each other as well.
Are you looking for some guidance? Get in touch!
This post was originally published in College of Design Blog.