Remarks from the Designlife Gala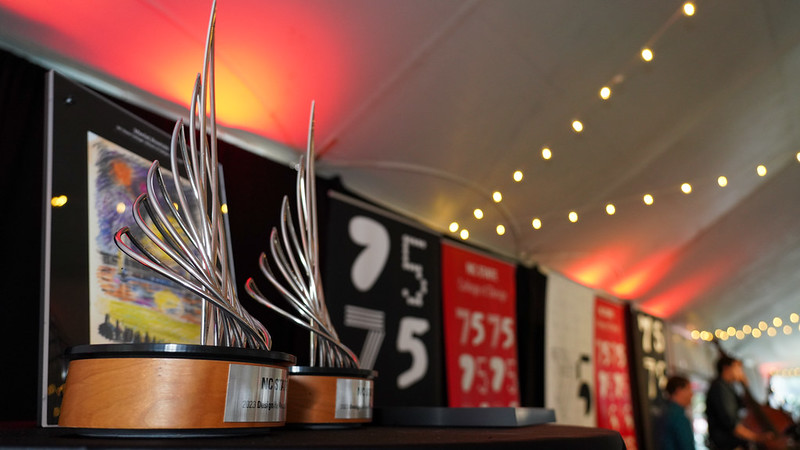 Below, read an excerpt of Dean Mark Elison Hoversten's remarks from the Designlife Gala on April 22, 2023.
Welcome to the NC State College of Design's Designlife Gala. I'm Mark Hoversten and I'm pleased to serve as dean of the college. 
At this point let me share a few things about the development of the college. This is going to be a flying leap of the history of the college, so buckle up.
Actually, there were design courses before 1948. Architectural drafting was taught in engineering and landscape design was taught in horticulture. But they were brought together along with product design into the new School of Design in 1948 under the leadership of Henry Kamhoephner. The first class of 27 students was almost all men and was heavily dominated by architecture.
The first two years of studio courses were totally interdisciplinary and included not only design principles, but painting, sculpture, critical thinking, and decision-making. That model lasted well into the 1970s. Graduates from that curriculum tell me today it was the strongest part of their education. Does anybody here remember those days?
Today we have just under 1,000 students, about sixty tenure and tenure track faculty members, and another forty or so professors of practice. Which still makes us the smallest college at NC State.
But get this… 68% of our students are now women. About 35% of our students are from underrepresented minorities.
Over the years, five-year degrees in architecture and landscape architecture became four-year degrees with new professional master's degrees added. Product design became industrial design. Graphic design was added to the curriculum. 
A Ph.D. was added, then an online, professional Doctor of Design program. Today we have between 45 and 70 doctoral students at any given time, which is one of the largest doctoral programs in design in the country.
Program titles and curricula have changed to keep up with technological innovation. Graphic Design became Graphic and Experience Design. Art and Design became Media Arts, Design and Technology (MadTech for short).
75 years ago you would see students hand-drafting late into the night in our studios. You still might see that today, but you will also see them writing computer codes or fabricating products on a digital printer.
Outstanding faculty and staff members came and went. An example: we've had more faculty members named Outstanding Educator at the Association of Collegiate Schools of Architecture than any other university in the country. Another example: as far as I know, we're the only design program to have a faculty member invited to show his work at the famous Cannes Film Festival in France. And a final example: next week, one of our faculty members will testify in Washington, DC before the Senate Committee on Banking, Housing, and Urban Affairs.
Meanwhile, deans also came and went.
Over the years our graduates made remarkable contributions to society. Whenever I drive by cranes at a skyscraper under construction, I know our architecture graduates probably had a hand in designing that building. That's as true in New York City or San Francisco as it is in Raleigh. When I go for a walk on the greenway, I know our landscape architecture graduates had a hand not just in the design of the greenway itself, but in the green infrastructure that protects our homes and businesses from floods.
When I buy a tool at the hardware store or put on a pair of running shoes, it's a pretty good bet one of our industrial design graduates contributed to the design. And when my cell phone tells me what to do – and increasingly these devices do that – I know our graphic and experience design or MadTech graduates not only designed the wayfinding but also probably designed the screen so I'm able to read the print.
Today, our students are not only more diverse than they were, but they just keep getting smarter and more talented. As just one example, a few years ago our students won the Best University Architecture Award at the Venice Biennale, the world stage for design. As important, they have an authentic desire to use their design education to solve the challenges we face and to celebrate the joy of life.
In 75 years the College of Design has grown from a small program in a small city to a program of national and international import at a highly-ranked university. As our mission states:
"…we educate students to become innovators and thought leaders while creating a community for designers, researchers, scholars and practitioners."
I'm so proud to be a part of this community and can't wait to see what the next 75 years will bring. That bright future would not be possible without you, our community, who support and collaborate with us. You are partnering with faculty and staff to provide the best possible design education to our students.