Student Experience
Preparing the next generation of green professionals with LEED Lab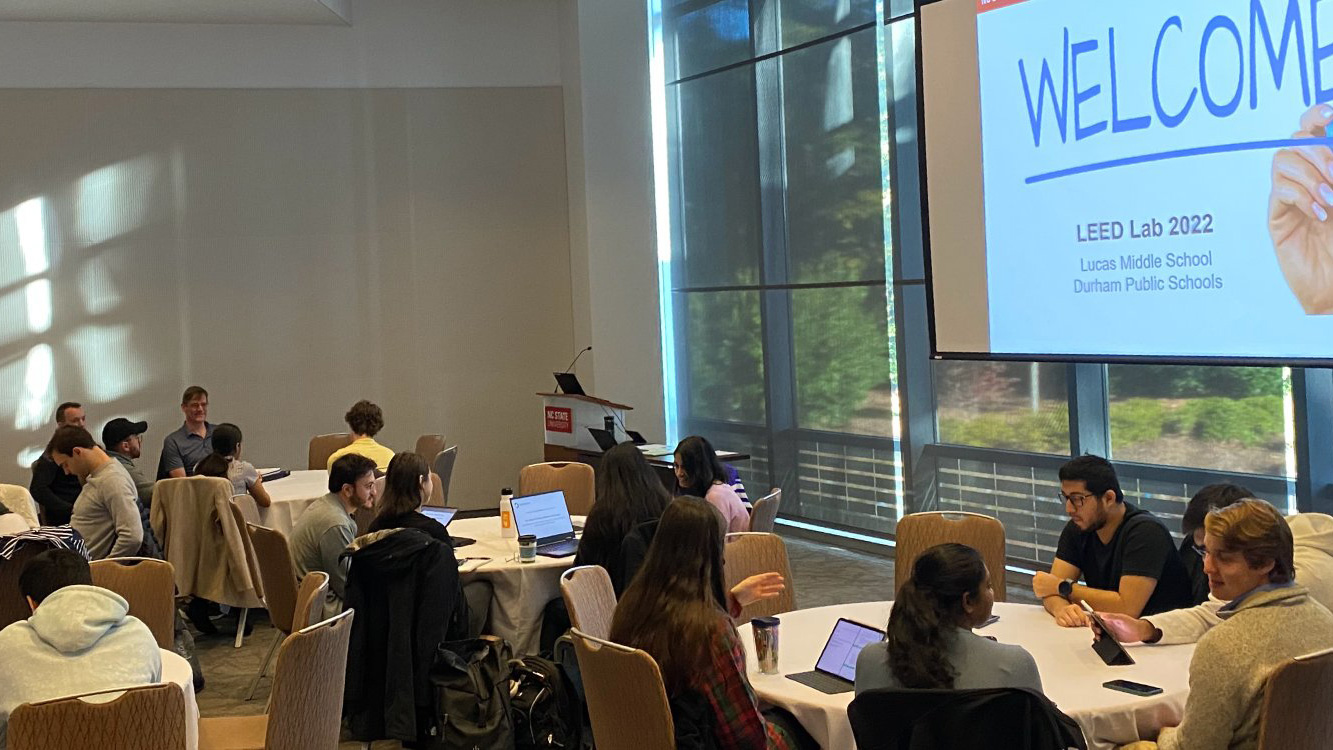 This article was originally written by Diane Coleman and published by the U.S. Green Building Council.
__________________________
North Carolina State University (NC State) is preparing the next generation of green building leaders through LEED Lab. This multidisciplinary immersion course uses project-based learning in the built environment to educate and prepare students to become green building leaders and sustainability-focused citizens.
The LEED Lab 2022 course, formally called "Sustainability Over the Life of a Building," used the LEED for Operations and Maintenance rating system (LEED O+M) with LEED v4.1 as the benchmark for students to propose solutions for a real-world community building, Lucas Middle School in Durham. The students were guided by Traci Rose Rider, LEED AP, assistant professor in the School of Architecture at the College of Design at North Carolina State University, and by Elizabeth Bowen, LEED AP, senior project manager, clean energy and energy efficiency at the North Carolina Clean Energy Technology Center.
NC State is a large land-grant university with a research and extension mission. Its motto, "Think and do the extraordinary," was clearly applied in the LEED Lab course. Rider explains, "Our approach to this course is to take concepts that our students have likely gone over or addressed in other classes before and figure out how to apply those concepts in a real-world context and for the benefit of our communities."
The LEED Lab structure had students explore existing facilities and compare building operations and maintenance to the standards for a building certified under LEED O+M. Although many of the facilities studied in previous classes may not achieve LEED certification, LEED Lab students have been able to provide actionable recommendations to move the needle on sustainability for the owners. Bowen notes, "Many of the LEED Lab recommendations can be replicated and scaled to similar facilities for sustainability and efficiency improvements."
The course objective is for students to act as a consulting team, perform a gap analysis, and make recommendations to improve a facility's sustainability and wellness benchmarks. This class partnered with Durham Public Schools, and Lucas Middle School in north Durham was selected as the LEED Lab subject building. Designed by DTW Architects and opened in 2012, the project was originally certified at the Gold level under the LEED for Building Design and Construction rating system.
An interdisciplinary group of 25 students tackled the challenge of working together across expertise areas, forging through diverse ways of learning, thinking, planning and finding a common language for similar concepts in their respective disciplines. Developing teamwork and leadership was at the forefront of outcomes for this course.
In November 2022, the results of the semester's work were presented by the NC State students as their final class project. They were joined by industry professionals and the Durham Public Schools energy manager to discuss their recommendations in the areas of transportation, energy performance, waste performance, light pollution reduction, pest management, innovation, grid harmonization, purchasing, site management, green cleaning, indoor environmental quality and green cleaning. The students used the Arc platform to track building performance. The result of their work has the school tracking toward a potential Gold rating in LEED O+M under LEED v4.1.
This high-value learning experience will carry throughout the students' future coursework and into their careers. John Degele, a 2022 student, believes that LEED Lab provides a unique and valuable experience. "LEED Lab works on a real-life project," says Degele. "The skills and sustainability strategies learned in LEED Lab can be carried forward into any future built project."
What they first understood as merely a scorecard of points and strategies evolved into a deeper understanding of the importance of process, teamwork and leadership. Setting intentional goals as a team enabled them to implement best practices, measure progress and certify their achievement.
USGBC's North Carolina community congratulations NC State University and Durham Public Schools for working toward more sustainable, resilient and healthy buildings and communities.