External Recognition
Frank Lee Craig: Near Distance Exhibit at the Gregg Museum
College of Design alumnus Frank Lee Craig [BEDA '77] has a posthumous exhibit of his work on display at the Gregg Museum, co-curated by Gregg Museum Director and Curator, Roger Manley, and Dr. Margret Kentgens-Craig, wife.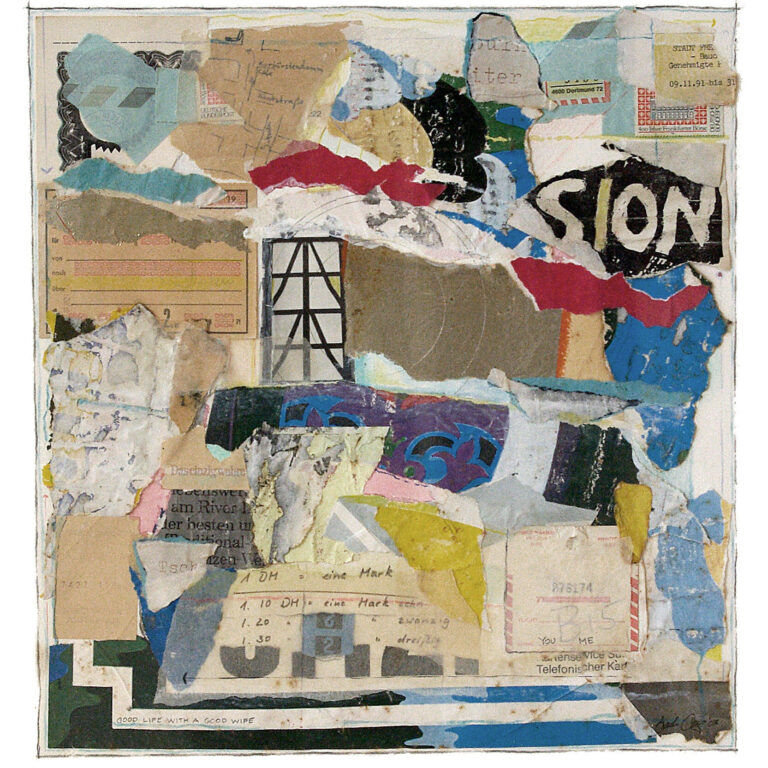 Excerpt from the Gregg Museum of Art and Design's exhibition description:
Frank Lee Craig: Near Distance
February 10 – August 20, 2022
Of the many forms of visual art that have emerged the last two centuries, collage and its three-dimensional sibling, assemblage (found-object sculpture), probably come closest to representing the process of human memory. While photography, film, and video can capture and preserve moments in time, they typically include so much extra detail that they surpass the inconsistent way memories are experienced for all but a tiny handful of gifted savants. Most of us summon up the past only in scattered bits and pieces that require instantaneous reassembly in order to literally "make sense" of recollected experiences each time we need to remember something. Just as no two live performances are quite the same even when the actors follow the script word for word, every time we tell a story, recall a feeling, or evoke a loved one's face, the rearrangement is slightly different. Every memory is a new collage of ephemeral thoughts, feelings, and impressions.
Frank Lee Craig experimented with making paper collages and found-object sculptures during his undergraduate years at NC State's School (now College) of Design, as part of its Bauhaus-inspired curriculum. This process trains students in thinking and seeing like a designer, i.e., in terms of shapes, volumes, materials, and actions instead of only words. Most people see a very tall plant and think the word, "tree," but someone trained to pay attention the way a designer does may see a cylindrical column, a spreading structure supporting a canopy of fluttering planes, and the shifting play of light projected on the ground below. In the usual arrangement–trunk below, leaves above–the components signify "tree," but trained designers can also envision the same components and material rearranged, processed, and transformed to become anything from a temple or boat to a paper cup or airplane or even taking on entirely new functions, like solar panel leaves supported by fiber optic branches. Practicing collage helps students learn to think in new ways, by engaging them in making new meanings out of things that were once something else. No longer just a "given" to be survived, the world becomes filled with possibilities and solutions.
During his career as a successful architect and designer, Craig continued to make collages on occasion for pleasure or as gifts. He returned to assembling them with real determination in the last years of his tragically shortened but remarkably creative life after being diagnosed with a fatal illness. One can't help but note that the bulk of the very substantial body of work we now celebrate in the Frank Lee Craig – Near Distance exhibition parallels his efforts to make sense of the mortal circumstance he suddenly confronted, as well as his need to keep seeing the world through the lens of endless opportunities and possibilities.
Frank Lee Craig – Near Distance features mixed media, collages, sculptures, and paintings by Frank Lee Craig. The exhibition was co-curated by Gregg Museum Director and Curator, Roger Manley, and Dr. Margret Kentgens-Craig, lover, friend, confidant, and wife of Frank Lee Craig. Kentgens-Craig is a professor of the practice at NC State University's College of Design and former head of the department of archives and collections at the Bauhaus Dessau Foundation in Germany. She has served on the German UNESCO Commission and on the faculty of the Magdeburg-Stendal University of Applied Sciences. Her books include The Bauhaus and America: First Contacts, 1919-1936, and she is author of numerous contributions to other professional publications such as Dezeen and Architectural Record.