Student Experience
Alumni and students create experimental immersive light experience at Crabtree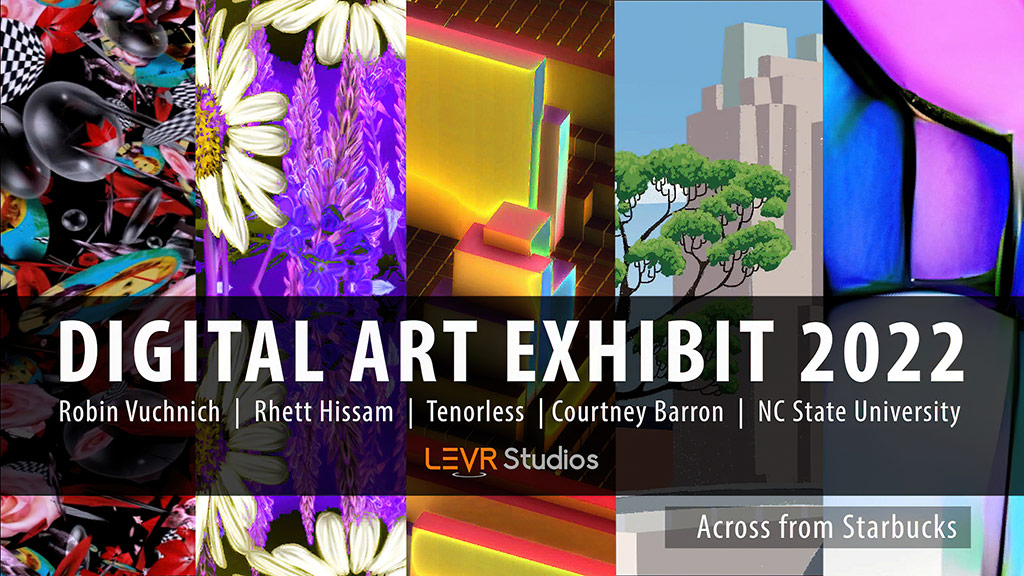 Shared from Crabtree and LEVR Studios, LLC.
To help celebrate 50 years of community engagement, Crabtree partnered with award-winning team, Mike Cuales, creative director, and technical producer, LEVR Studios, LLC and Robin Vuchnich, artist, and multi-media innovator to create an experimental immersive light experience for guests while supporting local artists, including students from NC State's College of Design. The resulting digital art installation uses special screening and projection mapping to illuminate the storefront immediately adjacent to Starbucks. The display will be up for one month beginning on March 18, 2022.
This public art exhibit features digital art and interactive content presents a unique visual experience through 15 segments from 12 local artists and aspiring design students. The works were created using different techniques and technologies from virtual reality painting, procedurally generated art, artificial intelligence (AI), computer vision and neural networks.
Founded in 1972, Crabtree brings a half-century of deep history and a legacy of special occasions for millions of guests in our Raleigh community and beyond. Visit www.crabtree50.com to see a preview of this installation and to stay tuned for additional 2022 announcements, special events and programming to commemorate Crabtree's milestone.
Featured artists:
"Floating Matter" is an interactive projection art piece, created by light artist, Robin Vuchnich. Viewers can interact with floating flowers, astronauts, bubbles, and other mysterious objects found in free fall in this surrealist (inner) outer space. Robin is a new media artist, graphic designer, and educator. Her professional practice includes new media design, UX, visual art, and book design. Her work has been published by The Southern Indiana Review, Communication Arts, PRINT Magazine, and the American Institute of Graphic Arts (AIGA)."Bloom" by local NC digital artist and immersive media designer Rhett Hissam. Since 2019, Rhett has incorporated virtual reality as a tool in her art-making process. The focus of her subject matter is grounded in the natural world, typically highlighting botanical environments and medicinal herbs. Her mission as an artist and designer is to help rebuild the connection between humans and plants through the emerging field of new media.
"Refractions" by Joe Vassar (aka Tenorless), a visual artist and interactive developer based in Asheville, NC. Joe combines programs like TouchDesigner and Notch with the power of creative coding to design immersive real-time experiences and content for large scale productions. For the past six years, his work has been used in everything from headlining concert tours, live performances, interactive installations, advertising, and art festivals.
"Cycles of Spring". Courtney Barron is an animator and designer based in Raleigh, NC. Courtney's work focuses on using hand-drawn illustration and animation along with newer and emerging digital technologies to create compelling and relevant narratives that connect to the viewer. For this project, her goal was to tell the story of renewal and life after winter, as well as the other natural cycles that take place during the spring season.
"GENerAItion" Computational Creativity; Generative Art through AI. Technology platforms play an increasingly significant role in creative activities. Rather than seeing computers as just tools to assist human creators; we approached technology as a partnership and as a creative entity in its own right and looked at methods of experimental work with the use of these novel AI platforms for exploratory animation and digital artifacts.
NC State University College of Design, Department of Art+Design Creative Technology Studio; Spring 2022:
Ryan Fluharty, Architecture
Val Gomez, Art+Design
Ben Johnson, Art+Design
Pearl Knight, Art+Design
Joe Lingo, Art+Design
Ahanayzha Mabry, Art+Design
Beverly Martin, Art+Design
Brandyn Thomas, Art+Design
Digital art showcase credits:
Melissa Timney – Executive Producer, Crabtree
Mike Cuales – Creative Director / Technical Producer, LEVR Studios, LLC
Bailey Knight – Exhibit Designer / Fabrication
Maddy Lyon – Production Support
Pat FitzGerald – NC State Associate Professor of Art + Design
Lee Cherry – NC State Technology Associate for Research and Scholarship
About Crabtree
A community staple for 50-years, Crabtree is a world-class shopping and dining establishment delivering experiences that are memorable, energetic, lively and fun. The property is one of the largest shopping centers in the Southeast and an admired North Carolina landmark. With more than 1.3 million square feet of retail space, Crabtree, located in Raleigh, welcomes more than 10 million shoppers annually, visiting from every corner of the country. Learn more at, http://www.shopcrabtree.com.
About LEVR Studios, LLC
Founded in 2015, LEVR Studios develops award-winning immersive media solutions for K-12 education, corporate training, public art installations, museum exhibits and community engagement. Learn more at, http://levrstudios.com.