Homegrown Vintage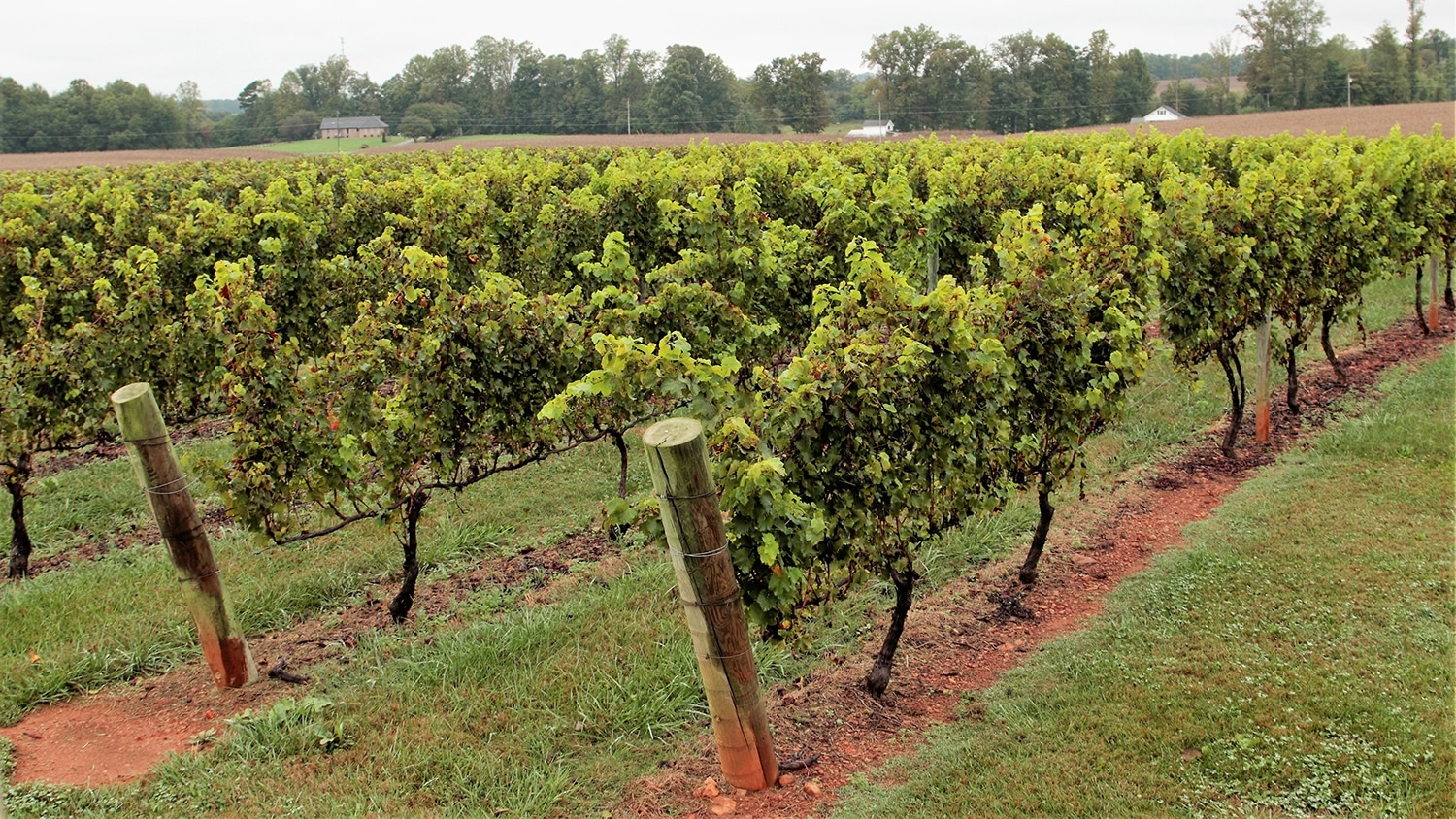 In the first quarter of the 21st century, North Carolina's traditional agriculture industries have grown through their challenges with technology and innovation.
In the Yadkin Valley in the northwestern quadrant of the state, however, there has also been a migration from the fast-growing cash crops that made this lush area famous for centuries in favor of a return to the state's first cultivated crop: grapes.
Because of it, this sector of North Carolina's winemaking industry is a thriving hive of vines and fermentation.
It's a maturing statewide industry that provides nearly $2 billion in economic impact around the state and some 10,000 jobs, not to mention the two million annual visitors who bring tourist dollars to some of the state's most rural regions.
What they have created is a farm-to-table-to-glass enterprise.
North Carolina's diverse landscape makes it possible to grow all varieties of classic European grapes, with wineries around the state specializing in French-, Italian- and German-styled vintages, along with dozens that produce wine made from North Carolina's two native grapes, muscadine and scuppernong.
Winemaking, with more than 400 vineyards and some 200 wineries, is a leading part of North Carolina's fermentation and distilling economy that also includes almost 100 distilleries and more than 300 craft breweries, all with close connections to and input from NC State's researchers and the NC State Cooperative Extension programs throughout the state.
So this week's introduction of the NC State-licensed Brickyard red wine blend in partnership with Shelton Vineyards in Dobson, North Carolina, is a tribute to the state's agricultural past and a significant driver for its future. Over the coming years, NC State will partner with more wineries across the state to produce additional vintages in the NC State Hallowed Places Collection, highlighting those wine producers and pairing them with selected icons from the state's largest university.
NC State hopes to launch officially licensed wines with North Carolina vineyards in other categories as well, including one celebrating the university's unique and historic ties to the muscadine grape.
A Winemaking History
Tucked between the mountains and the Piedmont plain, it could be said that the Yadkin Valley is North Carolina's Napa — except for the fact that North Carolina preceded California as the heart of the U.S. winemaking industry by more than two centuries.
Purportedly, the first cultivated grapevine in North America was discovered on Roanoke Island near Manteo in 1524, initially nourished by Croatan Native Americans and members of the Lost Colony. (The Mother Vine, by the way, is now about half the size of a football field, still maintained by private owners and is a popular source of cuttings to produce wine from scuppernong grapes, North Carolina's state fruit.)
Most of North Carolina's two dozen earliest vineyards, the first of which opened in Halifax County in 1825, were destroyed during the Civil War, either from neglect, lack of workforce or bankruptcy. Winemaking steadily returned after some regulatory retribution during Reconstruction – just in time for North Carolina to become a dry state in 1908 and for Prohibition to begin nationwide in 1920.
By the time alcohol manufacturing was legal again in 1933, most of the nation's wine production moved west and North Carolina turned its focus to other less time-consuming cash crops like tobacco, cotton and soybeans. The wine industry returned on a limited basis after World War II, but it wasn't until after the 1998 U.S. Master Tobacco Settlement, which diminished the state's most famous agricultural sector, that winemaking accelerated in the Old North State.
That's about the time that brothers Charles and Ed Shelton, successful residential builders and real estate developers in Winston-Salem, purchased a 300-acre former dairy farm at auction in their native Surry County and planted their first grapes, a cabernet variety they still grow on their expansive vineyards.
Since bottling their first vintage in 2000, Shelton Vineyards is now the largest family-owned vineyard in the state and one of the biggest on the East Coast. They were instrumental in working with the Alcohol and Tobacco Tax and Trade Bureau to create the state's first American Viticulture Area (AVA), a seven-county region in the shadow of Mount Airy's Pilot Mountain.
Since then, North Carolina grape-growing and winemaking has exploded, with four additional AVAs designated around the state. All told, North Carolina's 100 counties are home to some 400 vineyards and 200 wineries.
North Carolina now ranks 10th in the nation in wine production.
A Family Operation
After the Shelton brothers established the family business in their 60s and then retired, Charles' children took over daily operations. Siblings Amanda Shelton Houser, a graduate of Raleigh's Meredith College, and Charles M. "Chip" Shelton, who spent two years at NC State before graduating from closer-to-home High Point, took over the Shelton Companies.
"My dad and uncle saw that tobacco farming was waning," says Houser. "I think they were at the point where they wanted to give back to the community and state that had given so much to them.
"They felt like they could get a new industry to breathe life into the area, and turn the tobacco fields into grapes."
Their nicotine-into-wine vision has become a reality, not only on their property but at dozens of other vineyards in the Yadkin Valley. The Sheltons have a restaurant, a 102-room hotel and other amenities that enhance tourism from nearby Interstate 77, a North-South artery that runs from Cleveland, Ohio, to Columbia, South Carolina. They've also developed a burgeoning event and wedding business because vineyards provide scenic outdoor spaces, particularly in the era of COVID restrictions.
Like most wineries in the state, it's a small business with big results. With seven full-time employees in wine production alone, the vineyard produces some 25,000 cases per year.
North Carolina's rolling foothills are ripe for growing, whether it is the 10 varieties of grapes at the Shelton Vineyards or the chef's garden that fills the table at its on-site restaurant. That happens to be one of the few places in the state to get an authentic fruit sonker, a traditional Yadkin Valley dessert that is a bit soupier version of a fruit cobbler.
"What they have created is a farm-to-table-to-glass enterprise that serves the entire community," says Foster O'Brien, a second-generation NC State graduate with degrees in Spanish and entrepreneurship who directs marketing for the Shelton companies. "It is literally agriculture in action."
An NC State Vintage
Working with Shelton Vineyards to license The Brickyard blend is a plum partnership for the red-and-white university, which plans to highlight many of its selected Hallow Places in coming years.
For the Sheltons, partnering with the university helps further the founders' vision of improving education in their community and in their state. Proceeds from the sale of The Brickyard and other coming vintages will go to the NC State general scholarship fund.
"Because of what NC State does for North Carolina's agriculture and what the proceeds will go to, that is something that is important to both my dad and my uncle," Houser says. "My dad went to college only one day, and that was to get his money back. But he's always loved funding scholarships for others."
The brothers helped fund the nearby community college's degree program in viticulture and enology, the only such programs in the state and one of the few places in the country to offer an associate degree in winemaking.
That funding has come back to benefit the winery since Ethan Brown, Shelton's winemaker, is a graduate of the Surry County viticulture program with a bachelor's degree from Appalachian State.
He oversees the production of Shelton's standard, reserve and top-tier wines, from grafting the 72 acres of vines to labeling the bottles and everything in between. From the crush pad at the top of the winemaking building, he uses the gravity-flow system to store some 100,000 gallons of juice in stainless steel tanks for fermentation, then directs its transfer into oak barrels, where it will age in two climate-controlled storage rooms for more than two years.
He hand-picked the different varieties of wine for The Brickyard blend, with the grapes being harvested in 2017 and the wine bottled in 2019.
It's heavy on fruit flavors, with a bit of spiciness, oak and leather — all traditional descriptors for high-end red wine. It's made of cabernet sauvignon, merlot, tannat and malbec grapes grown at the Shelton Vineyard. It is now available at both the Shelton tasting room and at the vineyard's online store.
This post was originally published in NC State News.