Winning Design Selected for SolarSpace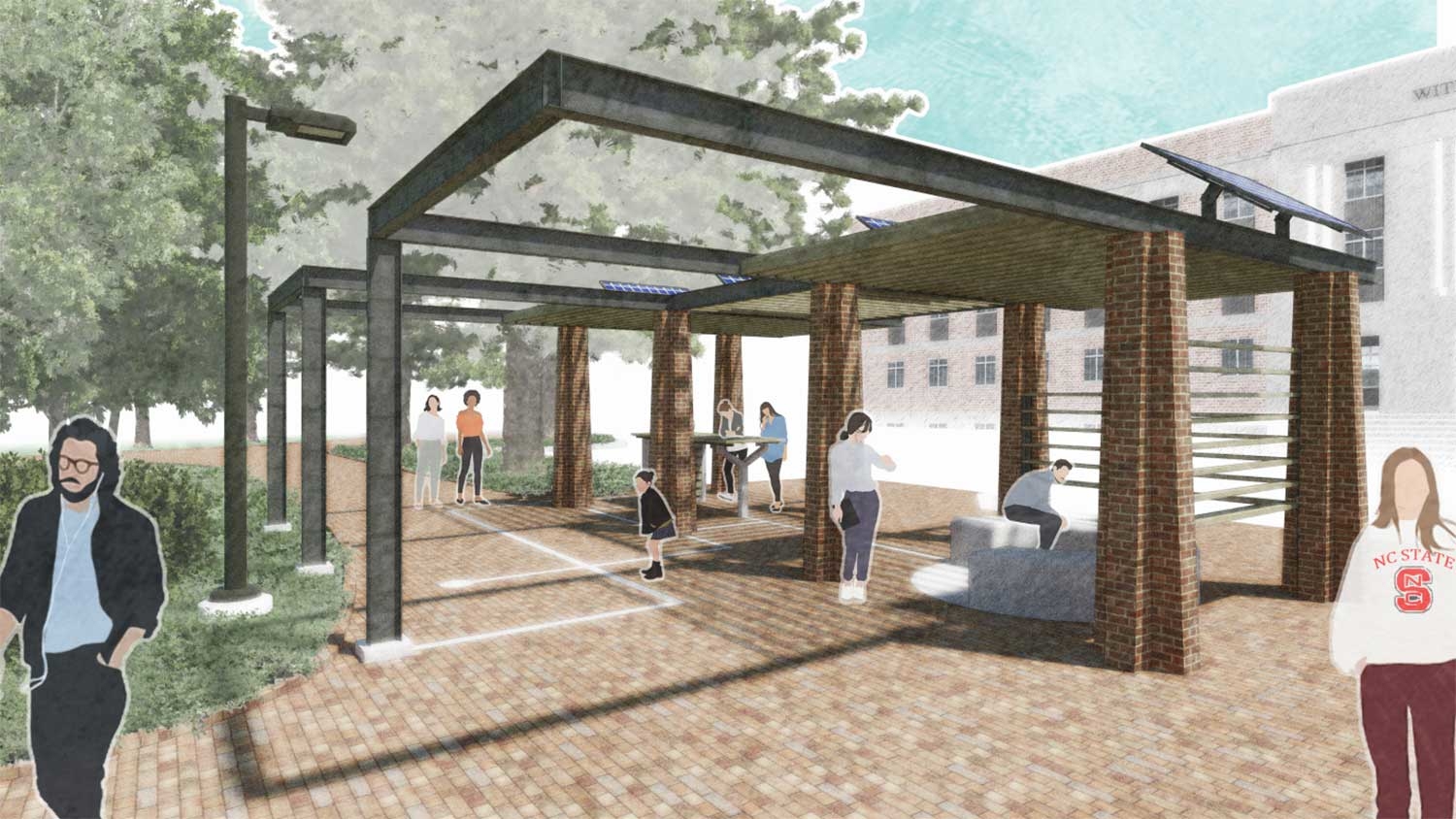 The following article is written by the NC State Stewards.
The NC State Stewards have planned the SolarSpace at Gardner Arboretum with one goal in mind – to be a space built by students, for students.
The new solar-powered outdoor space is now one step closer to completion with a winner selected in the student competition to design the space.
The SolarSpace Design Competition, held over the extended winter break, challenged students to help shape NC State's sustainable future through reimagining the existing Gardner Arboretum trellis.
"This renewed trellis will provide learning opportunities on renewable energy, help attract and retain future students, and uphold the campus drive for sustainability," said NC State Steward Emily Applegate, who is majoring in Electrical Engineering.
The design competition resulted in a pool of innovative concepts from students within the College of Design. The panel of judges – composed of Facilities Division staff, students and professional architects – selected the winning design.
Ph.D. student Dong-Jae Yi designed the winning concept, called Sol-Arbor. The design embraced the "red brick" tradition of NC State. The design features shade, a variety of seating, and is reminiscent of buildings nearby.
The SolarSpace project will not only renew an existing campus structure, but along the way its creation has been successful in engaging students and multiple departments on campus.
"This cross-campus collaboration is an example of the synergy that leads to efficient and sustainable achievements, well aligned with our 'Think and Do' motto, said Madeline Samet, a Steward majoring in Sustainable Materials and Technology.
Other winners include:
Second Place: Colin Gabbett and JD Bond, Bachelor of Environmental Design in Architecture students with the submission titled, Solar Canopy.
Honorable Mention: Alex McMillan and Isaac Mullen, two Bachelor of Architecture students with the submission Keep It Red.
Honorable Mention: Abigail Gillin, Hannah Smith, and Nabila Bustillos-Francis, a Bachelor of Architecture student, and two Bachelor of Environmental Design in Architecture students, respectively, with the submission Solar Den.
The NC State Stewards will move forward with the project's development through the spring semester, working with the winning student designer and partners within the Facilities Division, including the Office of the University Landscape Architect, Energy Management, Capital Project Management, Facilities Services and the Sustainability Office.
"As NC State continues to integrate sustainability into its operations, academics and research, we want SolarSpace to be a visual representation of student achievement and continue to inspire students and prospectives" said NC State Steward Martina Gonzalez Bertello, who is an Environmental Technology and Management major.
This post was originally published in Sustainability News.