External Recognition
Teamwork that Addresses Flooding Challenges
This story is reposted from Giving News.
Small towns in the United States' mid-Atlantic Coast region have been ravaged in recent years by hurricanes and flooding, and often have little funding in reserve to address the issues that follow behind these natural disasters.
Recognizing a need, two College of Design faculty members at NC State established the Coastal Dynamics Design Lab (CDDL) in 2013. Through the lab, an interdisciplinary research and design team helps communities recover and plan for the future by bringing together architects, landscape architects, graphic designers, engineers, scientists and students to create a holistic approach.
"These towns are so small – the population is usually less than 20,000," said Travis Klondike, a full-time research associate in the CDDL and an assistant professor of the practice in the College of Design's Department of Landscape Architecture. "They may not have city staff in the design and planning realms, and may not have funding for external firms. They wouldn't otherwise have access to these resources."
The CDDL was co-founded by Andrew Fox, professor in the Department of Landscape Architecture, and David Hill, professor and head of the School of Architecture, and initially seeded through grant money that allowed the pair to conduct intensive studio courses with students.
Philanthropy plays a key role in the lab's ongoing work. Donor support has provided funding for a research associate, internship and scholarship opportunities, which in turn empower the lab team to broaden its scope of work.
Today, the role of the CDDL can vary. The team might work with a town to relocate home owners in a neighborhood that floods repeatedly and then create a design that gives that land another purpose. Or, in Princeville — which sits in a flood plain — they can help local leaders and residents figure out ways to preserve the historical significance of the oldest town chartered by African Americans in the United States.
As Princeville leaders have worked to rebuild a history museum destroyed by Hurricane Matthew, the CDDL played an instrumental role in bringing NC State's School of Architecture Design/Build Studio into the community to work on designing a mobile museum to allow Princeville to go on the road and share its history instead.
"We're always trying to look at creative ways to leverage the assets that every community has," Fox said. "It helps them become more resilient to environmental and economic shocks."
The CDDL often responds in post-hazard situations, after events like hurricanes or flooding, Klondike said. Much of that work takes place in the coastal plains, where the group found the greatest social, economic and environmental need to be, he said. Their work ranges from high-level analysis – looking at entire cities, counties, states or even the Eastern Seaboard to understand specific vulnerabilities – down to working with local communities on changes to a specific parcel of land.
"We're trying to get into proactive planning, not just reactionary," Fox said. "We want to create a vision that's 10, 20, even 100 years out – looking at what the environmental impacts could be if things stay the same or continue on a path of change as predicted."
They do so with the input of community leaders and, as much as they are able, local residents, he said. The idea is to allow residents to define how they want their communities to move forward, rather than the CDDL team assuming it knows best.
"We bring in technical expertise to blend with that local knowledge," Fox said.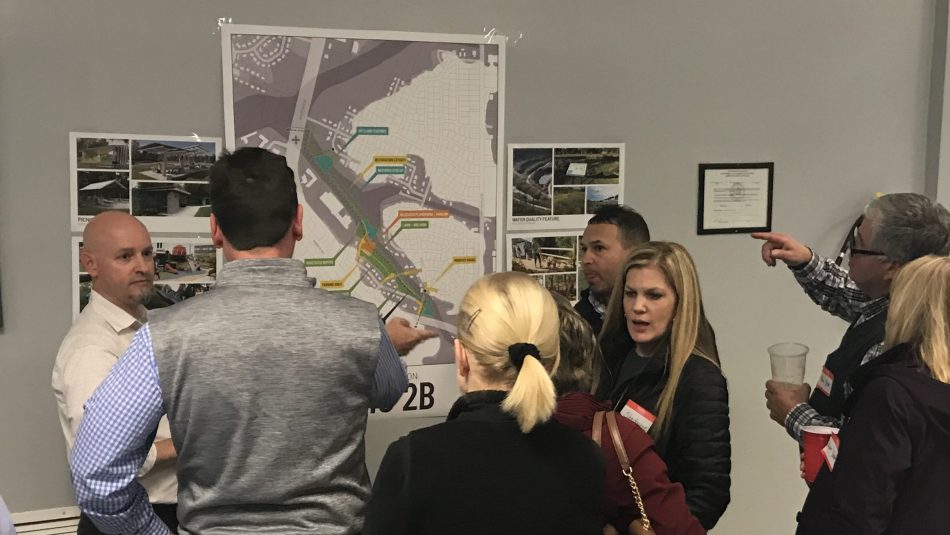 For example, Klondike said the CDDL has been working in Lumberton since Hurricane Matthew hit in 2016. The effort began as a broad-level discussion of the various services the CDDL could provide, then focused on specific hot spots in the town that the CDDL and city staff identified together. In one neighborhood located in a flood plain, the NC State group is working with city leaders and residents to link 39 pieces of property together to create a new public park. City and state officials are developing a buy-out program for the homes on those properties, Klondike said.
"We've been hosting community workshops and meetings with residents in neighborhoods to show them proposals for how certain properties in their neighborhood might change as part of a buy-out program to relocate," he said.
The CDDL contributes with conceptual design and hydraulic modeling for the future park – which will serve not only as a park but as a "giant sponge" to reduce flood risk, Fox said.
"The park really is the flood mitigation device," he said. "Working with engineers, it's been modeled such that the landscape serves as a machine that can absorb certain levels of flood.
"We're always trying to wrap in multiple levels of benefits. These projects represent investments for these communities, and we want to make sure we stretch every dollar."
NC State students are on the coast as well. This spring, 25 students in the fields of architecture, landscape architecture and engineering worked together in the studio course, gaining real-world interaction and understanding of local communities.
"These are community-based, service learning projects that flatten the learning curve for these students as well because they have that exposure prior to landing in their professional life," Fox said. "They've worked with stakeholders and they've worked with clients."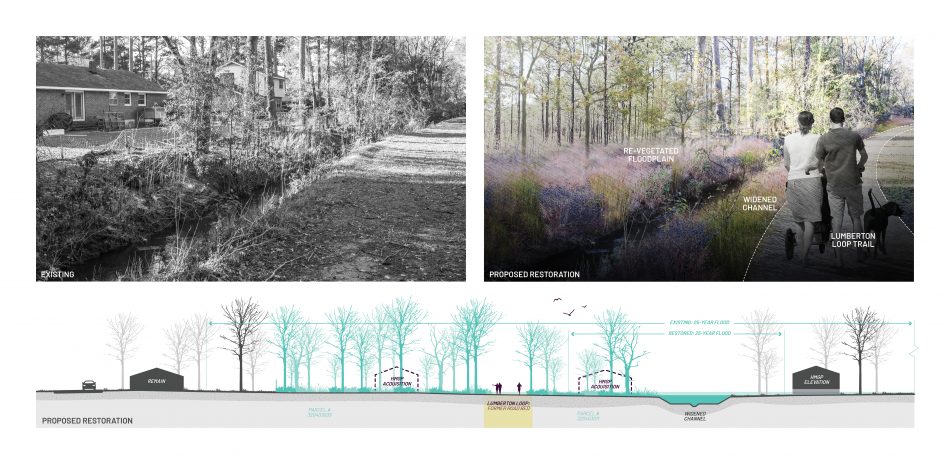 In addition to the studio, six graduate students are engaged through the CDDL in various research projects in both architecture and landscape architecture, Fox said.
The CDDL currently has no guaranteed funding outside of Fox's faculty line, with most of the current work done through funded projects such as sponsored or grant research, he said. Philanthropy has been essential over the years too.
"We wouldn't be where we are without private investment and philanthropic donations to our lab," Fox said.
In fact, Klondike's full-time position was initially funded through philanthropy, which in turn allows the CDDL to say yes to more work within communities, he said. The lab has also added a second full-time research associate – Madalyn Baldwin, who is a recent graduate of NC State's Master of Landscape Architecture program.
Where grants tend to have a specific deliverable tied to them, a gift allows the CDDL to offer a scholarship, a research position or a summer internship, Fox said.
"It gives us the flexibility to bring students in, to provide meaningful experiences, and to be able to think outside the box and innovate," he said.
Klondike points out that private funding means the CDDL can more proactively attract the best and the brightest minds in the fields of landscape architecture and architecture.
"That's huge in recruitment," Fox agreed. "If we're able to offer a scholarship or a stipend, or financial incentive to students looking at other top programs, then they're going to bring those great minds and those great skills to the problems we're facing in our state.
"In their time here, they really contribute to us actively raising the bar in terms of how we're doing things in the built environment in North Carolina."