Prof Turns Creepy Ballet Score Into Teaching Opportunity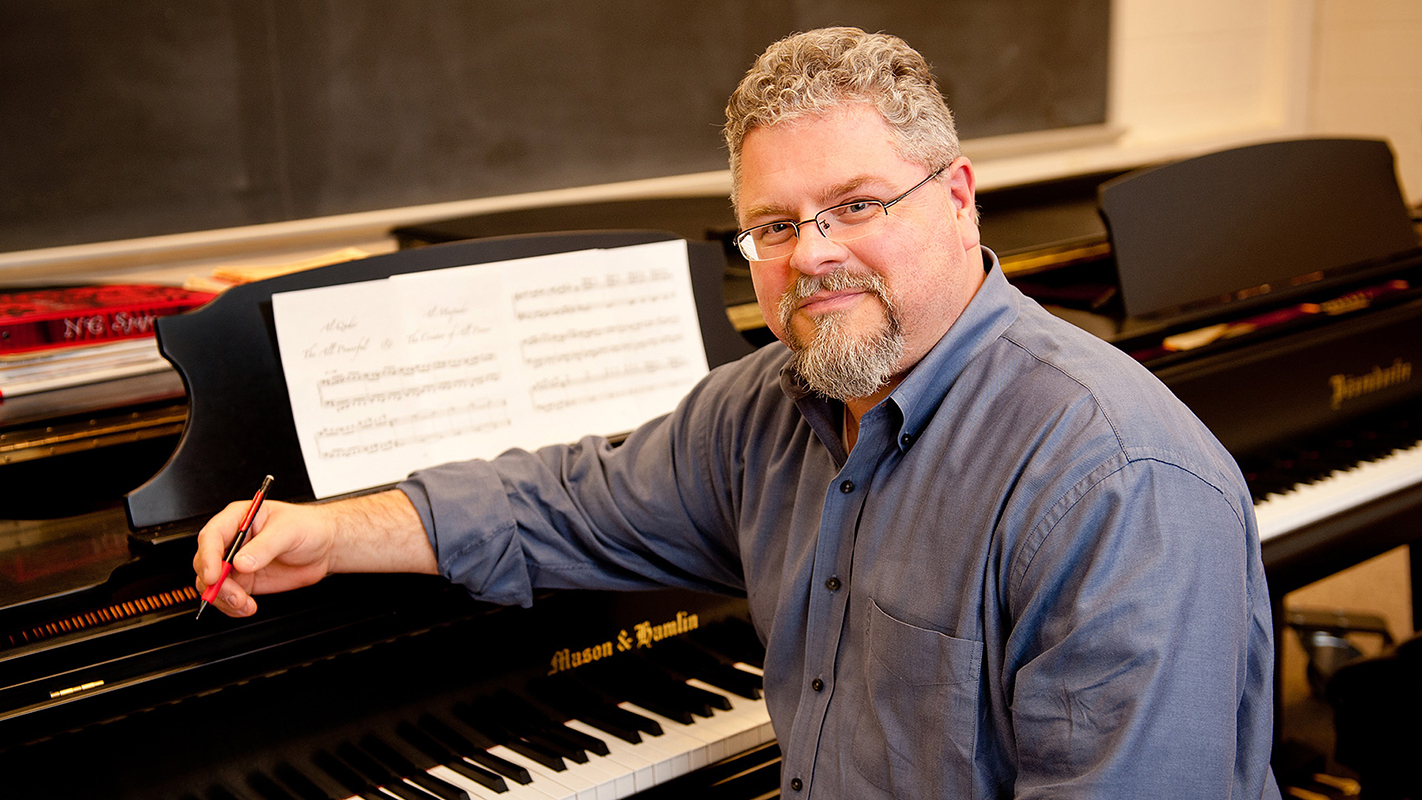 When North Carolina's premier ballet company decided to adapt Mary Shelley's classic novel Frankenstein into a ballet, they asked a faculty member in NC State's College of Design to compose an original score that would set the tone for a chilling experience audiences won't soon forget.
The Carolina Ballet will perform Frankenstein — scored by J. Mark Scearce, professor of art and design — Oct. 10–27 in the Fletcher Opera Theater at the Duke Energy Center for the Performing Arts in downtown Raleigh. The performance will include a balletic dramatization of Samuel Taylor Coleridge's narrative poem "The Rime of the Ancient Mariner," also set to a score composed by Scearce.
"It was the Carolina Ballet's idea to combine Frankenstein with 'Ancient Mariner,'" Scearce says. "I asked them if they were combining the two because 'Ancient Mariner' is quoted in Frankenstein, which it is, in chapter 5, where Victor Frankenstein says:
Like one, that on a lonesome road
Doth walk in fear and dread
And, having once turned round, walks on
And turns no more his head
Because he knows a frightful fiend
Doth close behind him tread.
"They said no, they didn't even know about that," Scearce continues. "They joined the two in the same program because they're both set in polar regions: part of Frankenstein is set at the North Pole, and 'Mariner' takes place at the South Pole."
The book, all those movies, those bolts in his neck — what am I going to do with that?
Frankenstein has brought chills and thrills to readers and audiences since the novel's initial publication more than 200 years ago — and it frightened Scearce, too, in a way.
"It scared me to try to write a score for Frankenstein because it's so iconic," he says. "The book, all those movies, those bolts in his neck — what am I going to do with that?"
Like any good creative might do in his shoes, Scearce "solved" that problem by shelving it to be dealt with later, and he scored "Rime of the Ancient Mariner" first.
"I felt I understood 'Mariner' much more straightforwardly," he says. "That story is all about redemption: The albatross guides this lost ship out of an ice floe, and then the mariner shoots the bird, and the rest of the story is about how he expiates his guilt. I thought, well, the score should have an instrument that represents the bird." Scearce decided to score "Mariner" for a string quartet, plus an oboe to represent the albatross and a bass baritone to sing the mariner's text.
That structure worked so well for "Mariner" that Scearce took a similar approach to Frankenstein, scoring it for a string quartet plus a tympani and a pipe organ.
He explains, "When it came time to write Frankenstein, I kept thinking about all those old monster movies and how they created atmosphere with a pipe organ; and I thought, well, why not work with that? So I came up with a series of chords on a pipe organ that sounds like a late night at the movies. That theme comes up every time Frankenstein's monster appears onstage, which usually means he's about to do something violent. It would be great if every time people heard that theme, they were either scared to death or they laughed."
Teaching Students About Composition
Scearce is using his experience of composing these scores as educational material for a new course he's teaching in the Department of Art + Design this semester, titled "Sound Composition for Mixed Media." The course is divided into five units, each focused on composing for a different type of media: film, TV, animation, video games and live performance. His compositions for Frankenstein and "Mariner" will form the subject matter for the live performance unit, and all the course's students will attend the ballet as part of their educational experience.
"I'm pleased to say a lot of people turned out for this class, from all different parts of the university," Scearce notes. "In terms of music knowledge, some of them know a lot, some know a little and some knew nothing at all on the first day of class. I like it when you get a good mix like that."
Scearce will also give a lecture about his experience of composing for Frankenstein at the Osher Lifelong Learning Institute, part of NC State's McKimmon Center for Extension and Continuing Education. The institute offers a variety of noncredit educational opportunities for adults ages 50 and older.
"I've taught for OLLI almost every year for the past 15 years," Scearce says. "Lately I've been teaching these one-shot 90-minute seminars on composing for the ballet. I tear apart each piece by showing how much or how little structure I was given on the front end, how I created the composition and then how the whole piece comes together through choreography and dance. Those people ask the best questions. Often about my personal life," Scearce says with a laugh. "I don't always tell them everything they want to know. Sometimes the music has to speak for itself."
This post was originally published in NC State News.