Architecture Professor Builds Up Accolades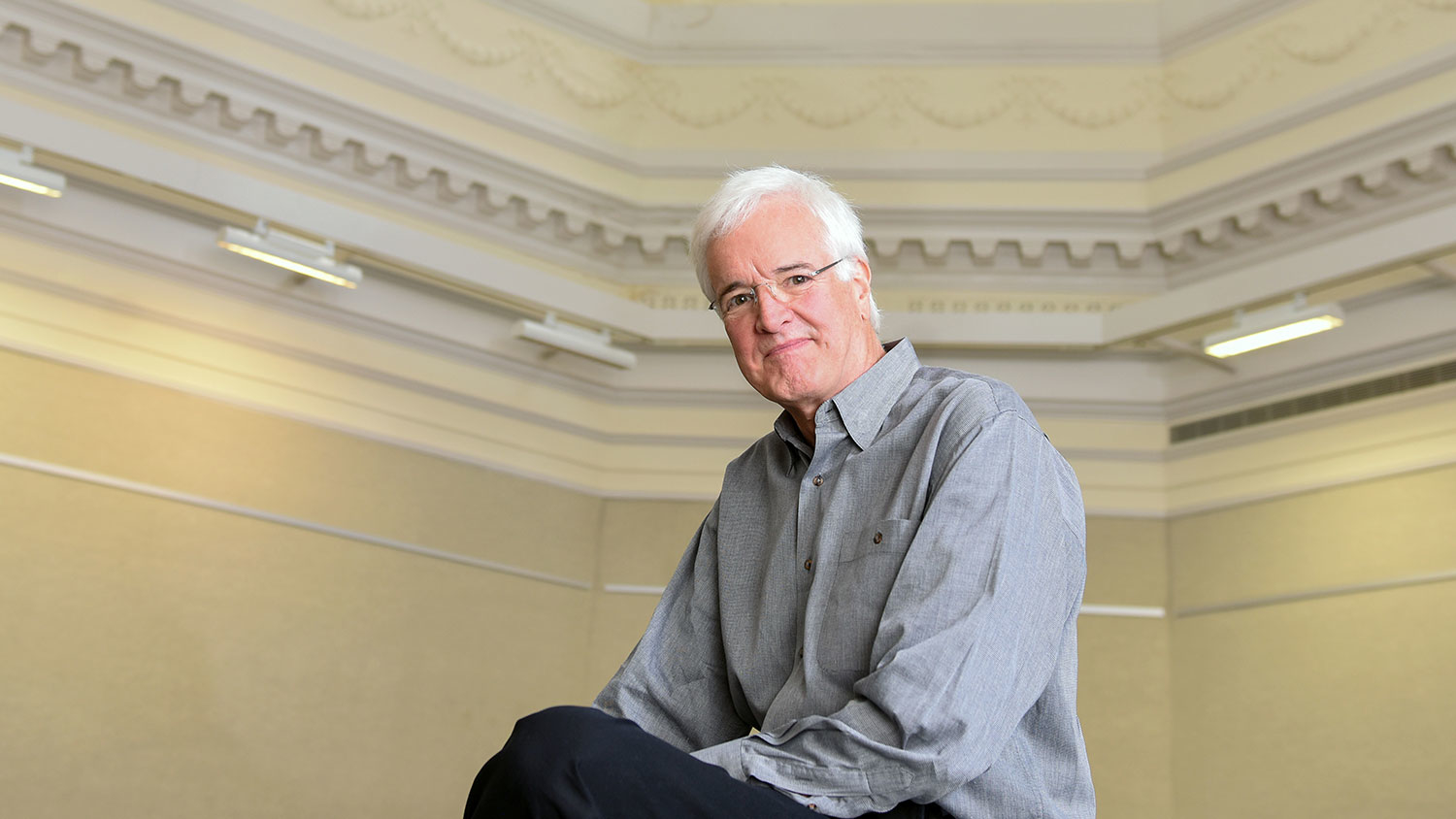 In 42 years of teaching, 2019 is a year that stands out for Patrick Rand.
January opened with the architecture professor teaching at Aalto University in Helsinki as a Fulbright Distinguished Chair. One day he received an email from a professor at Appalachian State congratulating him on his award.
"I had no idea what he was talking about because I didn't get an award notification yet," Rand recalls.
It took another couple of emails and a few hours for Rand to realize what was going on: He won the UNC System Board of Governors Award for Excellence in Teaching. The award goes to an instructor at each of the UNC System's 17 institutions who brings "a high standard of excellence in the classroom through creative teaching methods that impact our students," according to the system's website.
The award recognizes Rand's dedication to his students, including preparing them for a fast-changing world that requires innovation and adaptation as well as knowledge of the fundamentals.
"The first of the bullets that we have in our mission statement for the Department of Architecture is to educate students for the practice of architecture at the highest level," he says. "The second one — not necessarily in rank, it's just listed second — is to advance scholarship and research associated with architecture. And I'm devoted to all of those goals."
Inflatable Experiments
Rand's interest in architecture began when he took a couple of drafting classes in high school. He went on to study at Virginia Tech where he created a "walk on water inflatable" — a sealable bubble large enough for a human to stand in and, like a hamster in a ball, propel across a pond. The contraption appeared on Charles Kuralt's CBS national news segment On the Road.
There were drawbacks. The wind might blow the inflatable in a different direction. And, of course, it was important to make sure the bubble was sealed properly to make it watertight.
"It turns out I invented a really fun way to drown," Rand says.
He also invented an inflatable camping tent that doesn't need poles. That has practical applications, such as temporary housing after a natural disaster, he says, although it has yet to be used that way. It can keep a person out of the wind and wet, and it can run off a car battery if electricity is unavailable. Rand received a patent for the tent in 1977.
Rand graduated from Virginia Tech in 1973. He worked for an architecture firm in Richmond, Virginia, for a couple of years before going to the University of Oregon, where he obtained his master's degree in 1977. He joined the faculty at NC State that year.
"I knew this was a great school composed of excellent teachers that I'd learn a lot from," he says. "That was really my biggest hope and dream, that I could contribute to an already very strong faculty."
A Global Approach
Rand's specialty subject is building technologies and design, including construction materials and techniques. The subject has become increasingly complex as the public expects more from buildings, such as energy efficiency. A 19th-century building might have thick walls of mostly brick; today's buildings may have walls just as thick but include layers of insulation, water barriers and other materials to augment building performance.
Location affects construction. Rand saw buildings in Finland made out of pine that had lasted centuries despite never having been painted, oiled or stained. That's because Finland lacks the chronic moisture and humidity of the South, plus there are cold spells that kill off insects such as termites, he says. However, Finnish architects must combat a problem rare in North Carolina: extreme heat loss.
Regions come with their own challenges and advantages, Rand says, including weather events, availability of construction materials and pests. The architectural licensing exam covers these differences on a national scale, he says, and students must have the knowledge to practice outside North Carolina.
"We need to prepare them for practice globally," he says. "We expect them to excel globally. I take that obligation to prepare students for cutting-edge capability at an international level seriously."
One reason he applied for the Fulbright grant to teach in Finland was to see whether his methods and course content are viable outside this region. Meeting up with a former student who now practices in Helsinki was a sign they are.
"That's a good example of preparedness," Rand says. "He knows how to practice in North Carolina, but his toolbox, if you will, is diverse enough that he can design in a climate other than North Carolina."
Rand also discusses the future with his students. How might 3D printing change architecture? Or advancement in robotics? Anything is possible, he says.
"A really important thing for me to get across to my students is that learning about architectural materials, construction assemblies — you're going to start in my course, but you're never going to finish," he says. "You're going to have to be a student for your whole career who keeps up with things because they're going to be changing so rapidly."
Outside the Classroom
Rand's accomplishments go beyond Brooks Hall. He has co-written five books, including Materials for Design in 2006 — a book unusual for its time, Rand says, because it looked at both design and use of materials. A second edition with all new content came out in 2014. For each book he analyzed images and drawings of 60 large and small buildings around the world and, like a detective solving a puzzle, tried to figure out what made them stand out. He looked not only at the types of building materials but also how each was harvested, manufactured, fabricated and installed. He even scrutinized the nails, glue and other items that held everything together.
"That's really fun for me to do," Rand says. "Many students that I've taught in my seminar dealing with this methodology find it exhilarating to figure out what makes the building tick, what makes it perform so well, what makes it special."
He's taught grade schoolers in the past, including teaming up with a Duke University professor to teach science to elementary school students. There he used inflatables to help them understand principles of physics such as forces in nature. He taught a course in environmental design to seventh and eighth graders in Richmond after he graduated from Virginia Tech.
"They were so cool because they were full of imagination and possibilities, and they hadn't learned to shut that down yet," he says.
His influence on his NC State students lasts beyond the classroom. He helps grads prepare for licensing exams, attends their building design awards ceremonies and offers them career advice over coffee. He stays in touch with people he taught 40 years ago. Awards that recognize him as an advisor and instructor go back decades.
However, the board of governors award came as a welcome surprise. Rand has been nominated before but didn't win.
"I know all of the nominees are extremely talented," he says. "I know they're all devoted teachers, researchers, scholars and educators. I really didn't expect to get good news like that.
"So the lesson to my colleagues is, if you don't win it the first time, like I didn't — keep trying."
This post was originally published in NC State News.