A Design Career Shaped by Human Connections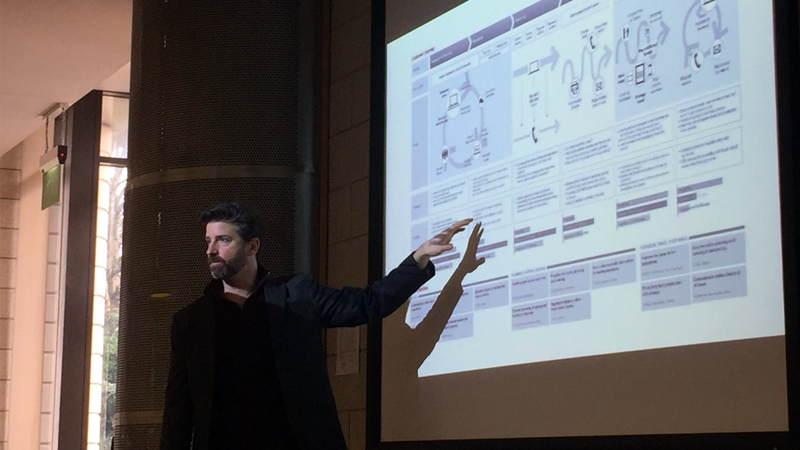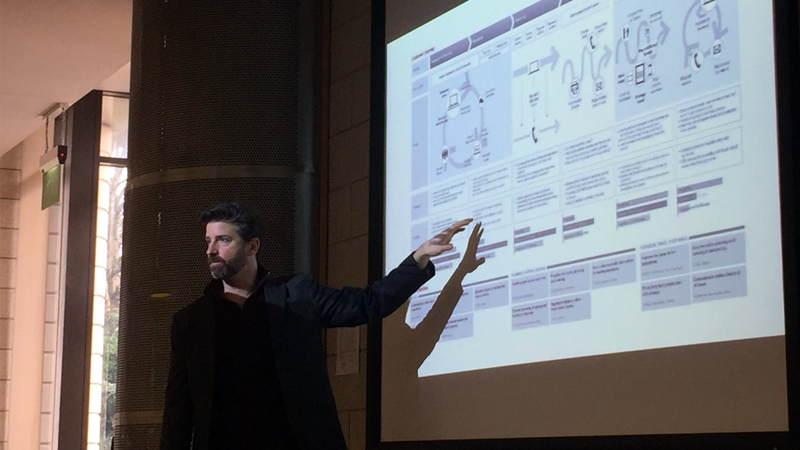 Written by Stuart Hall
If Travis Baldwin's professional moves were to be plotted by push-pins on a global map, then the path would be as wide as his experiences have been diverse.
They would mark Raleigh, Spain, Denver, Houston — twice, actually — San Jose, San Francisco and currently Bristol, located in southwest England. As for background, he's been an industrial & strategic designer, a space architect, worn the hats of advisor, consultant, and entrepreneur, and has also taught — at the University of Houston's ID program and currently at the University of Bristol Innovation Masters program.
For all of his work experience over the past 21 years, Baldwin, who graduated from NC State in 1998 with a Bachelor of Industrial Design, says what has propelled his journey was not only doing good design work in his varied roles, but also the human connections.
"Almost every new job was not just a blind application to a job posting," said Baldwin, who founded Créa Inc. Design LTD in 2004 and has nurtured the company's growth through the years amid various career moves. "It's meeting someone and making an impression, knowing a colleague at a firm or being introduced to key people through projects."
Like the time in 2008, when Baldwin was working for a startup in Houston. He went to a local design event, struck up a conversation with some members of a NASA design team and met noted industrial designer Ross Lovegrove, who, at one point in his own career, worked at a firm Baldwin had also previously worked – Frog Design. Within a month or two, Baldwin came across a job posting for NASA's Habitability Design Team, and because of this experience he had a connection with the team there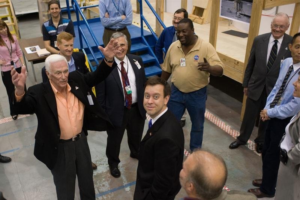 "My experience was also quite focused around skills they needed: aviation experience, vehicle human factors, and a student NASA project," said Baldwin, who attended space camp as a child and later worked with NC State Engineering on student lunar lander concepts. "I got the interview, it went well, and I joined the team."
Along the way, Baldwin has been a part of some compelling projects. One, in particular, was the design for the UK's Britannia 10MW offshore wind turbine in 2009, planned by a CA turbine manufacturer to be the largest in the world (but was unfortunately never built). It recently won an A' Design Award in the Energy Products and Devices Design Category in 2018-19.
"That was a great project, challenging because of the scale and materials," said Baldwin, who also considers his time working on crew habitation areas at NASA as a top experience. "Our work was to develop new interior crew area architectural design for the fleet Constellation project spacecraft … new kinds of 0g and planetary habitats, vehicle cockpits and even parts of the new pressurized rover." Other projects were based on different space human factors challenges such as sleeping and food systems… including a 0g space coffee cup. The cup design happened on personal initiative, taking an experiment done by astronaut Donald Pettit and turning it into a more human product — later picked up by design blogs. It eventually led to a meeting with Ast. Pettit and the fabrication of concept models for testing.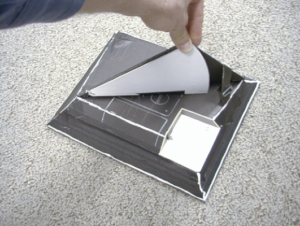 Baldwin's career ascension, which began at IBM in nearby Research Triangle Park right after graduating NC State, has also included trying and uncertain times. While working for Antelope Tech, a struggling tech startup in Denver, he suddenly "spent a couple of weeks homeless, not sure what to do," he said. That quickly led to Baldwin's first go-round in Houston after the company won a new round of funding, staying with another product engineer in a guest house owned by Antelope's new main investor.
"We were working in a warehouse at his waste treatment plant in Pasadena (Texas), driving past oil refineries and cracking plants on the way into work, and smelling like chemicals every night when we left," said Baldwin. The first project there was an accessory that not only solved a problem with their flagship tablet pc and won a major contract, but also let to the team being rewarded with an office in a downtown Houston skyscraper.
There is a point to Baldwin's Denver-to-Houston story that serves as a teaching moment.
"Persistence and having thick skin is a huge part of success in design," Baldwin said. "You've got to put yourself out there and track down the opportunities." It's also been a great recipe for a small business, where you have to find new companies and projects all the time.
Current he is a teaching fellow at the University of Bristol's Centre for Innovation 1 day a week, where he identifies with a particular type of student.
"Persistence and having thick skin is a huge part of success in design. You've got to put yourself out there and track down the opportunities."
"You see the ones who are going to do well…  the ones working really hard and putting in the extra effort, making connections and being personable as well as talented. It's going to be a combination of things [that make them successful]."
While helping grow University of Bristol's fledgling Masters in Innovation program, inspired by programs such as Stanford University's d.school, there is a passion for helping all students succeed.
"We have students from computer science, physics, history, theatre, geography, anthropology, psychology, electrical engineering, business, and more making up the multi-disciplinary cohorts – much like teams in the real world. They are adding this 1-year Integrated Masters into their three-year undergraduate program to have an extra edge in the industry when they get out,"
He said. "We get them into the classroom to work together on projects while being taught about entrepreneurship and the innovation process. To be honest, it's kind of like the design process."