Landscape Architecture Wins Big At the 2019 Southeast Regional ASLA Conference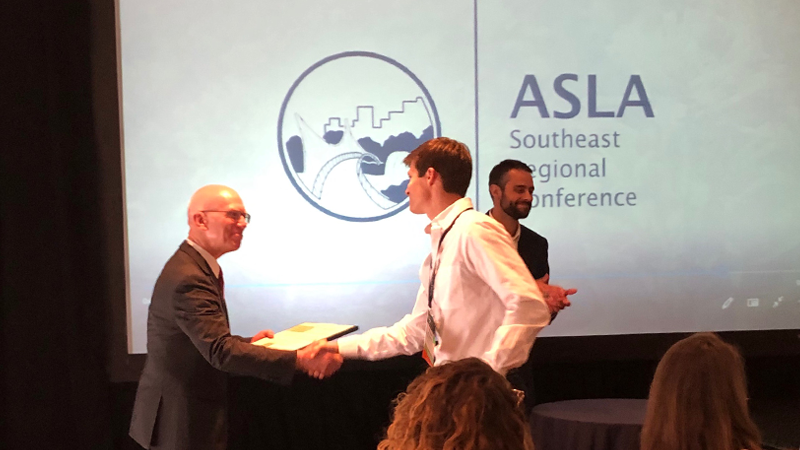 The NC State College of Design congratulates the Landscape Architecture faculty and students who won multiple awards at this year's ASLA Southeast Regional Conference. NC State students won all but one of the student awards. Students from the University of Georgia and Clemson also submitted projects for awards.
Professional Awards:
Andy Fox, Kofi Boone, Travis Klondike, Robby Layton, Teresa Penbrooke and Ben Jones – Analysis and Planning for 'Lumberton Floodprint'
Andy Fox, Travis Klondike, and Lindsey Naylor – Honor Award in the Research category for 'Urban Water Rx'
Andy Fox, Kofi Boone, Travis Klondike, and Lindsey Naylor – Merit Award in Analysis and Planning for 'Greater Princeville'
Emily McCoy, Ben Monette, and Raleigh Andropogon Associates for the Analysis and Planning award for the Thadon School Master Plan in Arkansas
Student Awards
Dong Jae Yi, Merit Award for Design Development Studio Project, Primrose Hall Courtyard
Dong Jae Yi, Honor Award for his project The Loving the Loved,
Rifat Sharmin, Merit Award for her Community Health and Well Being Project
Ben Jones, Recognition Award, Independent Project, The Coastal Crescent Trial
Hongsheng Geng (Neo), Honor award for the project 'Freedom Hill Park'
Congratulations again to our awesome faculty and students, who exemplify NC State's Think and Do mentality in their design efforts to address today's most formidable landscape challenges.
(Photos courtesy of Meg Calkins, FASLA.)