Success by Design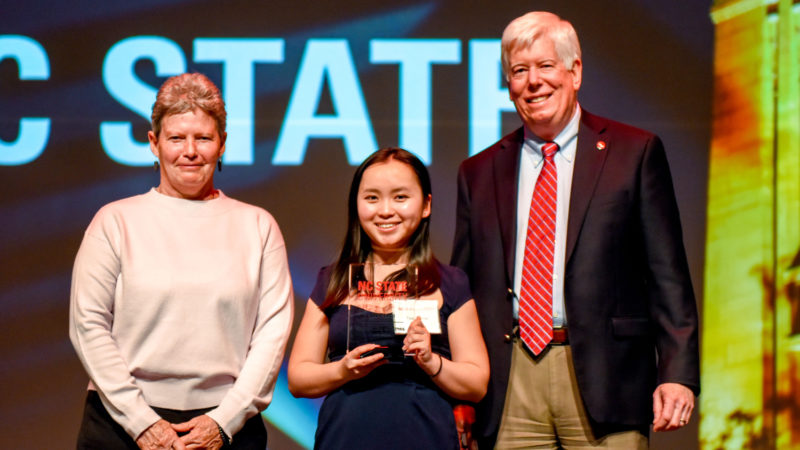 Téa Blumer has had a busy four years at NC State — and the May 2019 graduate is not slowing down anytime soon.

Blumer, an art + design student with a graphic design minor, has worked on interactive design projects as part of NC State's Laber Labs, co-founded a student organization, won several campus honors for her volunteer work and service, and excelled academically. And in the midst of it all, she has been developing iScribble, an interactive, drawing-based web application for which she won top honors in the Arts Venture category at the 2019 Lulu eGames.

We talked to her about her time at NC State and her plans for iScribble.

How did you decide on your program of study at NC State?
Toward the end of high school, I was torn between studying fine arts or design, between choosing an out-of-state or in-state school, and between going to a university with an established arts program or an exclusive art school. NC State's Art + Design program seemed to be a natural choice — the best of all worlds. Come sophomore year, I decided to add a graphic design minor to enhance my education, experience and skill set.

What has been your favorite experience in the College of Design?
During my sophomore year, I applied for the graphic design position for Art2Wear, a student-organized fashion show of wearable innovations. They were impressed with my portfolio and body of work, but I did not have enough graphic design experience to get that job. Instead, I was offered a new position as an artistic contributor who would create the visual language and motif for the fashion show. I worked closely alongside the graphic designer and directors to create a visual embodiment of that year's theme, "Déjà vu." It was exciting to see my design included in press booklets, event brochures, postcards, banners and social media posts. Even though I did not get the position I applied for, I was honored to have faculty and peers encourage my participation. I gained extremely valuable experience and a beautiful portfolio project.
Tell us about your business, iScribble, and how NC State has helped you develop it.

iScribble is an interactive, drawing-based web application that allows individuals from all over the world to come together and collaborate on a digital canvas. I started using iScribble in 2010 and acquired the website from the original creator in 2018. A small team of volunteers and I have been working on market research, design prototyping and overall improvements for the service. Much of my work has been in getting familiar with the entrepreneurial resources and community in Raleigh in preparation for formally launching a business.

At the beginning of my senior year, I created a proposal for a yearlong independent studio focusing on iScribble. This provided me the time I needed to develop the concept without having to worry about an additional studio project. The College of Design faculty have been so encouraging throughout this entire process, allowing me to practice presentations and supporting me as I competed in the Lulu eGames.

What are your plans for your company following graduation?
I am incredibly excited to have been invited to join this year's cohort for the Dr. Thomas Kenan Miller III Fellows Program. Through the Miller Fellowship, I will be able to pursue iScribble full-time after graduation while I further develop myself as an entrepreneur and iScribble as a company. The NC State Entrepreneurship team has been a wonderful resource throughout my entrepreneurship journey, and I'm so glad to have the opportunity to continue working with them.
What advice do you have for incoming students?
Get involved in the community! There are so many different organizations at NC State that cater to some incredibly niche groups. If you're looking for a community that doesn't exist yet, make it yourself! My freshman year, I co-founded the Adopted Students Union with a group of fellow adoptees. However, you don't have to start or join an organization to be involved. There are plenty of opportunities you can try out to meet new people and experience new things.
This post was originally published in NC State News.