Reaching for his Dreams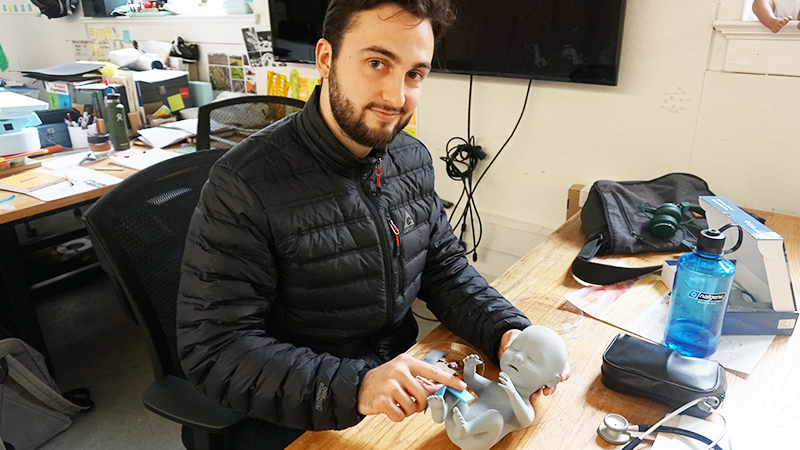 In May, Will Reuther will graduate with his master's in industrial design (ID), and unlike most of his peers, he will likely enter a one-year intensive post-baccalaureate pre-med program. His goal is to continue his studies and become a medical doctor. He believes in following his dreams. "The whole thing about whatever you are doing in life is that it's not about the destination but the journey and the process that leads up to that," Reuther says.
Reuther has his undergraduate degree in communications and realized he had a passion for industrial design with an interest in medical devices. "It was my first interest, and when I applied to the College of Design, I included a few products in my portfolio that were medical specific—prosthetics and 3-D printed anatomical parts for prosthetics."
He admits that originally, "I thought ID was about a cool or interesting product; the object of something. I've learned [ID] is more of a process; the research and testing of the problem; and working with people and the refinement of the problem and the product. It is less about the final thing." This is something that he came to understand and appreciate over the past few years.
Last year, Reuther began volunteering at UNC Rex Hospital within the heart and vascular care unit. He realized that his keen interest in health care went beyond medical devices, but he says, "I wanted to really focus on healthcare. Throughout this [master's in ID] program, I've had the opportunity to be exposed to patients, nurses, and doctors, and I saw what they did and realized that is what I really want to do."
NC State has been amazing—super challenging in a good way. But it has been really supportive, and the people are genuine. There is no comparison—the College of Design is amazing and life changing." —Will Reuther
During this time, he was also formulating his master's thesis and was intrigued by patient monitoring devices and determined he would explore this further. Knowing that he wanted to apply to medical school, Reuther valued the idea of incorporating research and exposure to clinicians and started to reach out to research groups in patient monitoring settings. "I read medical journals and papers and reached out to some of the authors. One of these was Rogers Research Group with Northwestern University." John Rogers and his team were working on patient monitoring systems for babies. Reuther connected with them and says, "I shared my story of being a design student who wanted to go to medical school and asked if I could work with them for my thesis and help them."
"They were really receptive," adds Reuther. "It was a combination of being at the right place at the right time."
As part of the team, Reuther is constantly collaborating via Google Hangouts, texts, emails, and a weekly Skype meeting that provide a "constant flow of communications that keep the project moving."
The newly devised baby monitoring system has come a long way and in the final stages of development. Reuther shares that there is another designer on the team whose focus is on user experience and the digital aspects. Reuther says his focus is on the "physical aspects of the components and how they interact with the baby and how they need to be more comfortable, better fitting, and safer. I take a more explorative approach where I throw out a bunch of ideas, even if they are crazy, which is a bit of a diversion to what they are use too."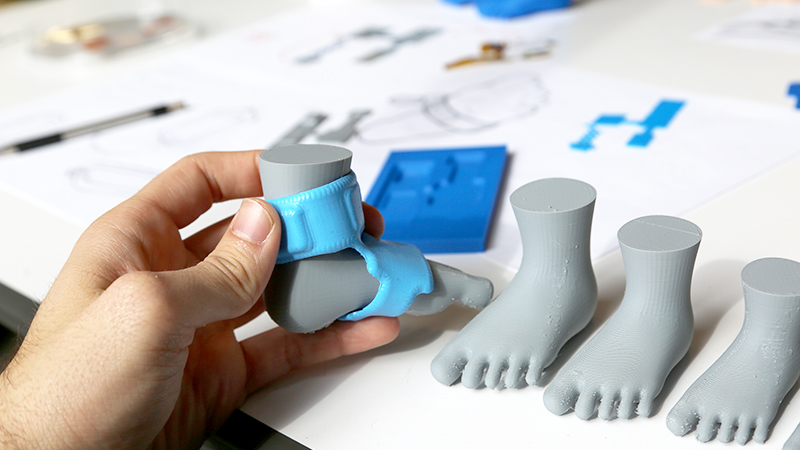 "Prototyping was a big part of this project," says Reuther. "Making your ideas and testing this out is important." Ideation and prototyping are common elements to design thinking and other disciplines do not often go through this process. "If something doesn't work, you can modify and test out something else."
Best case scenario, which Reuther believes is "highly likely," will be when the product gets shipped to hospitals and they begin to collect market feedback. Additionally, Reuther would like to see this product retrofitted for adults as, "It's easier to scale up in size than to scale down."
Reuther has lofty goals and has applied to several programs including Harvard, Columbia University, Johns Hopkins, and Northwestern University. "I would not get into any med programs without NC State," he admits. "At NC State, I have been able to craft this story and this portfolio and meet all these people. It's been a great opportunity. NC State has been amazing—super challenging in a good way. But it has been really supportive, and the people are genuine. There is no comparison—the College of Design is amazing and life changing."
As a recipient of the coveted L. Franklin Bost Industrial Design Fellowship and a teaching assistantship, Reuther acknowledges his appreciation. "Personally, the scholarship was the first I ever got and my first academic accolade. I know that it's tough to get into the College and it was validation that someone was saying that what I was doing was good. And it was invaluable to help not only balance the books, but also emotionally, as I'm less in debt than I would be."