Meet Winners of NC State's 2019 Sustainability Awards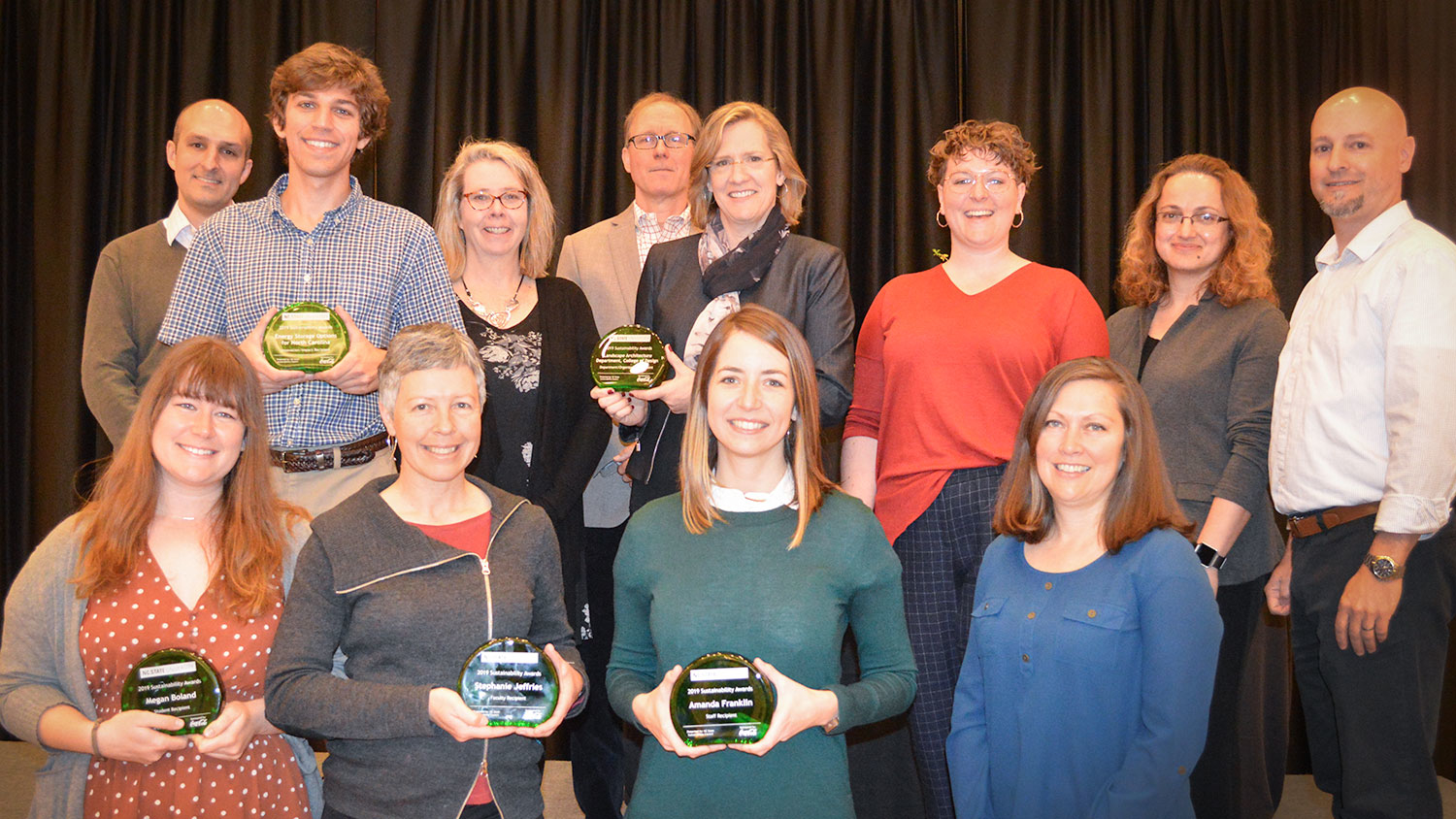 The NC State's Sustainability Awards were announced during the Celebration of NC State Sustainability on April 3. Here are this year's honorees for outstanding sustainability achievements.
Student Recipient
Megan Boland is a Ph.D. student in the Department of Biological and Agricultural Engineering. She researches anaerobic digestion of animal and agricultural waste, which simultaneously produces renewable energy. In addition to a busy research and course load, Megan joined the NC State Stewards sustainability leadership program. As the Academic Success Coordinator for the Stewards, she provides academic and career mentorship for younger Stewards. She's also making a difference in her home department. At Weaver Labs, where she researches and studies, Megan has initiated and maintains a compost program and is planning to create hanging gardens and bee hotels.
Faculty Recipient
In addition to teaching courses about the environment, Dr. Steph Jeffries leads the Environmental First Year Program in the Department of Forestry & Environmental Resources. The Program and her courses are critical to engaging new students and exciting them about addressing environmental challenges with sustainable solutions. In one large course, she won two grants to take learning outside the classroom by engaging students in data collection on campus trees. This citizen science project was key in helping NC State earn designation as a Tree Campus USA from the Arbor Day Foundation. That's just one of several ways she has incorporated sustainability and service learning into her teaching. She also models sustainability in her teaching. Last spring, she worked with colleagues to make a large class paperless. In just one section of this class, the switch saved some 6,500 sheets of paper.
Staff Recipient
The ultimate job of Mail Services is straightforward: manage and deliver campus mail. Amanda Franklin embraces NC State's Think and Do spirit by initiating several waste reduction efforts. Her team recycles tons of unsolicited mail items annually, and Amanda is instituting measures to ensure this material doesn't reach campus at all. She tracks her department's waste diversion rate and has optimized mail routes to save fuel and create efficiencies. Her team's goals are: Safety, Service, Security, and Sustainability.
Organization Recipient
The Landscape Architecture Department in the College of Design has a long history of advancing sustainability through its teaching and applied scholarship. Faculty have successfully partnered with other units on campus to create several sustainable campus landscapes, and this collaborative spirit continues off campus. After Hurricane Matthew devastated parts of eastern North Carolina, 5 faculty members led an interdisciplinary team to create rebuilding guides for leaders and residents in low-resource rural towns. For several years, the department has also developed and managed DesignWeek, an inter-institutional event for students to explore sustainability issues related to Hurricane Matthew recovery, pollution in the Neuse River Watershed and the community impact of increased extreme weather events. The department is having a transformative impact on students, on campus and in the community.
Innovation/impact Recipient
The Energy Storage Study for North Carolina involved an interdisciplinary team of NC State researchers evaluating the potential for energy storage in the state. Members of the project team were drawn from agricultural and resource economics, public administration, electrical engineering, civil engineering, and NC Clean Technology Center. Because storage can help enable the deployment of emissions-free wind and solar, the topic has important environmental implications and needed rigorous evaluation. The completed report is intended to guide the NC General Assembly as it develops storage-related energy policies.
This post was originally published in Sustainability News.