State Loves #GivingPack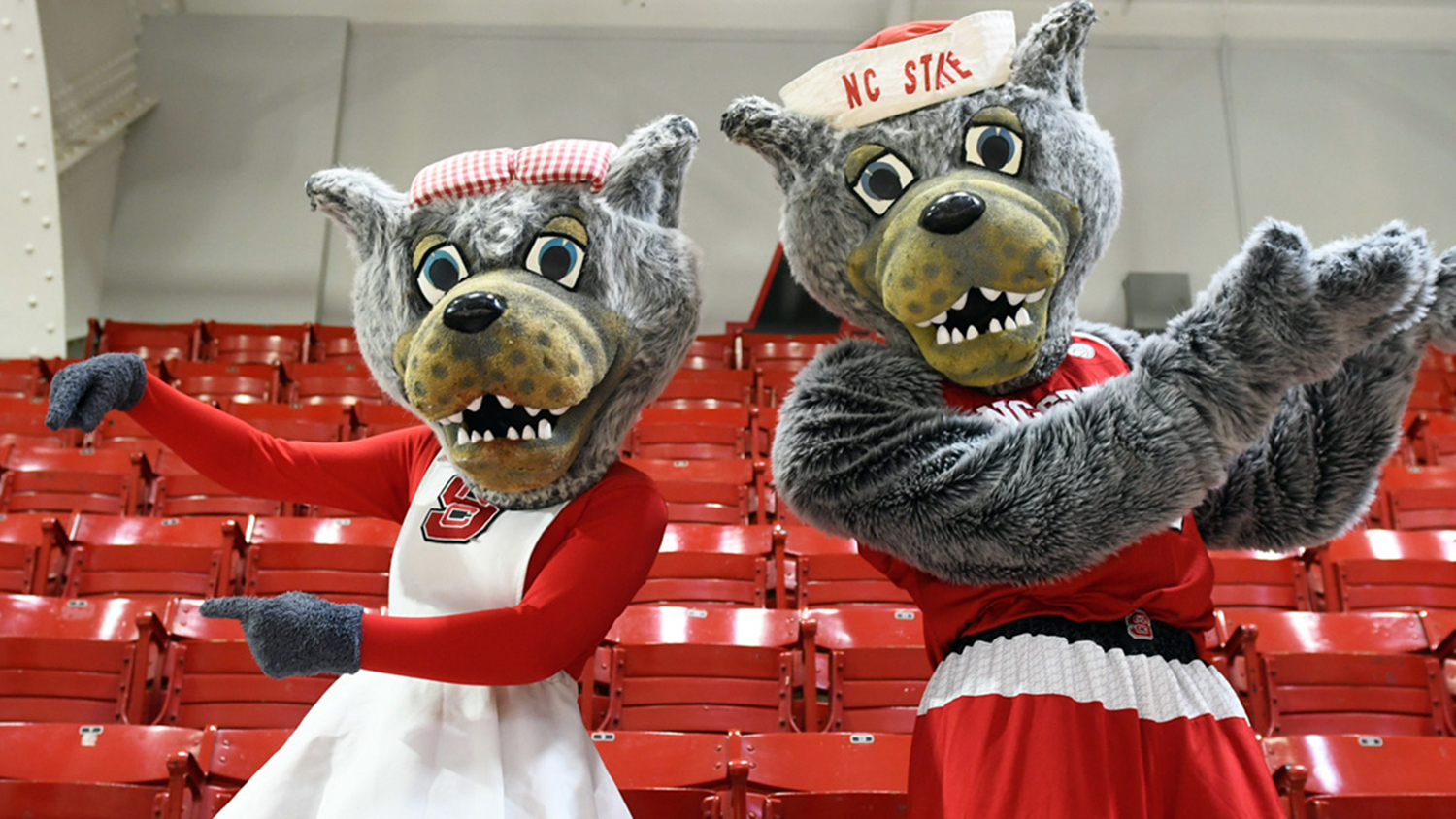 Putting a new spin on an old phrase, NC State donors decided that even if March comes in like a lion, it's definitely going out like a Wolf.
Collectively, Wolfpack students, faculty, staff, alumni, parents and friends made more than 10,000 individual gifts on NC State's first-ever Day of Giving March 27, contributing $13.5 million to support student success, infrastructure, research and academics. The funds count toward the university's ongoing $1.6 billion capital campaign, Think and Do the Extraordinary, the most ambitious fundraising campaign in NC State's history.
In a videotaped message from his residence on Centennial Campus, Chancellor Randy Woodson shared an easy chair with his dogs Gus and Gracie after a frenzied 24 hours. "What an extraordinary day," he said, noting the flood of social media activity that helped build momentum throughout the event. "You've shared memories, photos, and you're making a huge difference for our university. Whether you're a first-time donor or you've supported NC State for many years, we're so proud of what you've helped us accomplish today."
The day kicked off at midnight with a challenge — the first of many — promising to add $2,000 to the first donation made online. A fast-typing donor snagged that extra money for the College of Engineering. The day ended at 11:59 p.m. with a donor to the College of Veterinary Medicine securing $2,000 in challenge money for that college by making the final online gift of the day.
In between, challenge money totaling $200,000 was doled out on an hourly basis, boosting gifts from donors who used the hashtag #GivingPack, alumni who gave the most donations to a single college or unit, and even donors who dressed up their pets in Wolfpack gear and shared photos on social media.
Donors reveled in the spirit of the day, posting funny, quirky and heartwarming messages online and on social media. Donor Michael DeHaan made a gift to the NC State Beautification Fund with a suggestion: "Centennial Campus seriously needs some more wolves or fountains or something. Let's make it happen."
Greyson Garrison, a four-legged Wolfpack supporter, made his gift to the College of Veterinary Medicine, grateful for "the excellent care I've received from internal medicine, orthopedics, rehab, nutrition, dentistry and everybody else. Thanks very much and see you next month. Got to go now so Mom can give me a belly rub."
Alum Ryan Held, an Olympic gold medalist, appeared in a video singing (sort of) the university's Red and White Song underwater to show his Wolfpack spirit.
Deans were not immune to taking a lighthearted approach to the day. Jeff Braden in the College of Humanities and Social Sciences starred in a video inspired by the film Rocky to prove that even a psychology professor can think and do. At least until he cut his training short and jumped on a Lime scooter.
By the Numbers
Total dollars raised: $13,535,396.81
Total gifts made: 10,810
Largest gift made: $2,000,000
Total donors: 7,553
Number of student donors: 1,235
Number of alumni donors: 5,488
Number of faculty/staff donors: 2,131
Number of parent donors: 683
Number of friend donors: 944
Donors from 1940s classes: 1
Donors from 1950s classes: 30
Donors from 1960s classes: 206
Donors from 1970s classes: 654
Donors from 1980s classes: 871
Donors from 1990s classes: 1,305
Donors from 2000s classes: 1,100
Donors from 2010s classes: 1,368
Percentage of gifts made online: 83.9%
Most dollars raised (Red Division): Veterinary Medicine
Most gifts (Red Division): Engineering
Most dollars raised (White Division): Design
Most gifts (White Division): Division of Academic and Student Affairs
Most dollars raised (Priorities Division): Park Scholarships
Most gifts (Priorities Division): Park Scholarships
Number of states represented: 46
Number of countries represented: 17
This post was originally published in NC State News.