Successful Career Expo Brings Job Opportunities to Design Students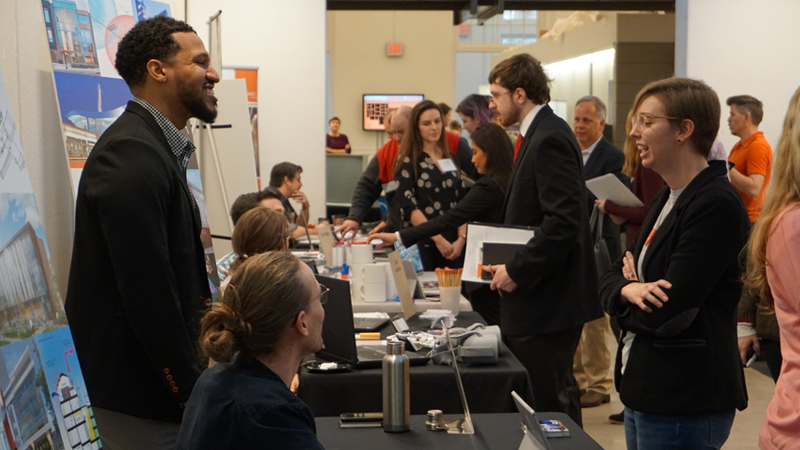 Forty-six employers came to the College of Design at NC State University for the Career Expo and Spring Interview Days on Thursday, February 28th and Friday, March 1st, 2019. Following the morning Career Expo, approximately 350 interviews were conducted allowing students to discuss their education, skills, strengths, and interests with hiring managers. The Career Expo met capacity for employers again this year but also increased employer participation in Friday Interviews by 23 percent. This was the inaugural year for the Social Hour featuring Howling Cow ice cream, which brought together over 110 students, hiring managers, faculty, and staff for casual conversations on Thursday afternoon.
If you are interested in learning about on-campus recruitment opportunities and other ways to connect to our students please contact Kathleen Fenner, Director of Career and Academic Advising at 
kathleen_fenner@ncsu.edu
.
Participating Employers
310 Architecture + Interiors
Apple Inc.
Balzer &Associates
BB+M Architecture
Boomerang Design
BSA LifeStructures
BuildSense Architecture
Cline Design Associates, PA
CPL
Design Dimension Inc.
Design Line Studios
Duda|Paine Architects, P.A.
Elkus Manfredi Architects
EwingCole
EYP, Inc.
Flad Architects
FMK Architects
Gensler
Gresham Smith
Hanbury
HH Architecture
IBM
JDavis
Liollio Architecture
Lord Aeck Sargent
LS3P Associates Ltd.
Maurer Architecture – Raleigh, NC
Moseley Architects
NEIGHBORING CONCEPTS
New City Design Group
Novus Architects, Inc.
O'Brien/Atkins Associates, PA
Perkins Eastman
Perkins+Will
RATIO Architects, Inc.
Sawyer Sherwood & Associate Architecture
SFCS Inc.
Smallwood, Reynolds, Stewart, Stewart, & Associates, Inc.
SMITH SINNETT ARCHITECTURE
Team Creatif USA
ThoughtCraft Architects
TightLines Designs
Tongue & Groove LLC
TriMark Digital
Walter Robbs Callahan & Pierce Architects, PA
WillowTree