The Nature of Public Art: Talent, Teamwork, and Time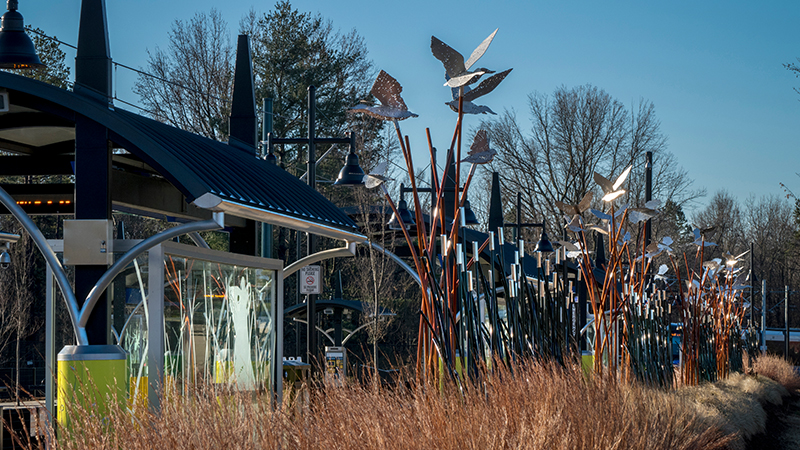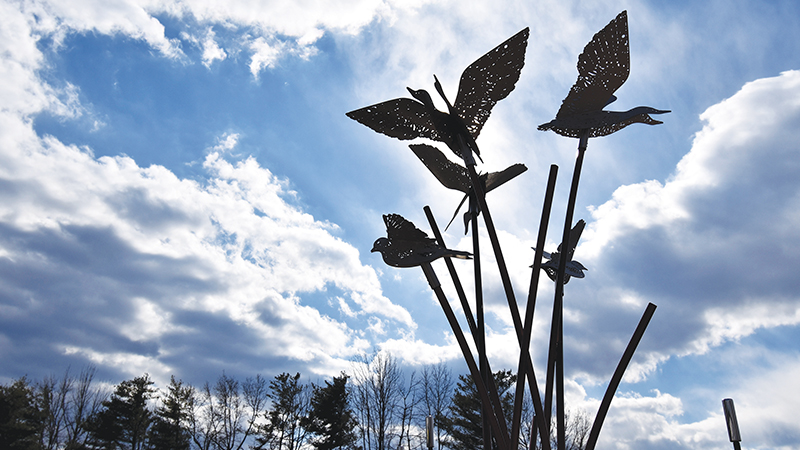 The Sugar Creek station of the Charlotte Area Transit System (CATS) LYNX Blue Line light rail is anything but ordinary. The station, titled "Locomotion," is full of public art that is uniquely designed with the station's location and usage in mind and pays tribute to rail history. Sugar Creek is one of 11 new stations that are part of the CATS LYNX Blue Line light rail project. Completed in March of 2018, the LYNX Blue Line is a $1.2 billion-dollar vision that spans the 9.3-mile stretch from 7th Street in Center City to the UNC Charlotte campus in Charlotte, North Carolina.
For the past ten years, NC State Alumni Distinguished Professor of Art + Design Chandra Cox has simultaneously designed the artwork of the Sugar Creek and Old Concord Road stations of the LYNX Blue Line. Cox was one of the only artists to be awarded two stations from the 400 artists who applied for the national call to compete for these commissions.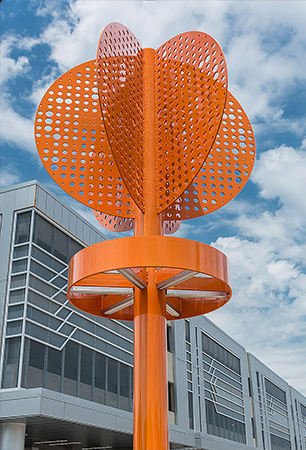 Located in the "NoDa"  (North Davidson) community—a popular arts district in Charlotte—Sugar Creek sees more than 50 freight and passenger trains daily. Upon entering the station, travelers are first greeted with a towering 18-foot sculpture titled "The Orb." Bright orange and fitted with a ring of LED lighting, "The Orb" is reminiscent of a train directional signal. Colorful, kinetic finials spin in the breeze atop the wait station canopies and honor railroad signal vocabulary.
The most impressive and complex elements of the station artwork are the glass windscreens of each platform wait station. "The design is made up of all the names of the rail stations in North America," Cox explains. "At a distance, it looks like you are seeing a detail of a historical train wheel, but on closer inspection it's all the names using letters as pixels, which make up the image."
Cox researched the history of Sugar Creek and the variable origins of the spelling including "sugaree," "sugaw," and "shuger." "Some say that [it] came from Native Americans and other references attribute it to how the local dialect would pronounce it," Cox shares. The variable spellings are laser cut into the metal cladding of the station's columns.
After 10 years of planning, meetings, ideation, and collaboration; a myriad of challenges; and four years of construction, the stations—including Sugar Creek and Old Concord Road—were open to the public. CATS estimates that these stations will increase travel by 20,000 passengers daily and will spark economic development and alleviate traffic congestion.
Public art that is incorporated into state or federal projects is complex and can take years to complete. The scale of public art requires a unique set of experience, know-how, and grit. The complexities and challenges are part of the process, and each situation has its own rules and regulations that change often and unexpectedly. This is the reality that Cox and her team had to continually deal with. It was essential that they address and solve issues quickly and remain flexible.
"You have to know who you need on your team," Cox says. "One of my strengths is that I know how to build a team. I recognize people's strengths and position them in places where they can effect change to bring about the desired effect." This strength led her to develop a team of people who were invaluable throughout the design, fabrication, and construction process.
The alumni team Cox assembled included Susan Cole Cannon, FAIA ['78], of Cannon Architects and adjunct professor in architecture; Matt McConnell [BEDA '94, BEDI '95] of McConnell Studios; and Mike Bissinger [MID '06], a current adjunct assistant professor. Together, they bring a wealth of design, technology, and materials specialties to the team.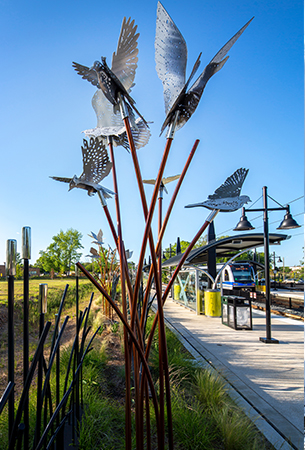 As an architect, Cannon has experience with the engineers and assisting in construction and implementation of large-scale installations. McConnell, an artist and sculptor who designs and builds massive installations around the globe, is also an expert in sourcing materials and fabrication. Bissinger, an expert in technology, incorporates software to convert drawings into dimensional mediums so that items could be built and manufactured.
"Integrated public art is different," emphasizes Cox. "It requires that you work alongside engineers and architects. There are regulations and situations that you may not even be aware of, and that is where it can get tricky. You are integrating your design into an established template, and CATS had a template or formula for all these stations."
The team faced challenges from sourcing of materials that had to meet strict regulations and from cost parameters. All materials had to be made in the US, and the team had to completely scrap a design because of the grade of the land. With each challenge, the team banded together to develop solutions. In many situations they had to work with contractors and municipal groups to get resolution.
All the challenges and unexpected hurdles provided learning opportunities. Chandra says, "That is why it helps to have partners to work with, especially ones that are accustomed to large-scale projects. You can't go in and fix or change anything on a project like this—there is a permanence—and you have to learn to live with decisions that may have been made several years ago or by someone else."
Public art, Cox says, "is a whole different arena and through it all, we are still trying to make something beautiful and functional. You are learning all the time when you engage in public art. Ultimately, the output is what becomes so inspirational—making things—seeing that thing come to life, at any scale. But the larger, the more impressive." Considering that these two stations will be experienced by millions of people, Cox has succeeded in making an impact that will engage, excite, and influence others.