IDSA Comes to NC State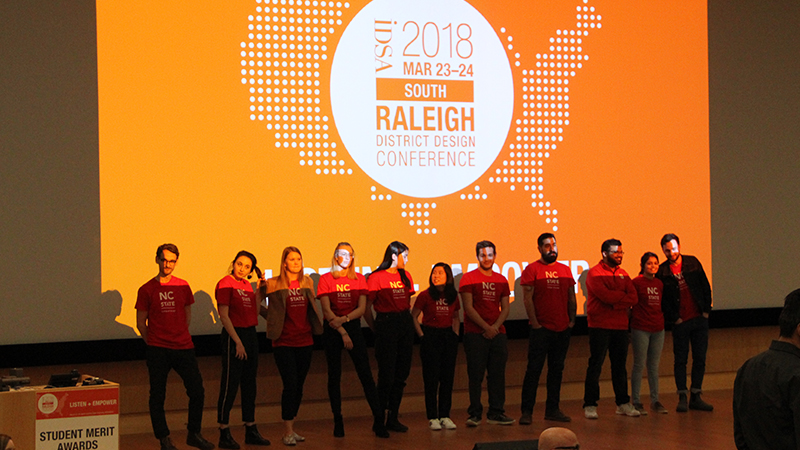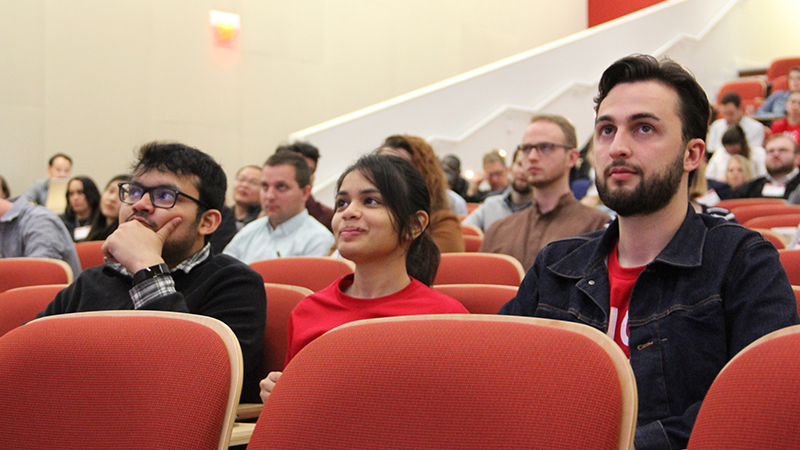 Each spring, the Industrial Designers Society of America (IDSA) hosts five regional District Design Conferences (DDCs) across the country with the goal of addressing the latest trends, issues, and innovations in design. The conferences are a great networking opportunity for student designers, professionals, and educators and a venue for businesses to showcase products and services and leverage face-to-face engagement with current and future customers.
For students, the DDCs also offer the chance to have their portfolio evaluated by professionals and receive invaluable feedback.
This year, NC State's College of Design hosted the South DDC. The last time it was hosted in Raleigh was 2013. This event provided an opportunity for the College to implement reduced ticket costs, increase professional involvement, and showcase a rock-star lineup of presenters featuring many College of Design alumni. As the host, the College's IDSA Student Chapter was responsible for the orchestration and planning of the conference. Prasad Joshi [MID '18], chapter president, shares that "in the past, IDSA would handle most everything for the conference; however this year, we gained control and were responsible for everything from selecting the date, venue, and ticket cost to the event schedule, speaker lineup, and theme." The added responsibility was a challenge that Joshi admits was worth the efforts because they were able to address a common student complaint of "not attending due to cost constraints."
Another change was having evaluations of student portfolio on Friday with the opportunity for recent graduates to also be reviewed. Joshi thinks the reduced professional ticket price added value. "I feel we had more professionals than prior events. Last year, most students only had the opportunity for one portfolio review. This year, almost every student got the chance to have their portfolio evaluated by three or four professionals each," he emphasizes.
Pulling together the speakers "was actually fairly easy," says Joshi, who attributes Department head of Graphic Design and Industrial Design Professor Tsai Lu Liu and Associate Professor of Industrial Design Kelly Umstead who is also the IDSA Chapter Advisor and IDSA board member for reaching out to their networks. "The speakers were awesome," says Joshi.
"We had several alumni including Brian Leonard of Lenovo, ClayVon Lowe of Lowes Home Improvement, and other top designers such as Paul Hatch." —Prasad Joshi
Joshi and the other student chapter members thought it would be beneficial to invite recent alumni who have successfully entered the professional work force to share ideas and insights. Lui was quick to identify Emily Wise [BID '17] and Holly Coggins [BID '17] who had recently landed outstanding industrial design positions within a year of graduating. 
For Wise, speaking at the conference was a way to give back. "I remember having a ton of questions and uncertainties about finding a job in industrial design as a student, so being able to answer current students' questions was a great experience. Also, the industrial design community is fairly small, so IDSA is definitely a great way to meet and learn from other talented designers."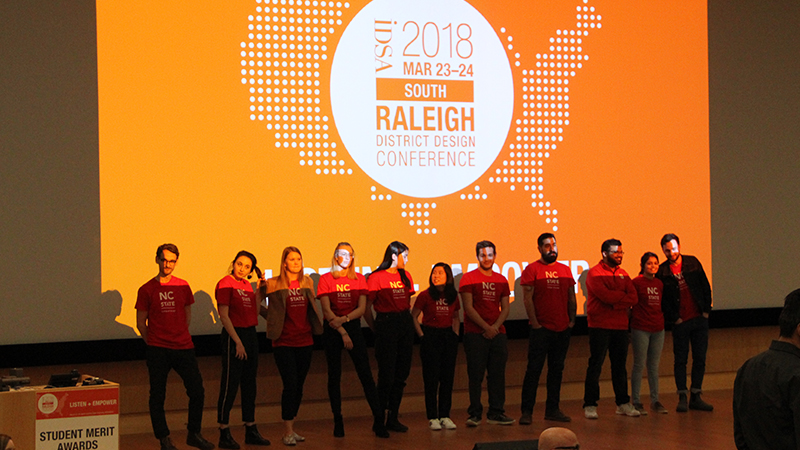 One of the highlights of the DDCs are the Student Merit Awards (SMA). Participating schools within each district select a senior-level student to represent their institution and compete against peers during the regional conference. Students are identified prior to the conference through a judging process set by IDSA with specific criteria. Selected students then present their best work that showcases their process including research and ideation. In addition, they are judged on presentation and storytelling, variety and depth of work, skill, and other factors. From this pool of student designers, one is chosen to be the SMA winner and will represent their district at the National IDSA Conference.
Katie-Gray Altmann [BID '18] was chosen to represent the College of Design for the SMA competition. "Katie-Gray did awesome, and she is a really good presenter that has a lot of confidence and a lot of experience in public speaking, and it showed," shares Joshi.
Lui confirms the impressive turnout and shares that "Katie-Gray did a fantastic job presenting her various projects to industrial design faculty, students, and professionals. She represented the College very well. We are very proud of her remarkable accomplishments."
"This was a great success for us [College and IDSA Student Chapter members] and for me personally. It was the icing on the cake that I was president of the student chapter and this was my last DDC to attend as a student. Next time around, I'll hopefully be critiquing portfolios for students," says Joshi.     
Welcome Video IDSA Southern District Conference 2018 from NC State – College of Design on Vimeo.
NC State University College of Design hosted the 2018 annual IDSA South District Design Conference: LISTEN + EMPOWER. This is the Opening Video to Welcome the attendees!