A Natural Influence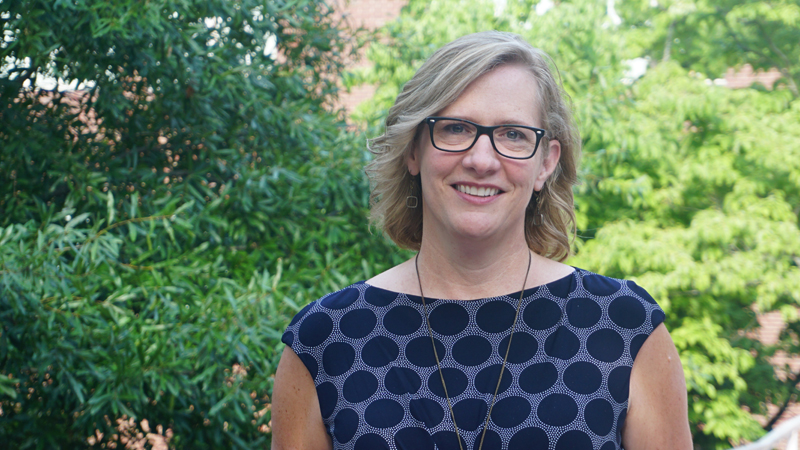 Meg Calkins, newly named professor and head of the Department of Landscape Architecture, does not shy away from a challenge. She was the first person to graduate with a dual master's degree in landscape architecture and architecture from the College of Environmental Design at the University of California, Berkeley, and she completed the task in just four years. Calkins decided to study the two design disciplines simultaneously because she is interested in the intersections between site and building, but also because she "thought it was an interesting challenge."
Calkins believes that having both degrees is important because, "in design there can be collaboration between landscape architects and architects, but if the same person is trained in both and doing both, that is really a seamless way to design the environment."
Having the dual degrees has shaped Calkin's career. She was hired by the College of Design specifically for this unique skillset, and Calkins admits that both professional practice and her education have influenced and helped her teaching. "I love to teach, and being a practitioner has been invaluable. It has helped me teach students how to site a building and how to design the movement through spaces in the landscape and into the building. And how not to be afraid of influencing architecture." Landscape architects, Calkins explains, have often considered that their design influence stops at the building. "This doesn't have to be the case," she says. "The greatest built projects are created when excellent collaboration between both practitioners happens and when the design is seamless with no boundaries."
Calkins developed her passion for teaching as a teaching assistant (TA) throughout her graduate studies with Linda Jewell, Randy Hester, Walter Hood and Clare Cooper Marcus. "I enjoyed being a TA for many different classes as I gained a good understanding of both content and teaching techniques," says Calkins.
"Teaching, and the scholarship associated with a tenured position allows you to be at the leading edge of the profession, and it allows you to push boundaries in the classroom," Calkins says. The value of allowing students to push boundaries excites Calkins. "I love it when students can take these ideas into practice, into firms that may not know about them. Then I feel that I've influenced the students and influenced the profession."
Calkins emphasizes that the role of landscape architects is becoming increasingly important. "We now have a strong role in solving environmental problems. Landscape architects are gaining visibility as they are called upon to address stormwater, ecosystem and global climate change issues. I think we have to save the planet—not just make it beautiful—we are now doing environmental work."
Calkins' ambitious nature shows in her big goals for the profession and for Department of Landscape Architecture. "What I want to really do is position this program at NC State to be better known throughout the country and throughout the world. I want to broaden our reach and I want to take an already great department and elevate it," she says.
"I am pleased to have inherited a strong, healthy department. The faculty members are impressive and have strong reputations, and the students are very dedicated to learning. When I met with the faculty and students and saw their energy and passion, I knew I wanted to work with these people."