Freedom by Design Students Help Kids Have Fun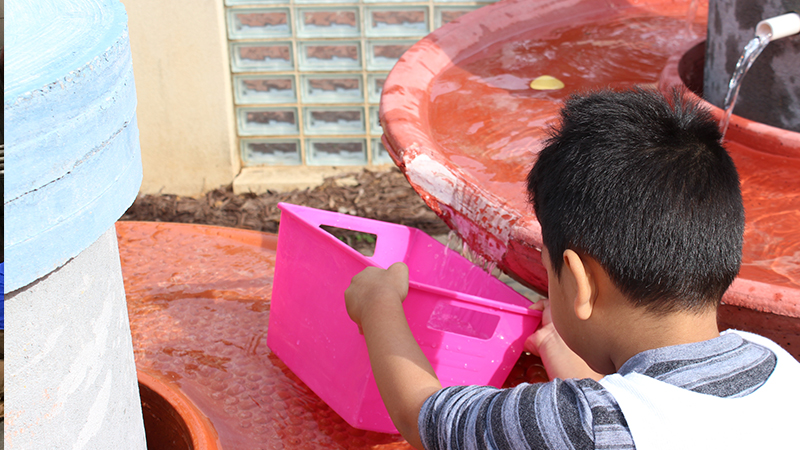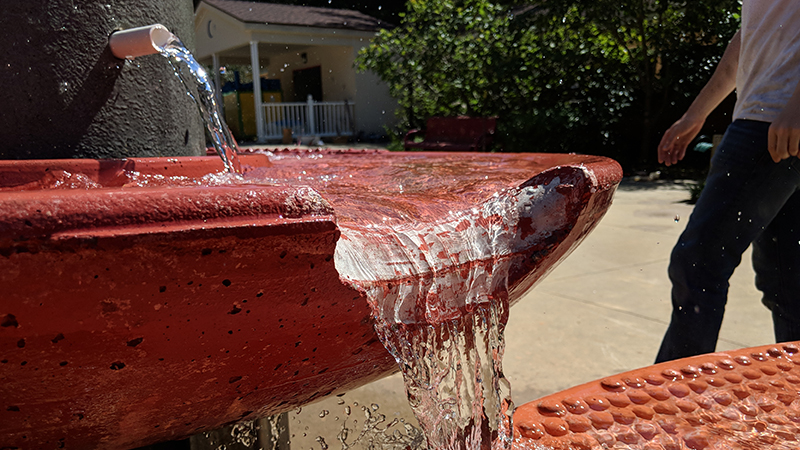 In the fall of 2017, students in the NC State College of Design community service group Freedom by Design (FBD), a branch of the American Institute of Architecture Students (AIAS), started working with the Tammy Lynn Center to improve the center's playground.
The Tammy Lynn Center, located on Chappell Drive just off of Centennial Campus, is a place of learning and enrichment for children and adults with intellectual and developmental disabilities. The center has been steadily growing, improving, and expanding its services since its establishment in 1969. This year, part of the Tammy Lynn Center's improvements resulted from the work of a group of College of Design architecture students.
Samantha Lackey, a fifth-year architecture student and director for FBD this year, says that the Tammy Lynn Center was in need of a larger water table for its playground because the children "love to play with water, especially during summer time… but they wanted a bigger [table "" not found /]
so that more kids could play around it." They also needed something more interactive and wheelchair accessible.
After discussing the center's needs, the architecture students got to work designing a set of water tables, fundraising, and revising plans based on client feedback. They envisioned three circular water tables at various heights to accommodate a variety of ages and physical abilities. To make the tables even more engaging, they added texture and color to the concrete and different paths for the water to take. "The water comes out the sides," Lackey says, "but you can plug things, and the water can come out the top."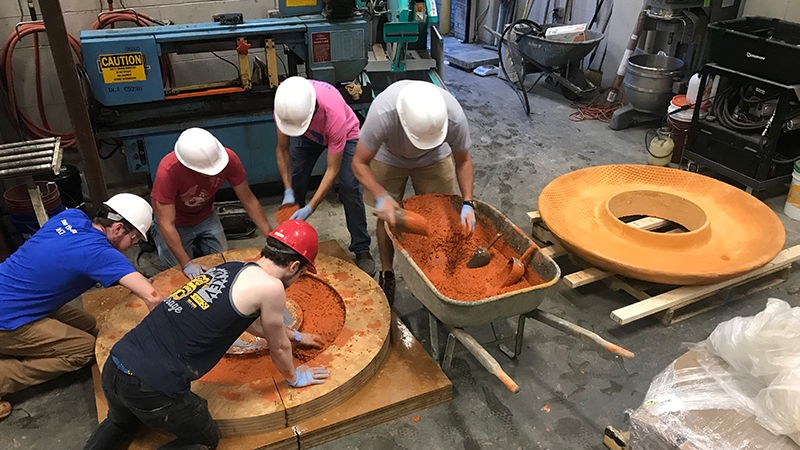 The biggest challenge with the tables was the installation. "They were very, very heavy, so we needed machinery," Lackey says. Fortunately, FBD's engineering advisor Greg Lucier, research assistant professor and laboratory manager in the Department of Civil, Construction, and Environmental Engineering at NC State, was able to help out. "He's the best. He helped us so much," Lackey says. Lucier and the FBD group ended up using a Bobcat to lift the tables into place. After installation, they realized that the brackets they planned to use weren't going to be strong enough to support the weight of the table, so they got to work making new ones. Once fully installed and tested, the children wasted no time in trying the new tables out for themselves. "They have been using them whenever they get the chance," Lackey says. "It has been well received."
This year, FBD is exploring the idea of working with The Governor Morehead School to improve their outdoor play space.
Since forming in 2015, the NC State FBD group has completed three community service projects from start to finish. In 2016, the group designed and built a playground structure for Living with Autism in Cary, North Carolina, and the following year, they worked with Life Experiences, which employs adults with autism, to build a shaded outdoor space for employee breaks.
In addition to the design, construction, and installation, FBD members also secure the funding for their projects, relying mainly on AIAS funding, National Council of Architectural Registration Boards (NCARB) grants, and fundraisers.
FBD is open to all design students. "We are welcoming of any help," Lackey says, and it's not too late to get involved for this year. "It's addicting… to design something and then to actually build it—that it actually exists is really cool," says Lackey. "And just to see the outcome, the client being benefited by it. It's a lot of work, but I think it's worth it."
---
Staci Kleinmaier is a professional writer and photographer in Apex, North Carolina. She uses words and images to tell stories. To see her work, visit www.stacikleinmaier.com.