Professor of Graphic Design Denise Gonzales Crisp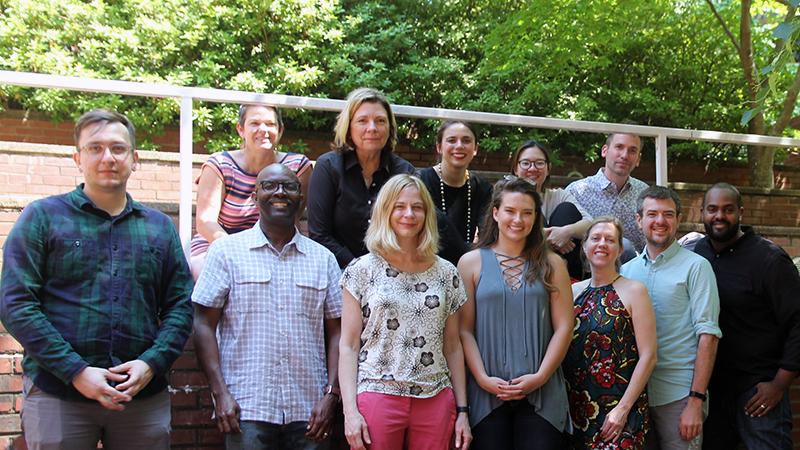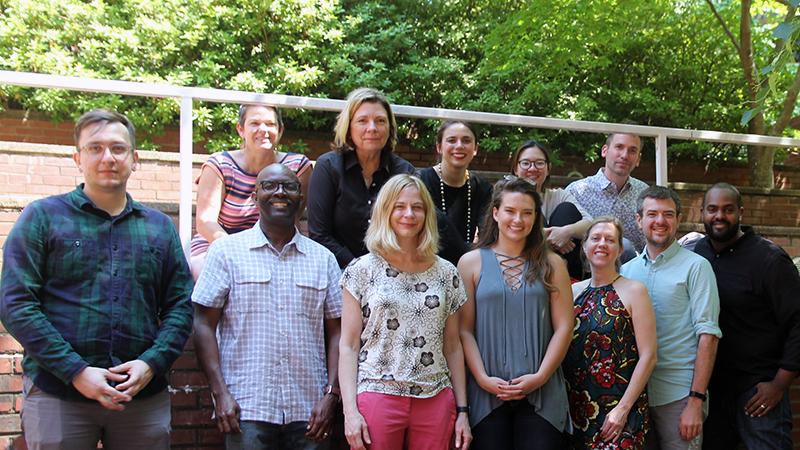 Denise Gonzales Crisp describes her career as "one big long-form improvisation." The Professor of Graphic Design began her career as an illustrator, then became interested in typography, design, writing, and teaching. "I feel like I have a very powerful 'true north' that I just kept niggling at my whole life," she says. Despite "things that kept me veering off, I have always maintained a pretty powerful sense of what is important to me." And it turns out that that's making something out of all her passions.
Before attending college, Gonzales Crisp worked in a print shop that used A.B. Dick technology and was entranced watching a technician do paste-up. Both the manual work and the engineering aspects appealed to her. She began her studies in fine arts and illustration, receiving a bachelor of fine arts degree from ArtCenter College of Design in Pasadena, CA.
Her first professional work experiences include illustration for top-tier clients, including Glamour and even Playgirl magazines. But the experience was "lonely." Design, on the other hand, seemed vibrant and dynamic to Gonzales Crisp. "Designers assemble and direct a lot of different people, like the photographer, the copywriter, the printer, the typesetters—it's more like being an orchestra conductor, whereas an illustrator is playing a particular instrument. I was fascinated by it."
"Designers assemble and direct a lot of different people, like the photographer, the copywriter, the printer, the typesetters—it's more like being an orchestra conductor"
She was privately tutored in typography by a pupil of Josef Müller-Brockmann, a renowned Swiss graphic designer and teacher. Then she took a Photoshop course in 1985 and began to play with typography on a Macintosh computer. "I began to fall in love not only with type but with the idea of typographic systems and grids, and the logic of organizing the page. This was evidence that, 'yes, Denise, you are a designer.'"
Gonzales Crisp enrolled in a one-year, non-degree seeking course of graphic design at ArtCenter to further explore all its forms. The experience opened up opportunities to teach night classes and a weekend class for high school students called Saturday High. She also taught at Otis College of Art and Design. Teaching allowed her to develop her skills and further explore the forms and systems of design.
Following the four-week De Program in the Netherlands in 1993, Gonzales Crisp enrolled in the MFA at the California Institute of the Arts. "I was intrigued by the work of the students and graduate faculty, and I knew that I needed to make a dramatic shift in my work. I believed that this would happen there, and it did."
She opened her own independent graphic design studio, Súperstové, working for clients including the ArtCenter Design Office, which offered her a position as senior designer in 1998. In 2001 she began full-time teaching in their graduate Media Design Program. When a chair position opened at NC State, Gonzales Crisp switched gears and made the move in 2002, maintaining a home in California with her husband.
"I love the freedom of teaching," says Gonzales Crisp. She has introduced what she calls "improv critique" in her classroom, making it her own lab of sorts. She and a former student, Nida Abdullah [MGD '16],  who teaches at Michigan State University, explore pedagogy in a book tentatively titled, Circumstantial Methods in Graphic Design, which focuses on "methods toward open-endedness and introducing almost performative aspects to the design process." The two will create and test more of these methods.
"We don't know what we will find out. We have enough of a hypothesis to think that these methods will be effective, but we want to be more deliberate about collecting that data," says Gonzales Crisp.
She has implemented a graduate student retreat with faculty to build camaraderie and encourage dialogue. She expects her students to take on autonomy and publicize their work and interests. This fall, Gonzales Crisp and students will present papers at the 1st International Conference on Food Design and Food Studies in Lisbon, Portugal.
She also established a publication program including YesAnd, a student blog; the And So: Graduate Journal of Graphic Design; So Then, a website on course outcomes; and the MGD Bulletin, featuring previous faculty and student work.
Seeing students take ownership of their work inspires Gonzales Crisp. She observed one particular student over several semesters "discover in herself possibilities that she hadn't let out. That is very gratifying. She walked out of the class this semester with a personal connection to her work."
A strong relationship to her craft, as well as "genuine curiosity" mixed with determination, has introduced twists and turns in Gonzales Crisp's career, landing her in a place where she feels she belongs, having performed a number of roles along the way. "It's important for students reading this [profile] to understand that there's no 'direct line' or trajectory, no best way to get there."