Associate Professor of Industrial Design Bryan Laffitte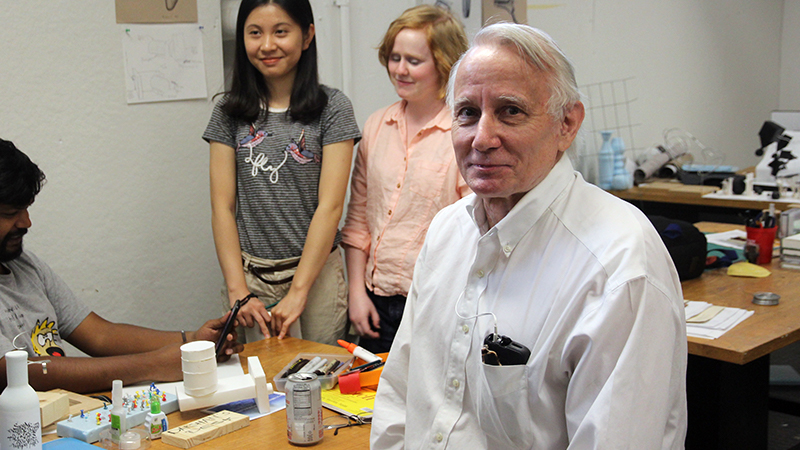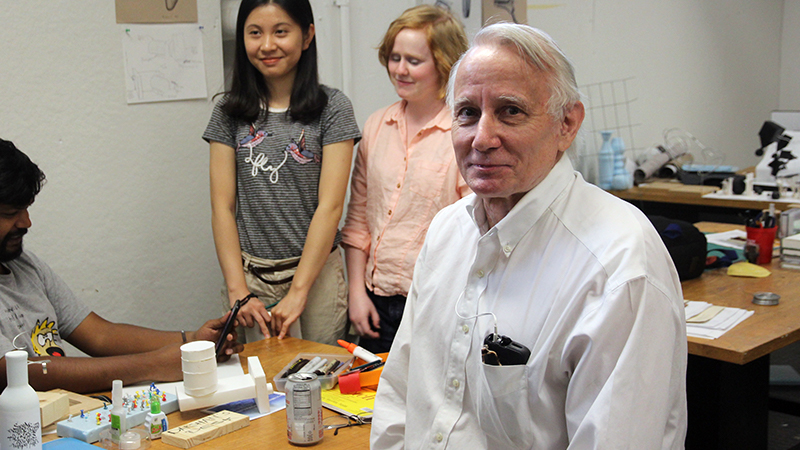 For Distinguished Professor of Industrial Design (ID) Bryan Laffitte, life changed in high school when his now wife of nearly 40 years, Lucy, and her family moved to Tallahassee, FL. Laffitte grew up mostly on his grandparents' farm in a very rural area near the Gulf Coast. He spent a lot of time fixing farm equipment and tools. "Everything was coated with rust, and everything broke. Everything was exposed to the elements, and everything was used, because to buy a new tool was not an option," he shares. But this was the life he knew and remembers fondly.
Lucy's family moved from Boston, and immediately Laffitte realized they were special. "Her dad was an MD from Harvard and had gotten his undergrad from MIT, and wow, these people were different," he states. "I was attracted to her and her family, and something really clicked." He was also drawn to Lucy's brother-in-law, Sam Bush, and he felt that meeting the family was like "finding the thing that you were always hoping to find."
Laffitte spent time in Pennsylvania with Bush, who taught woodworking at The Hill School, an influential boarding school. Bush was an alumnus of Hill and also a master woods craftsman who trained under Karl Pacanovsky in the true European apprenticeship methods.
There, Laffitte was introduced to an environment that he did not know existed. The woodworking studios were full of amazing, "gleaming" tools and machinery: "the condition of the tools and the knowledge of how to use them was so deep," states Laffitte. "I was seeing something that I had wanted to see but not knowing I wanted to see."
When the couple met, Laffitte was doing steel construction. When Lucy headed off to Middlebury College in Vermont, he decided to attend community college, where he buckled down and made straight As, with the intent of transferring and convincing Lucy to follow him. He settled on the University of Oregon at Eugene. "I needed a place she would like. She was studying natural history, botany, biology, and forestry—and there was no better place in the world than Eugene for this. All of the trees; the Cascade Mountains; the Pacific Range was 70 miles west, and you were in the middle of eco-nirvana." And Lucy followed.
He took classes in fine art, metalsmithing, and jewelry making, which he didn't love, but found himself interested in the forging and casting. He continued his studies at night at a local community college taking machine shop, while pursuing his undergraduate degree during the day.
Eventually, Laffitte realized he needed to go to graduate school to sustain his family. He decided on NC State, and was accepted into the Track 3 program.
There, he brought together his knowledge of working with machine tools and drawing. "I just started to draw like mad—I had never poured myself into something so much. Vince Foote was my teacher for four years, and I never met anyone so insightful and honest. He could pick out what was right and what was wrong." Laffitte credits Foote, FIDSA and Professor Emeritus of ID, for keeping him motivated. "Nobody ever pushed me that hard, and I really loved it. He was a fantastic critic, and I learned what a blessing that can be—to have someone who can see what is wrong, and can and will tell you."
After graduation, he worked at IBM until Foote told him of a friend at Arizona State University who needed an assistant professor. That was the beginning of his teaching career. His next position was with Carnegie Mellon University. Laffitte was not a fan of cold winters and, as luck would have it, he landed a position at NC State in 1993.
Laffitte reunited with his mentor. For the next 15 years, they worked as colleagues, collaborating and team-teaching studios. "I got some intense training," Laffitte interjects. "[Foote] would let me go first and then come along behind me and correct everything I did, in front of the class. It was in good humor, and it took me 12 or 14 years to get where I wouldn't totally miss something."
Laffitte impresses students with his amazing drawing talent. A motorcycle is often the image of reference, which he effortlessly sketches with his signature grace and fluidity. "I do love to draw motorcycles," he quips. "I sold my 1967 Triumph Bonneville 650 in order to go to college, and I still dream about it, with its exposed machinery, beautiful form, and all its metal."
Mentoring and encouraging students is where Laffitte—and his students—find the most reward. "I get motivation if I am really focusing and really connecting with what the students are doing and pushing them exactly where they need to be in order for them to get where they want to go. When they graduate and get a job in the field that they always wanted to work in, this is something that the entire faculty contributes to," Laffitte reflects. "That is the satisfaction that makes the difference."