Eduardo Catalano Scholarship Helps Latin American Student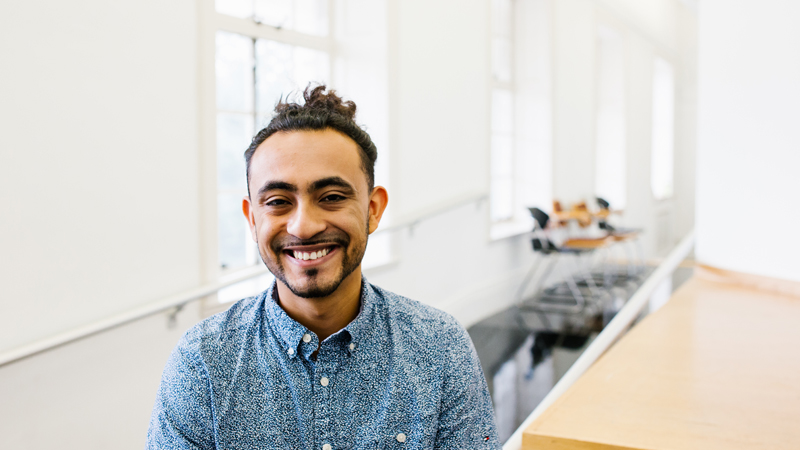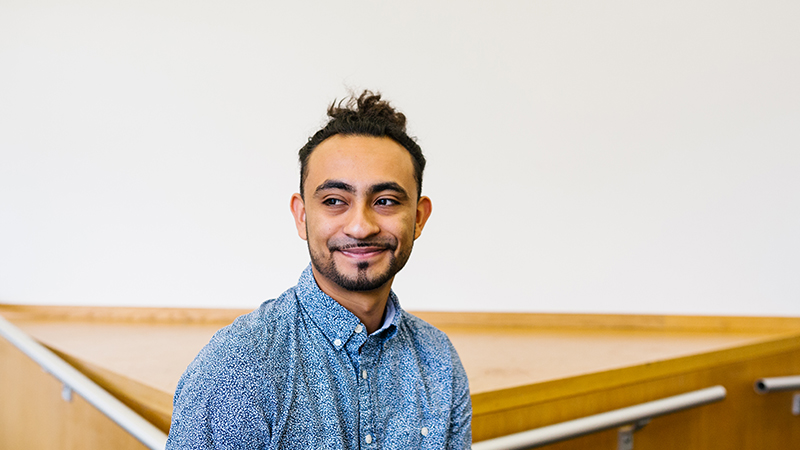 For most of his life, Miguel Castellanos has lived in a state of uncertainty. As a "temporary resident" of the United States, Castellanos has been unsure of where he'll be living in 18 months and how he'll pay for his next semester of school. Until this year, Castellanos has been a self-funded student, working nights and weekends to pay his tuition. Now, thanks to funds from the Eduardo Catalano Architecture Scholarship Endowment, Castellanos has one less thing to worry about.
Each year, the Catalano scholarship is awarded to at least two architecture students. The scholarship, which covers full tuition for a year and may be renewed, is awarded to one student based on merit and to another based on financial need. The scholarship was created by Eduardo Catalano's children, Adrian and Alex, to honor the memory of their father, who was instrumental in the early days of the College of Design's School of Architecture.
Though it was not a deciding factor in the scholarship application process, it is an interesting parallel that this year, one of the recipients of the Catalano scholarship, like Catalano himself, is of Latin American origin.
Castellanos was born in La Ceiba, Honduras. After Hurricane Mitch devastated the country in 1998, Castellanos and his family moved to the United States using the Temporary Protected Status (TPS) program. TPS allows residents of certain foreign countries to temporarily reside in the U.S. due to a natural disaster or turmoil in their home country. TPS holders are given a nonimmigrant status, and they must reapply for TPS every 18 months. The renewal process involves confusing paperwork, frustrating waits for work permits, and expensive lawyer and application fees. Castellanos doesn't remember a time when this wasn't his regular reality.
"I've probably been to the DMV more times than you'll ever be in your whole life," Castellanos says, with a slight laugh. Until recently, the TPS process was a pain, but it had always been renewed. Now, the future isn't so clear for Castellanos and other TPS holders from Honduras, whose residency status is set to expire in 2020.
While working on his master's degree in architecture, Castellanos is exploring his residency options with an immigration lawyer. It's a lot to handle at once, and many nights between school and working two jobs, Castellanos didn't have time to sleep. The Catalano scholarship has been a huge help financially, but it has also relieved a lingering worry. "The scholarship really helped out… this is the first time I can ever say that I can just focus on my classes this fall semester without having to worry about how I'm going to pay for the spring," Castellanos says.
Castellanos earned his undergraduate degree in graphic communications systems. While working on his degree at North Carolina Agricultural and Technical State University, a professor inspired Castellanos' interest in architecture. Now Castellanos is working on his master's so that he may work on environmentally responsible projects, possibly focusing on urban design and addressing traffic congestion.
Though his story may seem noteworthy and unique, Castellanos is quick to point out that his situation isn't. "A lot of people have stories similar to mine," he says. A lot of other people are working hard, adding value to their communities, and striving for a better future. Over his life, Castellanos has had to learn to focus and not let the uncertainty of his situation distract him. He says, "This scholarship really helped me free up my mind from everything and just focus on school."
In the long run, Castellanos would someday like to give back to other students. "This scholarship was a great opportunity… it just really opened the door for me to actually come to [NC State]," he says. "It made me feel inspired to hopefully one day be able to do the same thing."
---
The family of the late Eduardo Catalano established a scholarship fund to underwrite the cost of tuition for at least two architecture students each year. Catalano was a renowned architect who taught at NC State from 1951 to 1956 and remained a generous supporter of the College of Design over the years.

If you would like to support the Eduardo Catalano Architecture Scholarship Endowment and help students like Miguel, your gift will assist in developing the next generation of architects.