New DDes Program Caters to Student-Practitioners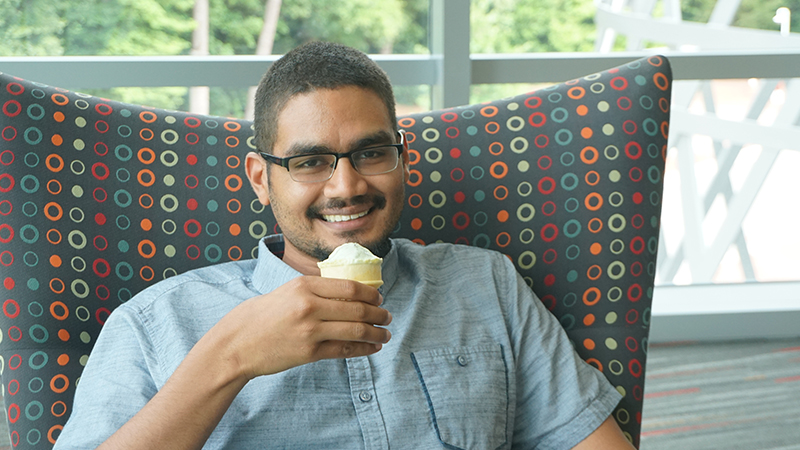 This semester, the NC State College of Design launched the nation's first blended learning Doctor of Design (DDes) program, combining the flexibility of an online learning environment with the traditional benefits of on-campus residency. Since 1998, the college has offered the PhD in Design, a doctorate program aimed at advancing knowledge in design through research and scholarship. Now, the College rounds out its doctoral offerings with the DDes program, specifically designed for the student-practitioner wishing to engage in research aimed at application in practice. The new program continues the College's commitment to meeting the evolving needs of practicing design professions.
AJ Polanco is one of the first eight students to enroll in the first year of the DDes program. Polanco, who works at Educational Testing Services and serves as UXD program coordinator and Industry Advisory Board member at Rutgers University in New Jersey, appreciates the new program's online learning component. DDes students can complete nearly all of their degree online, only coming to campus one week each semester.
Before enrolling in the College's DDes program, Polanco had been enrolled in an Ed.D. program that met three days a week. Between work, class time and research, and driving 10 hours a week to and from classes, Polanco was exhausted. "There just weren't enough hours in the day," he says. Even though Polanco had always wanted to earn his doctorate, he left the Ed.D. program because he found it wasn't really fitting his schedule and interest. "I found that my primary calling was always towards design… So I've learned, especially in a doctoral program, you need to want it. If you don't want it, that momentum just isn't there and that's what's going to carry you through."
When Polanco found NC State's DDes program, he says, it "was like coming back home." He was excited that it was a DDes program because "there are so few of those, and I see it as a natural progression of my own path. It's a new program, it's a small program, and it's specialized in my interests." And, he didn't need to radically change his life to fit the program. The one on-campus week wasn't a concern for Polanco—"of course no one wants to give up their vacation time, but I think this week has been helpful because [you gain] a familiarity with your cohort that you wouldn't get otherwise just speaking to them online. It gives them faces and gives them personalities and builds up a rapport."
As a practitioner, Polanco enjoys "the idea of dissecting and visually communicating business requirements in real time." Now, as a DDes student, he is eager to begin research. "One of the things I was most excited about [this program] was the ability to start thinking about and working towards my research topic from day one."
Polanco will be researching "new synchronous learning models to both increase the desirability of continuing education, especially design education, and create new business models for education." Polanco settled on this topic after he was able to take feedback from a client and make a design change immediately, creating a dynamic and collaborative work relationship. "To be able to have that collaborative nature is something that's a more recent development, and it's something that I appreciate. As far as my research topic is concerned, I want to see that same expression occur, if possible, in students. So between myself and them."
The DDes program is under the direction of Elen Deming, DDes, FASLA. Polanco saw Deming's background as an additional plus to the DDes program. "One of the things I'm excited about is the fact that the director of the program already holds a DDes," Polanco says. "When you have that role model, that serves as an anchor, it helps you go forward—I see Elen as that right now."
Polanco may appreciate having a role model to help guide his path, but he came to NC State with a clear goal. "At the end of the day, I came to the DDes program because there was research I wanted to pursue. And I'm glad that I can do that here."
The DDes program is the result of over a decade of visioning and planning. The program is taught by faculty across the university and is structured to be completed over six semesters. At full capacity, the program will have a student population of 36 to 40 students. The program is currently admitting applicants for Fall 2019. Those interested in applying should visit the program website.


---
Staci Kleinmaier is a professional writer and photographer in Apex, North Carolina. She uses words and images to tell stories. To see her work, visit www.stacikleinmaier.com.