A Winning Start to College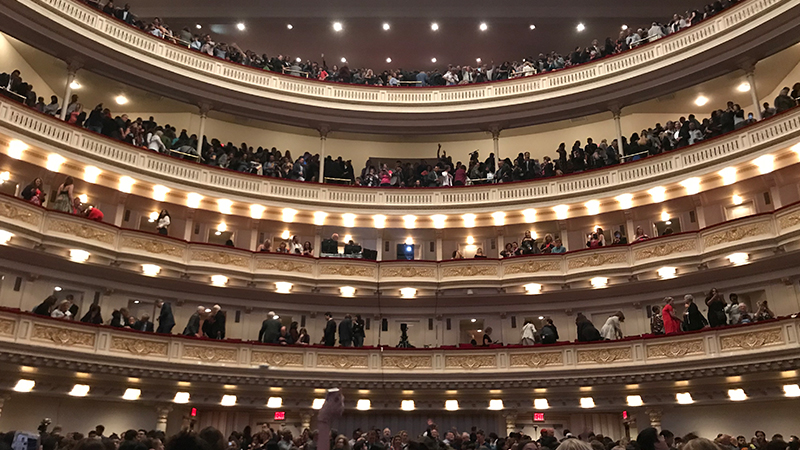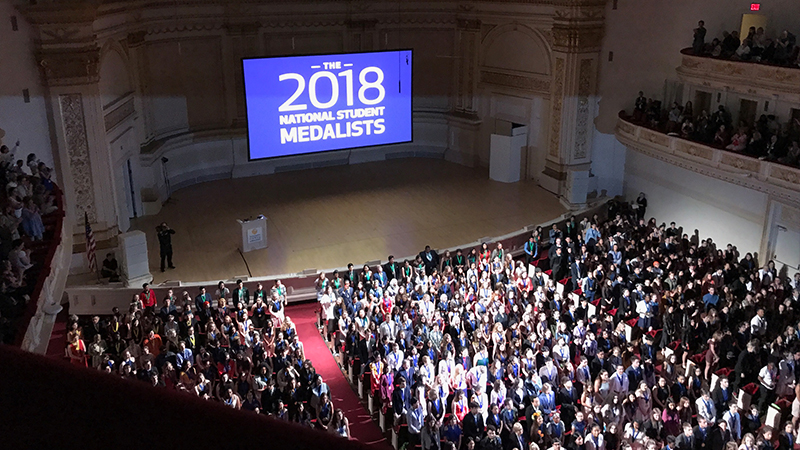 Incoming College of Design freshman Victoria Kern has recently been named a 2018 National Medalist by the Scholastic Art and Writing Awards. Kern's mixed media art piece titled "Lightbulb" was selected as a gold medal and an American Visions medal winner and will be part of a traveling art exhibit for the next two years.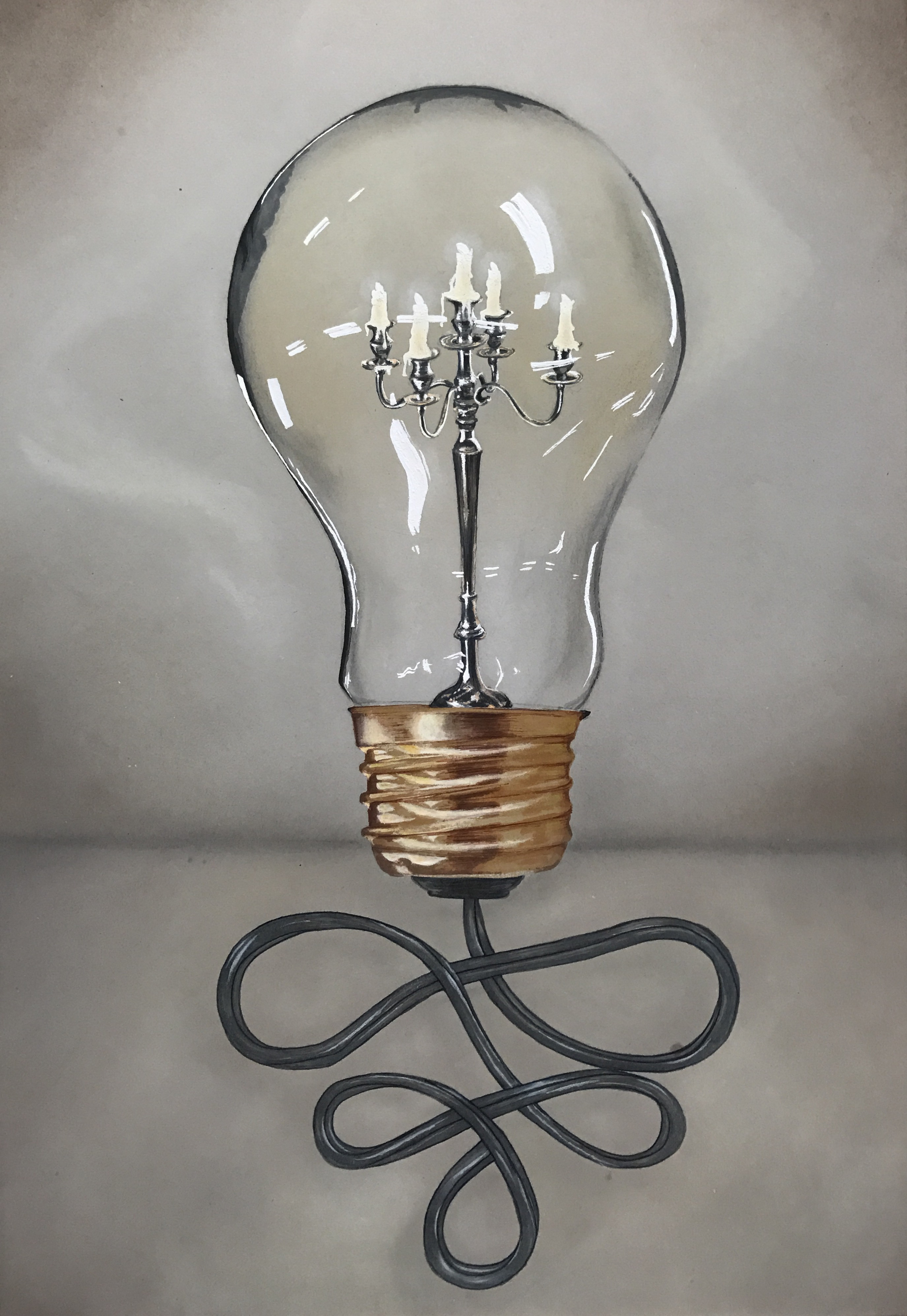 Kern created the winning drawing as part of an art assignment at Trinity Academy in Raleigh. Her art teacher, Holly Sturt, prompted students to create a piece featuring a light bulb with something unusual or ironic inside of it. Kern used a mixture of chalk dust, marker, paint, and pencil to create her drawing of a large, levitating light bulb. Inside of the bulb, instead of a filament, Kern drew a candelabra, and coming straight out of the light bulb itself is a looping cord that circles back on itself—neverending and without a plug.
"My teacher did a really good job of challenging me to do different things," Kern says. Kern took the prompt and got to work without an agenda in mind while creating. "I know people sometimes start with a message they want to convey, but I see it the other way around. I make the piece and then let people interpret it how they wish and how it reaches them," she says.
Before advancing to the National Art and Writing Awards, Kern's piece received regional awards as well. The national awards were presented at Carnegie Hall in New York. Kern returned early from a senior class trip to Italy to attend and wasn't disappointed. At the awards ceremony, Kern says, "It hit me that this is such a passionate community and they have such a message to give. There's so much talent, and it was really humbling to sit there in the midst of all the people around me who share the same passions and also were completely unique. That was really inspiring."
The Scholastic Art and Writing Awards have been celebrating students with exceptional art or literary talent since 1923. The winning pieces are judged for originality, technical skill, and personal vision. Winning students have the chance to win scholarships or have their artwork exhibited or published.
This is not the first time Kern's artwork has received attention. Last year, Kern had an art piece chosen for exhibition at the North Carolina Museum of Art as part of the Teens, Inspired competition. This exhibition lead to another opportunity—to display multiple pieces of her artwork in the North Hills mall parking garage as part of a semi-permanent installation meant to beautiful the area. "Beauty is important because it challenges people to think and form opinions and appreciate things," Kern says.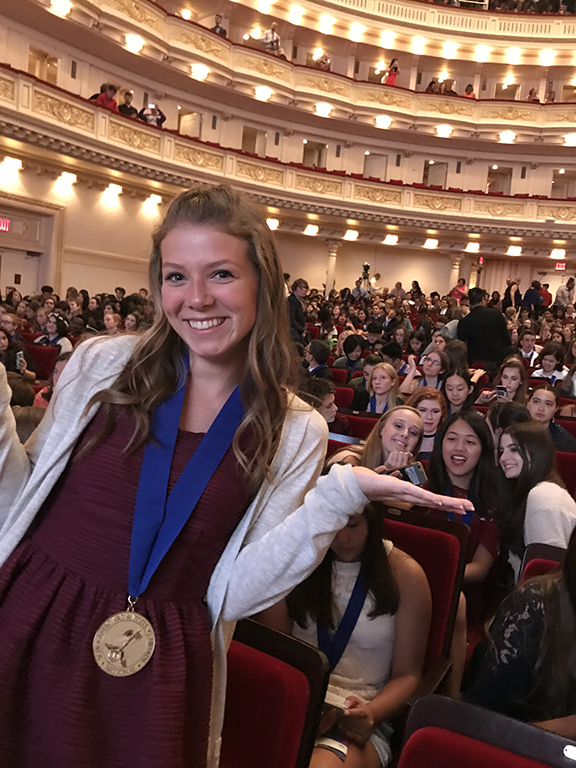 This coming fall, Kern will come to the College as either an Art + Design or Design Studies major. She says, "I loved art all the way from childhood. That's always been a part of my life." But, she says, "I didn't really see myself as a designer"—that is until she started looking into college majors and found that she was "essentially trying to make a major" for herself at other colleges that, when she stepped back and really looked at it, was design. "Once I realized that, it was a clear decision because State was definitely the best design school in the area," she says.
Kern's long-term plans include a career that involves working with people. "I know I want a really well rounded, broad understanding of design. I want to find a way to combine my passion for helping people with design," she says. "I want to not only make a difference or make an impact on the world, but I want to touch individual people's lives."