Meg Calkins named Department Head of Landscape Architecture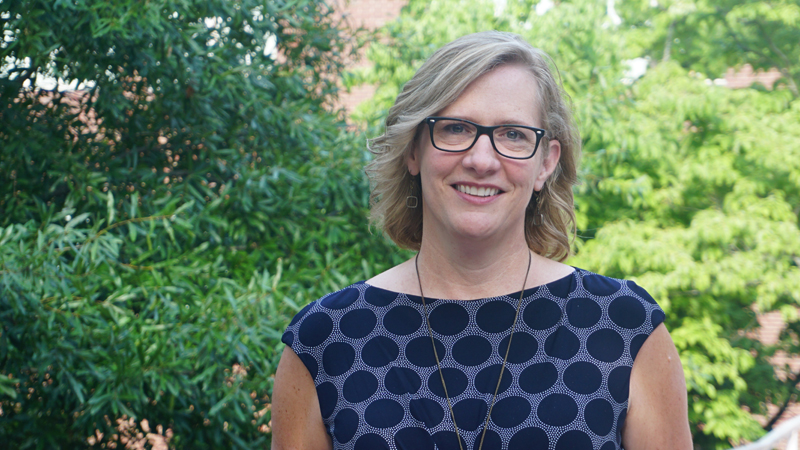 Meg Calkins, FASLA, has been named as the new head of the College of Design's Department of Landscape Architecture.
[August 1, 2018] Today, Meg Calkins steps into her role as of the Department Head of Landscape Architecture. With over 23 years of teaching excellence in landscape architecture and a proven commitment to research practice, design, theory, and construction, Calkins' experience and leadership will continue to elevate the Landscape Architecture program at NC State.
"Meg's ability to influence students and the profession of landscape architecture will bring great value to this already strong program," says Dean of the College of Design Mark Hoversten, Ph.D. "Her experience in private practice—especially her engagement in community design, urban design, and master planning—and her dedication to sustainable practices and standards align with the goals and objectives that have made our program one of the best in the country."
Calkins has taught landscape architecture at the University of California, Berkeley; the University of Illinois at Urbana-Champaign; and most recently, Ball State University. Calkins holds master's degrees in landscape architecture and architecture from the University of California, Berkeley, and an undergraduate degree in urban planning from the University of Cincinnati. She has practiced in California and Washington, D.C.
Since 1999, Calkins has been a contributing editor with Landscape Architecture Magazine and has written over 30 invited articles on issues of sustainable landscape construction and technologies and feature articles on significant design projects. In 2003, the Landscape Architecture Magazine editorial board awarded her the Bradford Williams Medal for Journalistic Excellence for a four-part article series on using and specifying green, recycled, and salvaged building materials. Her recent articles have discussed alternatives to tropical hardwoods, stone sustainability standards, and methods of reduced carbon concrete.
Calkins has also written several books including "Materials for Sustainable Sites: A Complete Guide to the Selection, Evaluation and Use of Sustainable Construction Materials" (2009); she is currently working on the second edition. Additionally, she edited and contributed to "The Sustainable Sites Handbook: A Complete Guide to the Principles, Strategies and Best Practices for Sustainable Landscapes" (2012).
Calkins is active in the American Society of Landscape Architects (ASLA), having served on the ASLA Professional Awards Jury, the National ASLA Student Awards Jury, and the ASLA Honors and Awards Advisory Committee.
"It is an exciting time for the College with several new leadership roles being filled by strong candidates who offer exceptional experience and credentials," says Hoversten. In addition to Calkins' appointment, this summer Professor Sharon Joines, Ph.D., became the Associate Dean of Academic Programs and Professor Pamela Jennings, Ph.D. was appointed as the Department Head of Art + Design.