Pamela Jennings named new head of the Department of Art + Design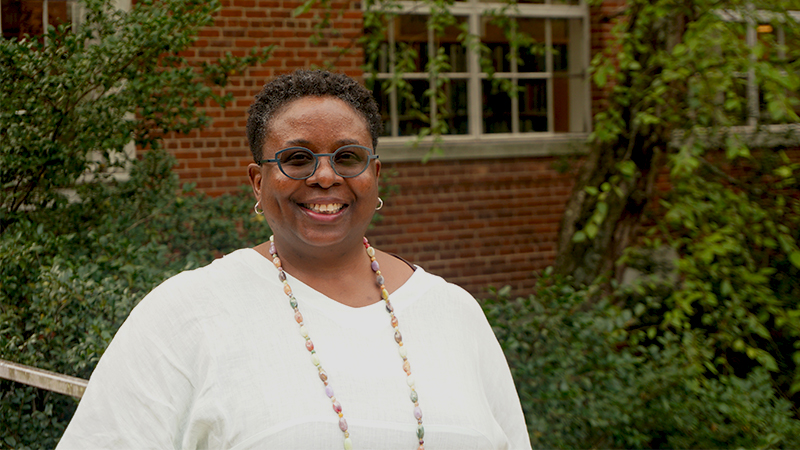 Pamela L. Jennings, Ph.D., has been named as the new head of the College of Design's Department of Art + Design
[July 16, 2018] Today, Jennings takes over the helm of the Department of Art + Design. She brings energy, experience, and "the hope for new possibilities and potentials."
Dean of the College of Design Mark Elison Hoversten announced the appointment of Jennings in May, noting that "Pamela's exceptional experience in art and design, STEM, technology, and interdisciplinary collaborations makes her an ideal candidate for this position."
Jennings' integrative practice is influenced from experiences across a range of institutions such as the McDowell Colony, the Banff Centre for Arts and Creativity, and the National Academies of Sciences, Engineering, and Medicine. Computational thinking, creativity, and technology are key drivers of Jennings' policy and philanthropic, academic, research, and entrepreneurial leadership.
With an extensive background in professional practice and academia focused on cutting-edge technology, research, and entrepreneurship, Jennings brings a wealth of valuable experience to the Department of Art + Design. With residencies early in her career at the MacDowell Colony and the Banff Centre, she began exploring computational technologies as tools for creative expression. Her past positions include: Professor of Human Computer Interaction and Fine Arts at Carnegie Mellon University; Visiting Professor at the University of Calgary through the Alberta Informatics Circle of Research Excellence program; Director, Advanced Research Technology (ART) Lab at Banff New Media Institute; Program Officer, Computer and Information Science and Engineering, Information and Intelligent Systems, Human Centered Computing and CreativeIT at National Science Foundation; Director, Brenda and Earl Shapiro Centers for Research and Collaboration at School of the Art Institute of Chicago; and Director and Professor of Innovation and Entrepreneurship at the University of North Carolina System Center for Design Innovation in Winston-Salem. Throughout, as the CEO of CONSTRUKTS Inc., Pamela has been working toward the transformation of her creative computational research in mixed-reality applications for learning into future products.
"We look forward to the leadership and advancement that [Pamela] will bring to the Art + Design department and to the College," says Dean Hoversten.
---
Women in Leadership at NC State College of Design. Sharon Joines, PhD appointed the Associate Dean of Academic Programs.