A New Perspective on Airport Design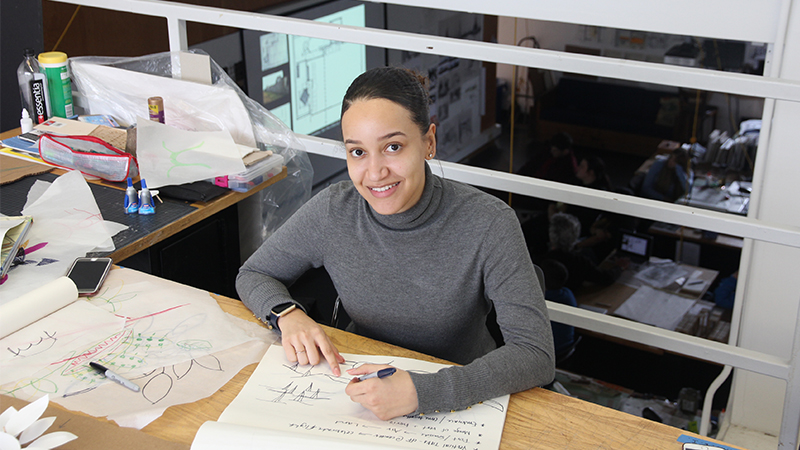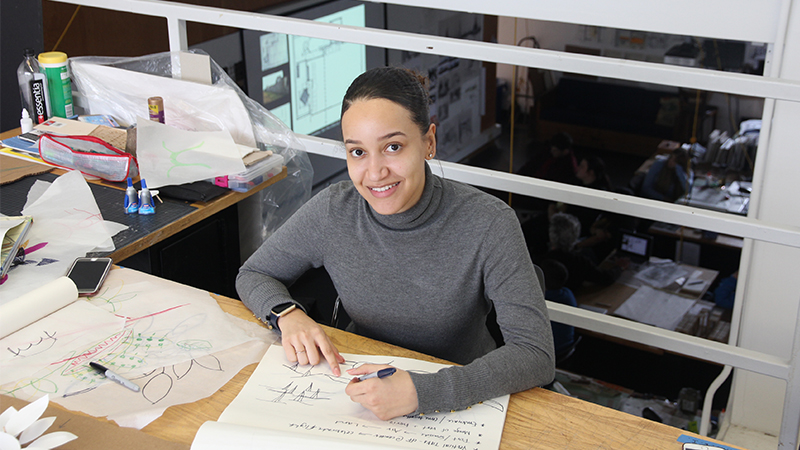 Sheyda Livingston is a first-year graduate student working towards her Master's in Architecture degree. She recently took ARC 503 Advanced Architectural Design studio taught by Alumni Distinguished Professor of Architecture Wayne Place, Ph.D., focusing on airport design. Place teaches the studio with help from Curt Fentress, FAIA, RIBA [B.Arch '72], Joshua Stephens, AIA [M.Arch '13], and Ana-Maria Drughi, AIA [M.Arch '13], of Fentress Architects. This year, students in the studio were invited to exhibit their airport designs at Palazzo Bembo during the Venice Biennale. After Livingston returned, we asked her about her experience in the studio and at the Biennale.
Q: ARC 503 is an advanced elective course. What was your interest in taking this airport design course?
Livingston: Before attending NC State, I was working at a firm in Orlando that was the general consultant for the Orlando International Airport—so airports are something I've been involved with in my professional career. My train of thought in taking Professor Wayne Place's airport studio was to gain more experience and insight into the process of designing an airport. It's definitely a challenge because of the scale of these projects as well as the security constraints. These are all things my team and I kept in mind when designing our airport, which really gave us some great insight into all of the different parts and pieces that go into these types of projects.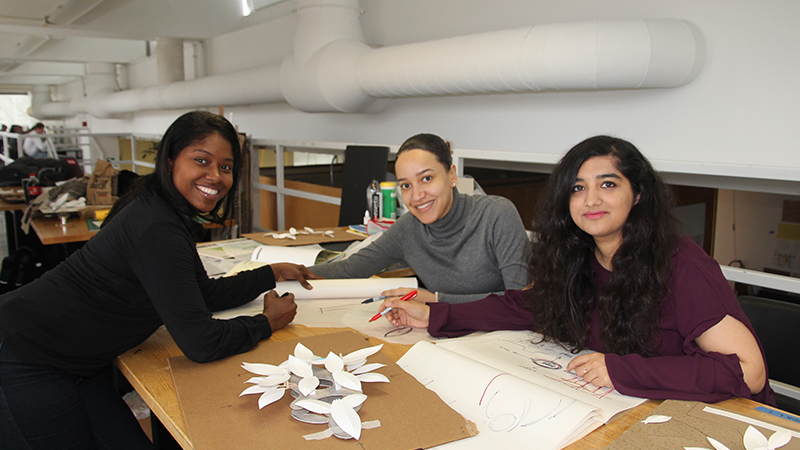 Q: Each team was required to do research and analysis in order to select the location of their airport. Can you share some of the research and reasonings that lead your team to select your particular location?
Livingston: The location of our airport was in Toamasina, Madagascar. Toamasina is a city located along the east coast of the island of Madagascar. From the get go, my teammates and I knew we wanted to create something really special, and for that we needed the right location. Madagascar has a lot to offer and gave us the opportunity to take the landscape, as well as the fauna and flora into consideration. Because of the richness of the Malagasy landscape, we started thinking about our airport in a sustainable way that would allow passengers to be immersed in the culture and environment as soon as they land. One of the biggest driving factors in picking a coastal location for our airport was the opportunity it gave us to create a hub of connectivity. Our project not only focuses on transportation through flight, but also by sea through the incorporation of a port. We wanted to make our airport an immersive experience into Madagascar and a place of gathering and enjoyment for all people.
Q: In what ways do you think airport design is changing and how do you see airports evolving in the future? 
Livingston: In our current time, we are all about speed. Everything is fast paced, and we want to be able to do multiple things at once. The concept of an airport just being a place of flight will change. Many airports will become hubs of transportation for not only planes, but also boats, helicopters, trains, and vertical takeoff planes. I see airports becoming civic spaces, or even small cities with entertainment to suit people from all around the world with spas, hotels, restaurants, golf courses, gardens, movie theaters, art galleries, and gyms. It will be a one-stop shop for everything you need.
Q: How did you incorporate these evolving and futuristic ideas into your airport?
Livingston: We took the concept of the airport of the future as being a mixture of a sustainable building approach, as well as the incorporation of new technologies. In Madagascar, because of the high plateau, traveling by land can be a task. Through our research, we found that many people in Madagascar fly from place to place within the island. We wanted to be able to handle the capacity and needs of international travelers, as well as local travelers. Our idea was to incorporate a garden of flight in the center of our airport with the capacity to handle small vertical takeoff and landing aircraft. These flights would be able to serve passengers traveling small distances within the island for day trips or business trips.
One of our other innovations within our airport are zip line pods. The idea is similar to that of a tram or people mover you would see at airports like Atlanta or Tampa, but instead of traveling on tracks, its suspended from above like a zip line. The zip line pod is intended to take travelers from their gate to their aircraft, which allowed for the footprint of our building to be minimized by not having aircraft parked right outside. International arriving passengers would be able to go through customs and border protection processing and screening within the pod itself as soon as they step off the aircraft into the zip line pod. This allowed us to begin to intermingle international arriving passengers with domestic passengers within the terminal.
Q: Can you share some your thoughts and key takeaways that you garnered from having the opportunity to go to Venice and have your work on exhibition during the Venice Biennale?
Livingston: This has been the experience of a lifetime. There was a huge effort that went into us going to the Venice Biennale, and we all pulled through. From planning the itineraries, to getting the models to Venice, there were definitely many parts and pieces to be juggled. This was definitely a learning experience that taught me all that goes into showcasing your work in the field of architecture. I would personally urge anyone who has the opportunity to travel early on in their career to do so. It's so important to get out there and see the world. There are so many possibilities and opportunities to connect with people, which makes an impact on the work you produce architecturally.
---
---
If you would like to support the Airport Studio and the students who represent the College of Design at the Biennale International Architecture Exhibition, Please CLICK HERE to make your donation. Your donation will support the student's airfare, lodging, studio supplies, and shipping/material fees. For additional information and ways to support this student opportunity, please contact Jaclyn Hage at Jaclyn_Hage@ncsu.edu.