Airport Designs Take Flight in Venice
When Cameron Westbrook and Emily Doyle caught a flight from Raleigh-Durham International on Sunday, they carried with them a plan to make life easier for future airline passengers.
They and nine others from the architecture program are in Venice this week for the Biennale Architettura 2018, an international display of the latest ideas in building innovation and design. The group of NC State students and new graduates will display their designs for airports of the future alongside work from some of the biggest names in the industry.
It's rare for universities to participate in the biennale, says professor Wayne Place, who received the invitation from the head of the European Cultural Centre when he delivered a lecture at the 2016 event. He says his students will make a good showing.
"I think all the ideas are wonderful," he says. "I think the models are wonderful. The renderings are wonderful."
Students divided into five teams and picked airports from around the world to redesign. They incorporated the biennale's own theme of "freespace"
— the quality and usage of open and public space — and considered how their buildings would affect the local culture, economy and environment.
Doyle and Westbrook hope their vision for Rio de Janeiro's airport would improve the whole city. In their design, the building, which sits on an island not far from downtown, uses environmentally friendly hydroelectric power. Orchards grow around the exterior. A rail line connects the mainland to the island to cut down on traffic, and biometric scanning embedded in passenger transportation means less waiting to get through security checkpoints.
The airport is a destination as well as a stopping place. It comprises six buildings, each with a particular theme, including entertainment, youth activities and Rio's history.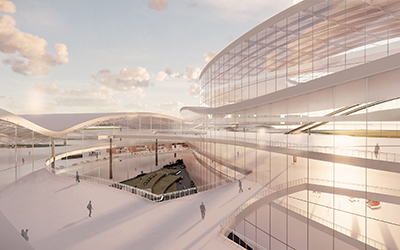 "We want to look at the airport as being a cultural center or a public space versus just a place where you go to catch a flight," says Westbrook, who received a Master of Architecture degree this month.
He and Doyle want their airport to serve people of all socioeconomic levels in Rio, from wealthy urbanites to residents in low-income favelas. It's a place where everyone can gather, learn, work and play.
"We both want to make a difference with architecture and make a social impact," says Doyle, who graduated this month with a bachelor's degree in architecture.
Other groups have been equally creative, Place says. One designed an airport for Madagascar with the goals of promoting ecotourism and empowering citizens to rebuild the impoverished nation. Another designed an airport tower that straddles the river in Shiraz, Iran, with a platform at the top that includes a catapult to launch planes into takeoff. One side of the tower would hold office buildings; the other would be a hotel.
The idea of airports that function as more than travel hubs sounds radical but is in fact based in nostalgia, Place says. Airports once served as meeting places where families would gather to celebrate travelers' departures or arrivals or even go for a meal in a restaurant. That changed over decades as airports tightened safety measures and restricted access for nonfliers. The hallmarks of air travel became long lines and wait times.
"The notion is everyone would like to return the airport to the romantic past when it was a place to be," Place says. "I don't know how successful we'll be at that because of the issues with security and terrorism, but we are focusing our effort on that challenge."
The NC State teams worked until the last minute before they left for Venice. They made short videos to accompany their designs — a first for the studio, but necessary to allow viewers to visualize the buildings and see how they integrate with culture and landscape, Place says. The groups refined their models so they meet airline size and weight restrictions. Doyle and Westbrook hollowed out their model's mahogany base and worked out how to break down the structure to pack it safely for the flight — a problem Doyle called "how do we bring our airport through the airport?"
The teams return Sunday, but the models will remain until the biennale ends in November. Then they might go on display elsewhere, Place says, such as on campus or at RDU.
Westbrook and Doyle say they are looking forward to meeting experienced architects and studying professional designs in Venice, but add that creating their airport was its own learning experience.
"It made us step outside our comfort zone," Westbrook says. "We kept pushing our design and saying, 'This is nice, but is it the best we can do?' I think that's one of the exciting things about the biennale. You're at the highest mountaintop to display your work."
This post was originally published in NC State News.