The Airport of the Future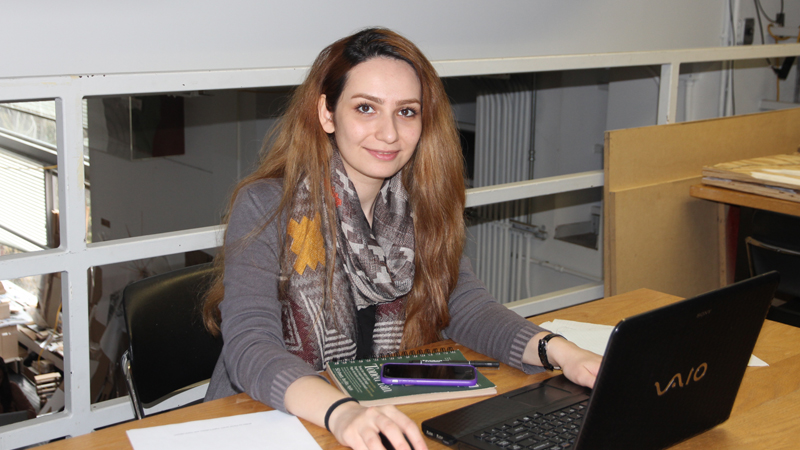 We recently had the opportunity for a quick Q & A with Parisa Javani, an international architecture graduate student from Iran. Javani is part of a design studio that has been invited to participate in the 16th International Architecture Exhibition, known as the Biennale, in Venice, Italy. The Biennale runs from May through November 2018. ARC 503 Airport Design is a high-tech studio led by Alumni Distinguished Professor of Architecture Wayne Place, Ph.D. The studio is a unique opportunity for students to be exposed to large-scale design projects. Students have received invaluable guidance and support from Fentress Architects, who will be showcasing their own exhibit in the Palazzo Bembo. Javani is working with classmates Ingrid Fullerton and Than Nguyen to design an airport for Shiraz, Iran.
Q: What sparked your interest in taking this airport design studio?
Javani: I really wanted to work with Professor Wayne Place because the style he teaches is a style that I want to incorporate into my designs. He is really open to new and futuristic ideas and not set on just a cubic building. The airport studio is really challenging, and there is a lot for me to learn about organizing an airport. This is a large-scale project, and it's different from other projects that I have worked on. In residential or commercial buildings, the parts of the building are really clear and obvious, but in an airport, there is so much that we don't know about and we learn about them through the design process.
Q: What in the studio has been the most rewarding or exciting for you?
Javani: The futuristic approach to airport design has been really exciting. When I signed up for this course, I didn't know about this aspect of the studio, but I'm really excited about it because we can imagine whatever we want to have in the future. Because the topic of the studio is about flight and the airport, we can imagine spectacular things in the future. I think that's really exciting, and I am really excited to go to Italy.
Q: What are you most excited about for the Biennale?
Javani: It's a really good opportunity for us to improve our CVs and resumes, to see other environments, and to hear what others think about our project.
Q: What is the best part about working on a team?
Javani: I am on a team with Ingrid and Than, and in our team, the combination of our ideas are working well together. I had some ideas about parts of the airport, and they had some ideas. Without a team, you are just one mind and can't see everything in the project; when you have one idea or one concept, a team can really help you improve the idea. Thinking as a group can make your work more comprehensive and thoughtful. We learn to be flexible with other ideas. I had a really futuristic idea and concept in mind for this airport, and my teammates really helped to develop that.
Q: What has been the best part of working with Fentress?
Javani: Curt Fentress and his firm are really open to new ideas. We can take an idea we have, and they can lead us to the right track to get to our goal. This is the most important part of working with them. Joshua (Stephens, AIA, [M.Arch '13]), Ana-Maria (Drughi, AIA, [M.Arch '13]), and Curt Fentress never reject our concept. They are not biased toward just one style, and this is really good for an architect. They let us think. They trust us.
Q: Now that you've had experience with airport design, would you consider doing as a career path?
Javani: Yes, I've thought about that. I think, if I can handle this project and learn the crucial things about airports, I can continue to design airports, now or in the future. I really like to think in large scale and to deal with challenges in projects.
PRESS RELEASE                Visit the BIENNALE Website
---
If you would like to support the Airport Studio and the students who will be representing the College of Design at the Biennale International Architecture Exhibition, Please CLICK HERE to make your donation. Your donation will support the student's airfare, lodging, studio supplies, and shipping/material fees. For additional information and opportunities to support this student opportunity, please contact Jaclyn Hage at Jaclyn_Hage@ncsu.edu.
---
Staci Kleinmaier is a professional writer and photographer living in Apex, North Carolina. She uses words and images to tell stories. To see her work, visit www.stacikleinmaier.com.