Flexibility is Key to Successful Collaboration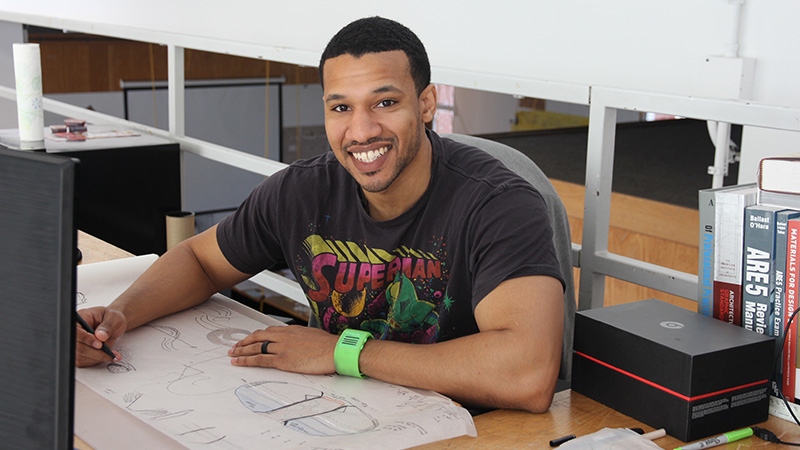 Cameron Westbrook is a graduate student in the final semester of his Master of Architecture degree. He is currently taking ARC 503 Airport Design, a high-tech design studio focused on designing airports for the future, with Alumni Distinguished Professor of Architecture Wayne Place, Ph.D. Fentress Architects has been supporting and guiding students as well and will share exhibit space with them at the 16th International Architecture Exhibition, the Biennale, in Venice, Italy. Students will travel to Venice to participate in the Biennale, which runs from May to November 2018. We recently spoke with Westbrook about his experience in the airport design studio.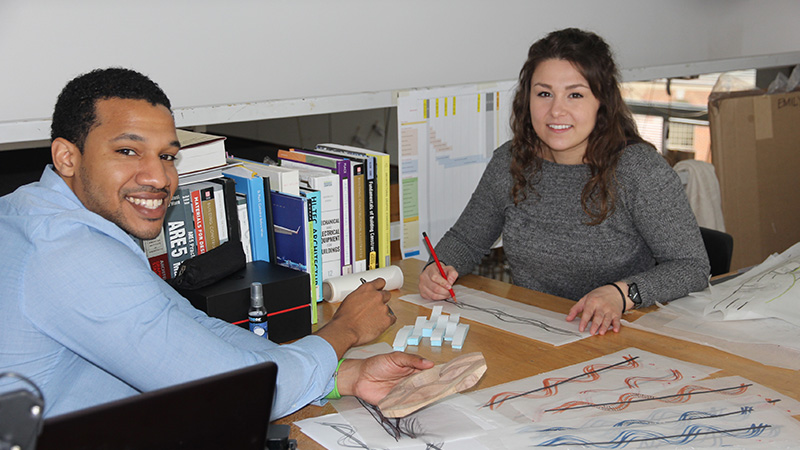 Q: What sparked your interest in this airport design studio?
Westbrook: I was interested in it because of the design scale. Most of my studios have been civic buildings or cultural buildings. When you go to the scale of an airport, it's a drastic change in gestures or strokes of the pen. I wanted to get as much experience as possible working on this large of a scale before getting into the profession. I want to explore how airports and the thoughtful incorporation of technology can help shape our future.
Q: What are you most excited about for the Biennale?
Westbrook: I look at the Biennale as an opportunity to showcase my work beyond NC State. It's a kind of challenge that's proposed to the students, saying "bring your best work." It really encourages us to put our designs under harsh scrutiny to see if it's the best we can do, a self-evaluation. Being in that type of environment is a great opportunity; I think future employers will look highly upon that.
Q: What has it been like working with Fentress?
Westbrook: It's been a good experience. It's been eye-opening because there's so much technology and so much to incorporate into the early stages of designing an airport. It can be overwhelming, but it also puts you in a position to want to know more. They are also very encouraging. They are giving us the opportunity to design for the future and not putting the constraints of making it really practical or having us think about code. The focus is more on "what do you think the airport of the future would be?" Learning about new technologies in the early stages of development makes me want to see the beta projects or be there in the beginning instead of being on the receiving end when it's all rolled out to the public.
Q: What other coursework has helped prepare you for this airport studio?
Westbrook: I took Wayne's tall buildings studio [ARC 503 Tall Buildings] last semester and tension and compression [ARC 590 Special Topics in Architecture: Tension and Compression], which is a structures seminar that is kind of the precursor to the airport studio. In that class, we looked at triangulated structure and tensile forces. Those concepts can be incorporated into creating these large spans for airports. Tension and compression wasn't a prereq but it was one of those things that is recommended if you want to design airports because, with the airports, there is so much information that it's hard to teach it all in one semester. Tension and compression really taught about structure and how that works for airports and spanning members and parametrics.
Q: What has been the best part of this studio so far?
Westbrook: I think it's two sides. There is the opportunity to go to Venice and be featured in one of the biggest architectural showcases in the world, which comes with its own pressure. Then there's the part of designing and working with a partner, striving to reach an end product that you don't know what it is yet but you know it's going to be something great. It's like unwrapping that design, that end product. Each time you work on it, you get more excited, or you realize you have to go back and restrategize.
Q: Who are you partnering with?
Westbrook: My partner is Emily Doyle; she is a senior undergraduate student. Working together has been good because her studios have been a lot more conceptual. Graduate studios are conceptual, but then we also make them practical.
Early in the course, we did a schematic design review to show our class what we were interested in when it came to airports, what problems we wanted to solve, and what we thought was going to be our design approach. Emily's approach was looking into the use of natural resources within the airport environment to make the building self-sustaining and to better the way of life within that community. Mine was on similar lines but looking into the local culture and the emotion that travelers experience as they go through the airport. We saw those two as working hand in hand. It's been a good partnership. We haven't really had any head bunting moments. We always ask ourselves and each other, "is this something we really want to do?" We try to be as transparent as possible, and I think that's where flexibility comes in—exploring the ideas verses just saying "I don't think that's going to work."
Q: What is your biggest takeaway from this course?
Westbrook: I think the biggest takeaway would be the importance of being flexible in the collaboration process with your partner. Everyone has a different way of working and everyone is under a different type of pressure. When you know you're going to the Biennale, you want to take your best work. You think about what's been there and who's going to be there, and that's pressure in itself. When you get to that blank sheet of paper and you start designing ideas, it's a raw moment where you're shy but at the same time you want to make sure you're saying great ideas. So I think just having that flexibility to not come off as judgemental or harsh but be receptive to exploring new ideas, even if it is a rabbit hole, sometimes you just explore it to build that confidence between each other.
Q: What location are you designing your airport for?
Westbrook: Our design is for Rio De Janeiro in Brazil, which is a really interesting place and climate. We chose Rio De Janeiro because we saw an opportunity to unify the two classes that are in Rio; it's kind of showing the true essence of Rio De Janeiro as well as showing what we all see today—the beach, volleyball, dancing. This design project lets us explore the other side of that coin and encourages and inspires progressive development in the future.
Q: Have you encountered any unexpected challenges during this project?
Westbrook: Process has been a challenge for us. We have a short deadline, and we're still in a young stage of our careers, so our design process isn't quite ironed out. We have multiple ways to do things and are trying to figure out what's the best way. Our design has changed four times, so essentially we've designed four buildings. This goes back to us really questioning if an idea is the right approach. Something that we've started doing is reaching out to other teachers and getting other perspectives on our design. We are designing a public building and trying to make an airport more of a public space verses a place of service and transportation—why not ask other people? By doing that, we received some really good feedback to incorporate.
PRESS RELEASE                Visit the BIENNALE Website
---
If you would like to support the Airport Studio and the students who will be representing the College of Design at the Biennale International Architecture Exhibition, Please CLICK HERE to make your donation. Your donation will support the student's airfare, lodging, studio supplies, and shipping/material fees. For additional information and opportunities to support this student opportunity, please contact Jaclyn Hage at Jaclyn_Hage@ncsu.edu.
---
Staci Kleinmaier is a professional writer and photographer living in Apex, North Carolina. She uses words and images to tell stories. To see her work, visit www.stacikleinmaier.com.