Thinking Big with Large-Scale Design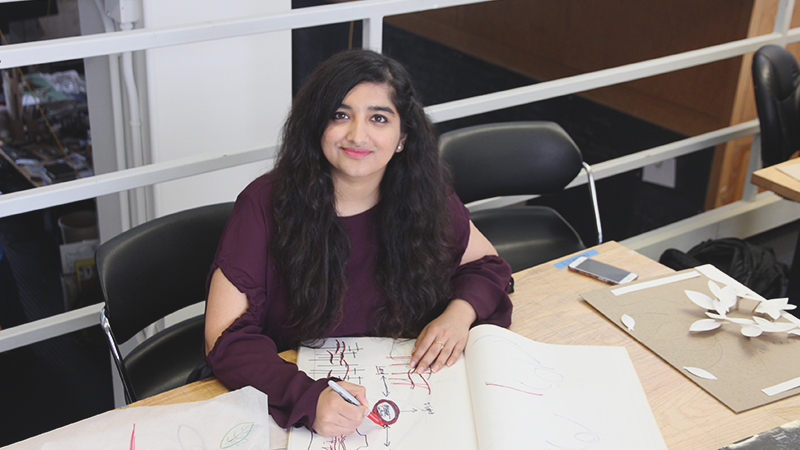 The NC State College of Design has been invited to exhibit student works in the 16th International Architecture Exhibition, the 2018 Venice Biennale, at Palazzo Bembo in Venice Italy from May through November 2018. The students participating in ARC 503 Airport Design with Alumni Distinguished Professor of Architecture Wayne Place, Ph.D, will have the unique opportunity to present their design conceptions for airports of the future. Fentress Architects has been guiding students within this studio and will also share exhibit space at the Biennale. We recently had the opportunity to speak with Arpitha Belur, an architecture graduate student, about her work in the studio. Belur completed her undergraduate degree in India and worked in the practice there for two years before entering NC State's master's program in Architecture.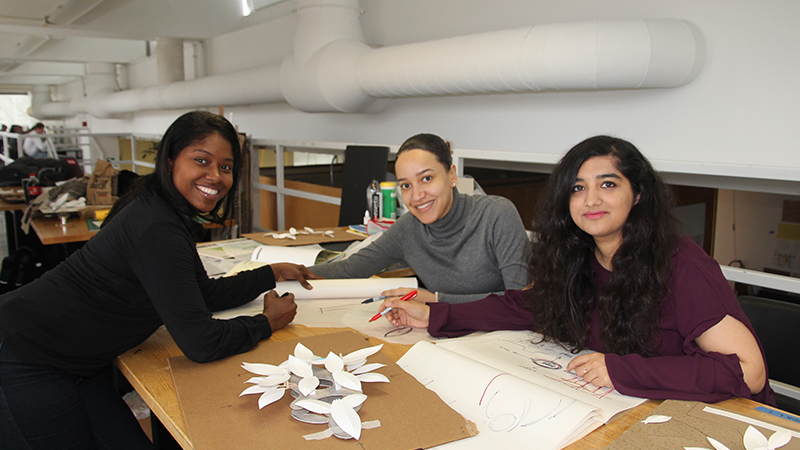 Q: What interested you in taking this airport design studio?
Belur: There are two main reasons, one is Professor Wayne Place. I had his tall buildings studio [ARC 503 Tall Buildings] last semester, and I am his graduate assistant. I really love his work and the way he teaches. Last semester I also took his seminar called tension and compression [ARC 590 Special Topics in Architecture: Tension and Compression]. I learned more than I've ever learned in one semester. He is not a professor who tells you, "ok you have to do this," "you're not supposed to do this," "this is right," or "this is wrong." Sometimes that may be difficult; if you're doing it for the first time you may not understand what to do, but later on you understand how he works because he gives you the freedom to do anything and then he corrects it or rather he makes it better. Wayne is probably one of the biggest reasons I started liking structures. After working with him and seeing how much he loves structures, I started to love it and understand it more. So Wayne was one of the main reasons I wanted to take the studio.
The second reason was the scale of the airport project. Though I've worked on huge building design, an airport falls in a completely different league. You cannot say, "oh yeah we can do this," "oh yeah we can put that there," "yes this is right," or "no this is wrong," you cannot say any of these. We only experience airports as a user. Everytime, as a user, when you go to the airport, you check-in, get into security, and leave. Even as an architecture student, I haven't looked at an airport; if I go to any other building, I look at every detail and think "they should have done this" or "they could have done this better." I appreciate the beauty or details, but in an airport, it's such a complex structure, I always wonder how does it work? I've been in many international airports and each airport works very differently. The way it works in India is completely different from the way it works in U.S. For example, in India, arriving passengers don't mix with departing passengers. An airport is a very complex structure, which I want to study in order to see how it actually works. That was one of the main reasons I wanted to take this studio.
Q: What is it like working with Fentress Architects?
Belur: That has been good. Fentress is a big name, and it is a big opportunity to actually work with them. Curt Fentress was here for the first design share that we had with Fentress, and that was a really good start for us. At that point, none of us had an idea of what we were going to do. We were just starting, but I think that was a good start and we got really good feedback from him and from Joshua Stephens, AIA, [M.Arch '13] and Ana-Maria Drughi, AIA, [M.Arch '13]. They were very encouraging in telling us that "this is something you can do" or "this is something possible," which gave us hope that this can actually work. They'd give us some lectures on how the airport works, and it was really helpful. I'm looking forward to more reviews and what they have to say.
Q: Do you think this experience has changed your career path?
Belur: I think so because knowing that I have an airport and a tall building design in my portfolio, I feel that when I'm applying to jobs I can look at something big and show what I've done in my graduate studies. It's not like I've just done small residences. Right now if I wanted to apply to Fentress, I could say "I have some experience. I have an idea of what I'm doing. This isn't a fresh start for me." I think that is very good thing. That is the line I wanted to go, and I think I chose this studio because of that.
Q: What are you most excited about participating in the Biennale?
Belur: Putting up our exhibits there, that is something huge. I would have never thought I would be doing that someday. Putting up something that you've designed and you can say "something of mine is up there at the Biennale." And, secondly, I think going and just experiencing the Biennale. It is also a big deal to just be there around so many people—artists and architects—and exhibits. So much good work. That is something huge.
VISIT THE BIENNALE WEBSITE AND LEARN MORE ABOUT THE STUDIO
---
If you would like to support the Airport Studio and the students who will be representing the College of Design at the Biennale International Architecture Exhibition, Please CLICK HERE to make your donation. Your donation will support the student's airfare, lodging, studio supplies, and shipping/material fees. For additional information and ways to support this student opportunity, please contact Jaclyn Hage at Jaclyn_Hage@ncsu.edu.
---
Staci Kleinmaier is a professional writer and photographer living in Apex, North Carolina. She uses words and images to tell stories. To see her work, visit www.stacikleinmaier.com.