Diversity in Design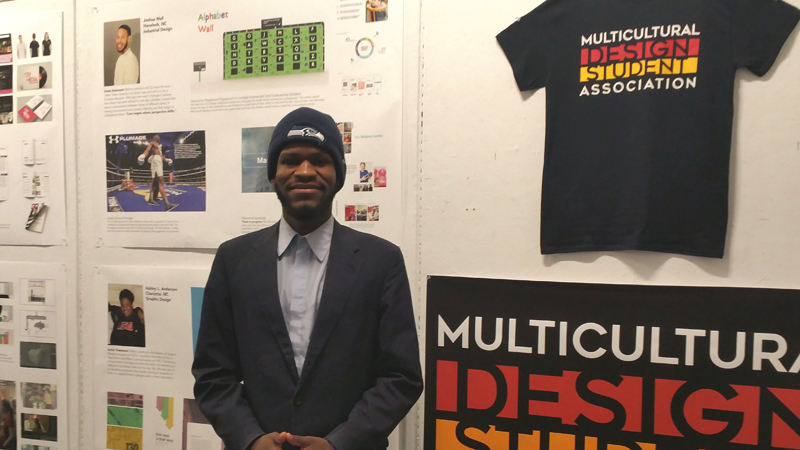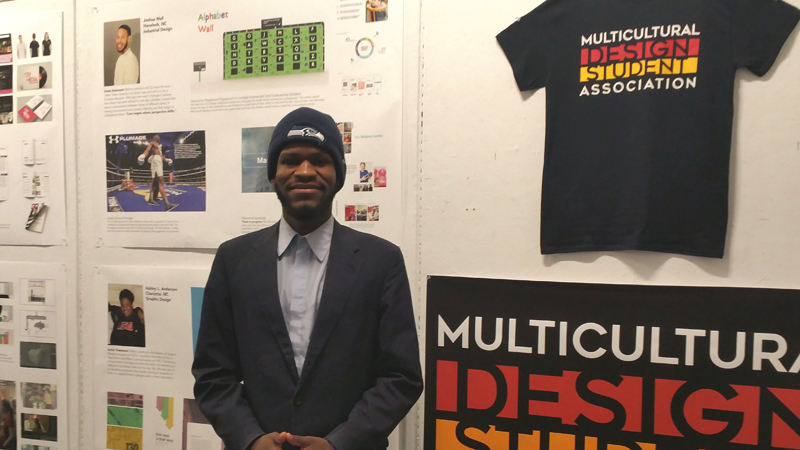 NC State University has over 700 registered student organizations that provide endless opportunities for student involvement. From advocacy, governance, and service to culture, arts, sports, entertainment, and making—many opportunities are available to enhance student experiences, build friendships, provide networking opportunities, and explore a passion or interest.
One particular student organization, the Multicultural Design Student Association (MDSA), recently experienced a revitalization. MDSA had been disbanded for some time, until the fall of 2017, when Carolina Sarmiento Avila, a design studies junior at the time, ignited interest, and Assistant Dean of Student and Academic Services Tameka Whitaker agreed to be the advisor. With enthusiasm from both, membership began to flourish.
"MDSA is like a support group for those who are underrepresented in the College of Design," shares current president Joshua Wall, a graduate student in industrial design. "MDSA works to bring an understanding of different cultures to everyone and also encourages comradery and listening to someone with a different world view than you."
Wall says that "anyone can join this group," and that there are no limitations to who is considered "diverse." "Diversity brings opportunity to all experiences," Wall says. Membership includes meetings, networking, social events, volunteering, community outreach, fundraising, guest lectures, and other interaction among the design community. This semester, meetings are often held on the last Tuesday of the month and dues are $10 a semester.
MDSA has approximately 25 members and, "all of our current members came to the original meeting and are still members," Wall notes. Members are from all five disciplines from the College and include undergraduate and graduate students.
Shadrick Addy, a graduate student in graphic design, joined because "as an undergrad, I was part of a similar organization, and I thought I could learn from this community and I could assist with the experience I had, having been in a leadership role in a similar organization." Addy is the communications and marketing lead for MDSA. He says that the best part of being involved in MDSA is the networking, volunteer opportunities, meeting new friends, and connecting with people of diverse cultures and backgrounds. "I'm here at the College with others who share similar beliefs and values. Being a part of an organization that is enriching diversity is pretty powerful."
Last summer, members of MDSA worked with Whitaker and Julia Rice, director of the Design Lab, to visit five local high schools. The intent was to expose high school students to design and encourage minority students to consider design as a career path. MDSA members discussed what it was like to attend the College and implemented a design-thinking project that involved creative brainstorming, ideation, and problem-solving. "It was good for us and them as well," says Addy. "We were able to share what it is like to be a minority in the College and how diversity is embraced."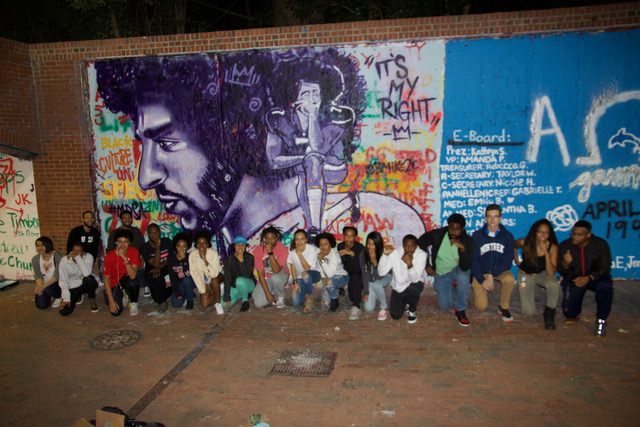 "We also had artist, Brandan Odums, come talk with us," Addy says. Odums, known as "Bmike" was exhibiting at the African American Cultural Center and was invited to speak with MDSA students. "He joined us and we went to the free expression tunnel and did this really amazing art piece that gained attention, and we shared information about our organization."
This spring, the group is planning to work with kids who attend a local Boys & Girls club. "We will go and initiate design activities and share the design process of ideation and prototyping," Wall says. The projects they have planned include screen printing T-shirts and other activities that are "a mini version of what happens in Design Camp. We want to encourage these kids and show what we do as designers and impart this knowledge with them," emphasizes Addy.
"What we are doing at the Boys & Girls club and in the community, is showing that design and designers can have an impact beyond the visual narrative. I think diversity should be encouraged through design. The College is doing a good job at this with initiatives in place, and we are making strives to increase our diversity rate," says Addy.
Wall adds, "We can influence our communities and reach out to minorities with hopes of bringing more diversity to the College and to NC State."
"This group is a stepping stone for students who may not be aware of the importance of design and design opportunities," says Addy. "Design as a whole needs to embrace diversity, and MDSA as a campus organization is taking a step in the right direction to increase the awareness of what it means to be diverse. We embrace diversity, and it is an important aspect of the culture and environment in all disciplines. Diversity is important; it enriches the design experience."
Recently, MDSA exhibited student work in Brooks Gallery. Members developed posters that highlighted their "artist statement" and showed visuals of some of their recent work. This was another opportunity for the group to promote awareness of their organization and to open up the conversation of diversity.
"My goal is to help students from different cultural backgrounds have positive social and academic experiences. A student organization such as MDSA acknowledges and celebrates cultural differences which can contribute to a student's success and bring a sense of community to an environment where they don't often see many who look like them," says Whitaker.