Alumni Team Wins Global Architecture Competition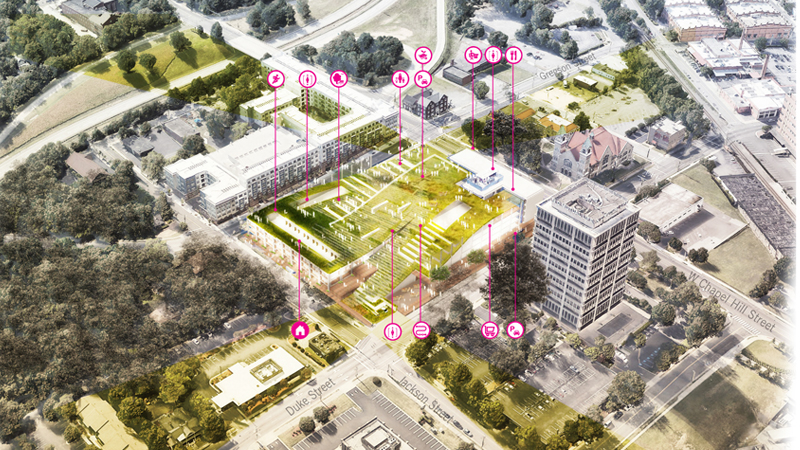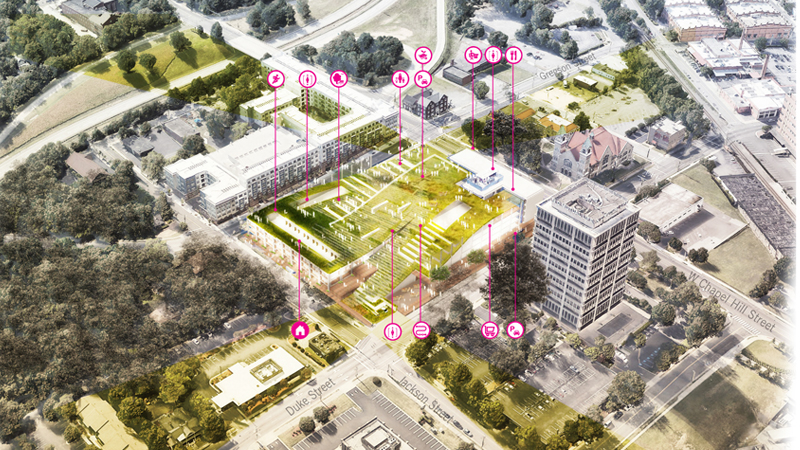 Two College of Design alumni were part of a team recently awarded first place in the 15th annual Perkins+Will Global Design Competition. The Design Leadership Council (DLC) selected the "Porch" design created by Sarah Dickerson [BEDA '16, M.Arch '17], Jessica Braverman [M.Arch ' 12], and Jayne Kim to receive top honors from over 64 submissions.
The Global Design Competition is an internal Perkins+Will challenge created to engage young design professionals throughout the firm's 20 international offices and to encourage provocative and imaginative design. This year's competition called on participants to reimagine a 4.4-acre site located in downtown Durham, currently serving as the Durham Police Headquarters. The building, known as the Home Security Life Insurance Company building, is set to be vacant later this year, and the city has begun discussing how best to use the space. The DLC challenged designers to "create a mixed-use plan that uses market-rate development of a publicly owned land asset to achieve sustainable growth and urban diversity." They also encouraged "innovative typologies and concepts that address the gentrification dilemma."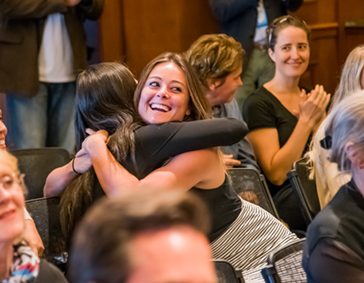 Dickerson, Braverman, and Kim describe their entry as an "interface between design and society." It is important, they say, "to recognize the socio-political context of both the site and the time we live in and provide design ideas that explore sustainable models for the triple bottom line." The triple bottom line is a framework that considers social, environmental, and financial factors. It is evident that the team took all of these considerations into account. Their design, which they named "Porch" after the "vital element of southern residential architecture" that serves as the "threshold to the residence, but also as place for gathering, play, and spontaneous interaction with the community," features affordable housing, generous greenspace, an intergenerational learning center, a park-top bar and restaurant, and space for parking and startup businesses.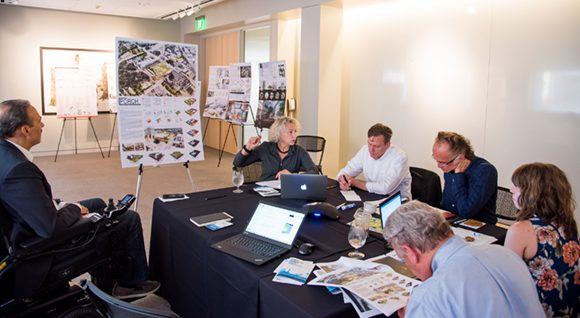 Braverman, who is a resident of Durham and a member of the Durham City-County Appearance Commission, points to the social and aesthetic challenges designers and city planners will face when considering how to use the open space, "we are keenly aware of the displacement that much of our recent development has initiated, as well as the lack of character of many of the new large developments. Our city celebrates its diversity and history, and our City Council and government have been working to solve the social and economic equality issues that reinvestment in our city has brought. With these goals in mind, as well as the competition program brief, our entry was designed as a personal response to both the city and the site."
The theme of the competition, "Excess in the City: The Challenge of Prosperity," highlighted the challenges of gentrification, displacement, and lack of inclusive development that many growing mid-sized cities are currently dealing with. Dickerson, Braverman, and Kim carefully considered the context of the site and larger community in their design, but they believe that the underlying concepts of their design are usable for similar sites and cities.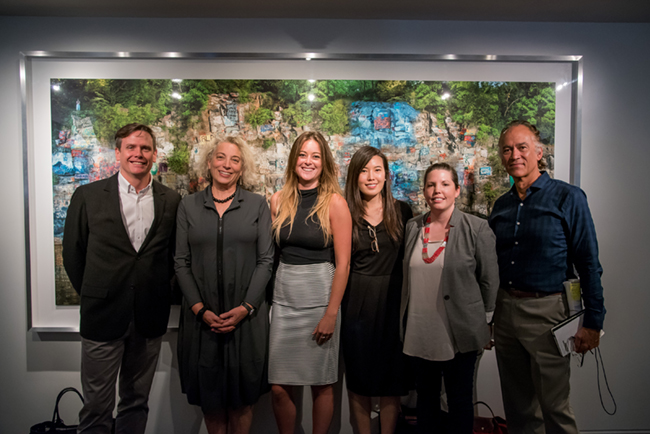 The team has received recognition throughout the global Perkins+Will office and is excited about their win. Dickerson says, "this is an incredible opportunity for all of us in our careers, especially as young women." Braverman echoes this sentiment, "This means a lot to me personally and professionally. It was a great honor to me personally as a Durhamite to know that our submission won."
The Global Design Competition is a theoretical exercise, and the City of Durham is exploring the possibilities and best use for the site. Dickerson, Braverman, and Kim's "Porch" entry tied for first place with a design, "Incremental," submitted by a Chicago-based team. All designs can be viewed on the Perkins+Will DLC website.
---
Staci Kleinmaier is a professional writer and photographer living in Apex, North Carolina. She uses words and images to tell stories. To see her work, visit www.stacikleinmaier.com.