Submit Your Work Now for the School of Architecture Alumni Exhibition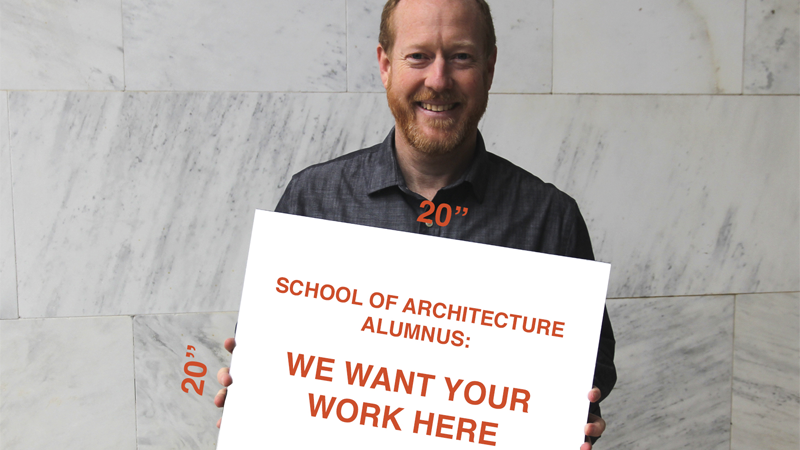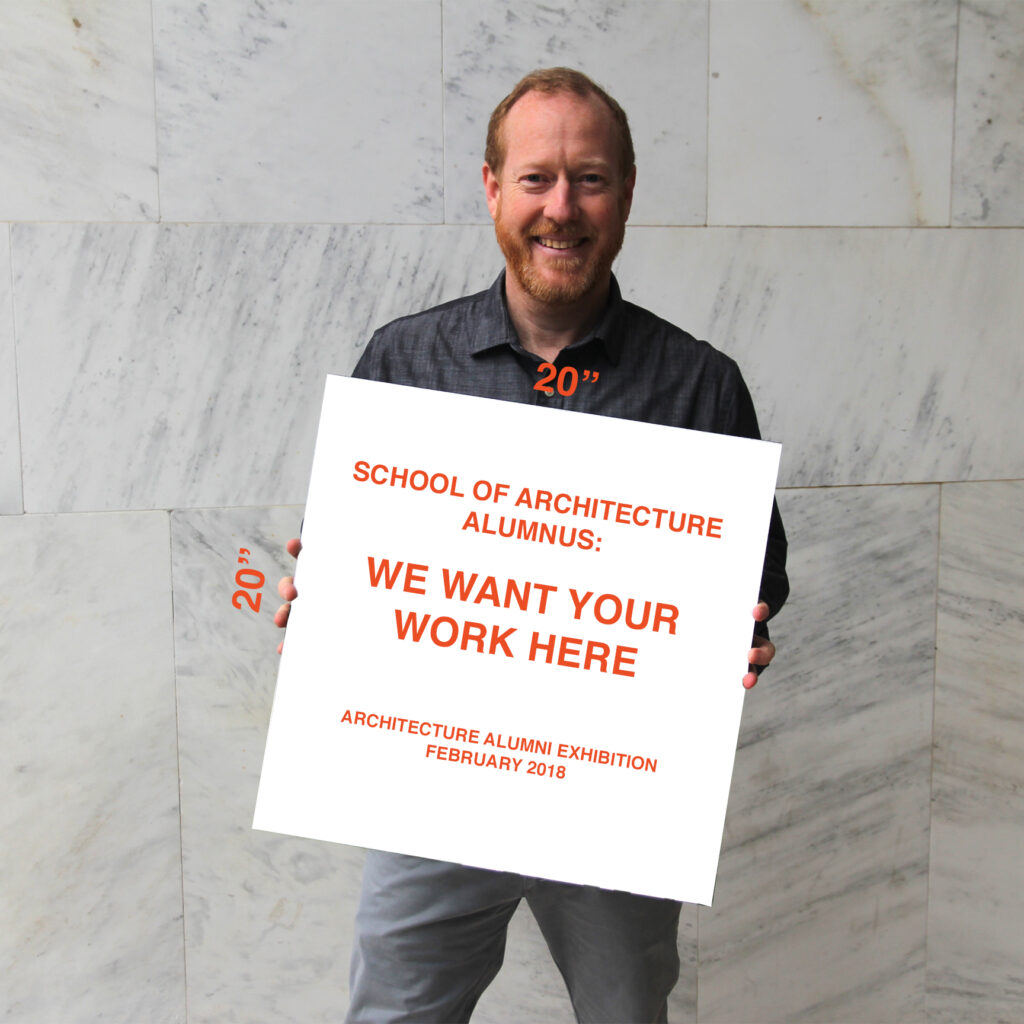 You are invited to submit presentation boards of your work for an NAAB alumni exhibition. The show will be held in the Brooks Hall Gallery during our accreditation review in mid-February. The School of Architecture would like to showcase a wide range of work that represents professional design and research from graduates of our architecture program. This will be an important show of work that will be seen by visitors from the National Architectural Accrediting Board (NAAB), faculty, students, and other visitors. While this work will not directly affect NAAB's accreditation decision, we want them to know about the incredible work that our graduates are producing. You may submit as an individual or with a firm.
How to submit work:
Prepare 20" x 20" boards using the InDesign or other layout software. You may submit up to four boards.

On the board, include: a.) your name and/or firm name, b.) project name, c.) any other information to describe the project.

Save the file(s) in PDF format.

Upload the PDF file(s) to Duncan-Parnell (a reprographics company in Raleigh) at this site: https://www.duncan-parnell.com/duncanparnell-file-upload-portal/upload-area-2

On the Duncan-Parnell website, enter this information:
Project Name: "NCSU School of Architecture Alumni Exhibition"
PO#: Your name or firm name
Duncan-Parnell will print your boards on satin photo-quality paper and mount to Gator Board.

Someone from the school will pick up the boards and mount them in the exhibition.

Submit payment (approximately $30 per board) online to Duncan-Parnell.

*
Due Date: Please submit all files online to Duncan-Parnell by February 12, 2018.
* Note from Head of the School of Architecture David Hill, AIA: "Please understand that printing costs for this many boards (hopefully hundreds of boards!) is beyond the limits of our budget. I hope that you are willing to cover this fee. We have tried to limit costs by eliminating the need for you to ship the boards and by working out a good deal with Duncan-Parnell. We will not be able to return the boards."
What kind of work should you submit?
This decision is up to you. The boards can include: renderings, buildings photographs, model photographs, drawings and sketches, diagrams, text, etc. The style and content of the layout is up to you.  
Why should you submit your work?
We want to show off your work. The School of Architecture has not held a comprehensive alumni show since their last accreditation in 2012. David Hill and the College of Design are proud of the work that NC State grads have designed, and we hope that you will participate in this exhibition. It will be a great occasion to share your work with many others.
Please share this information with fellow graduates! Contact David Hill, AIA, if you have questions.