Design for Good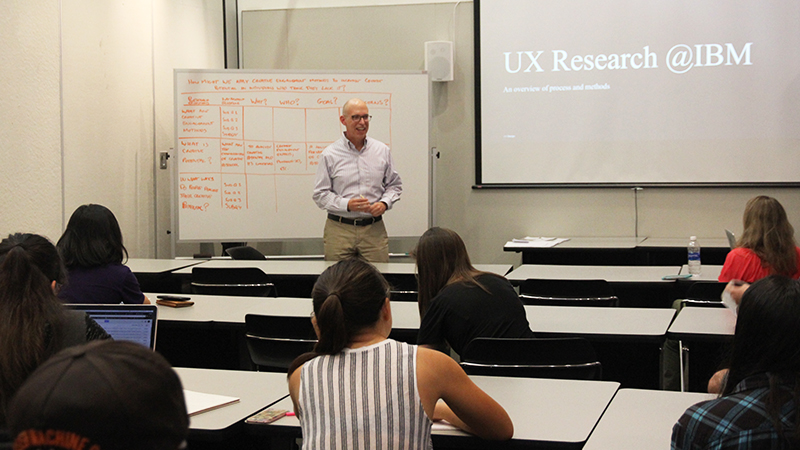 At this year's Design It Forward Gala, held at the Gregg Museum of Art & Design, students from the College of Design, members of the IBM Design team in RTP and the Institute for Nonprofits at NC State, and several nonprofit organizations were celebrated. These groups, which had worked together for a semester, shared semester-long outcomes that were developed using the lens of design thinking to investigate, research, empathize, and formulate real-world applications to improve the mission of three nonprofit groups. These clients presented materials and displays that showcased their mission and purpose.
Using design for social good and corporate citizenship are not new concepts in IBM's culture, but the collaboration between these parties—as well as the concept of applying and teaching IBM's enterprise-level design thinking, referred to as The Loop, to students who will go on to use the tools for social good—is not commonplace. The Loop is comprised of a continuous cycle of observing, reflecting, and making in order to fully understand a problem, develop a plan, prototype concepts, and tell a story.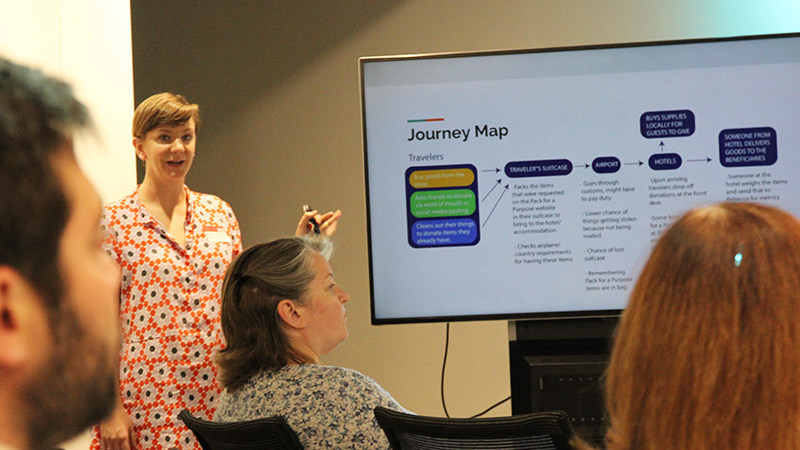 The course, Design It Forward, was led by Professor and Department Head of Graphic Design and Industrial Design Tsai Lu Liu. It included undergraduate and graduate students from graphic design, industrial design, and art + design. Six core team members from the IBM Design group facilitated the course's learning objectives, which included guest lectures, a hands-on micro project, and discovery and application of IBM's design thinking framework. Each week, a new mix of individual and team-based learning was introduced.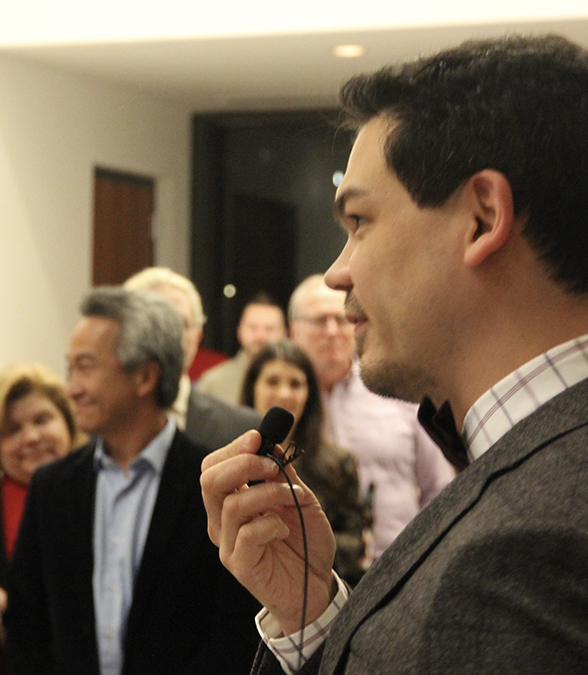 Steve Kim, Design Director of IBM Blockchain at IBM and one of the leads who worked on the development of the course as well as its facilitation, says, "We wanted to craft an experience that utilized the skills of the students. In college, you learn some great skillsets and talents, and we wanted students to leverage these skills and do some social good for the world."
With the help of two members from the Institute for Nonprofits, Executive Director Richard Clerkin, PhD, and Social Entrepreneurship Program Manager Elizabeth Benefield, the team was able to select several nonprofit clients for consideration and decided on three to participate.
The nonprofits were: Freedom United, whose mission is to inspire action to influence governments, business, and society to end modern slavery; Pack for a Purpose, which encourages domestic and international travelers to consider bringing needed goods to partner locations based on their limited circumstances; and KidzNotes, which aims to be a catalyst for change by using music to build a thriving network of children, families, and partners to transform lives and communities.
At the beginning of the semester, the students were involved in a smaller micro project that provided an opportunity for the IBMers to observe and engage with them. Senior in industrial design Katie-Gray Altmann says, "this project showcased who stood out as a leader and the dynamics of each of our skillsets as we worked together. IBM took into account the disciplines and individual strengths to make certain the teams were equally divided." The students were then organized into three teams and assigned a client and two IBM leads who assisted in the construction of ideas, process, and development as they interacted with their client.
Altmann was assigned to work on Freedom United with Kim and Kevin Schultz, a senior experience designer, as the IBM leads. As a part of Team Gestalt, Altmann explains, "each week the IBMers provided a talk and presentation about one piece of the design thinking process, and we learned about the specific terminology used." The IBMers provided great visuals and examples about the process, and there was an activity to provide further guidance.
"I was blown away by how much time the IBMers put into this course. They made it work and put a lot of effort into this," Altmann adds. "In a lot of sponsored projects, studio partners come in and tell you about the project and then come back at the end of the semester. All of these IBMers were hands-on, and they were really invested. They learned with us about these nonprofits along the way, and I got to see how to figure things out in a social sector."
Katie McCracken, a graduate student in industrial design whose client assignment was Pack for a Purpose, points to the interaction with the client and the support of the IBMers as one of the best takeaways of the course. "Our team interacted with Rebecca Rothney from Pack for a Purpose, who is so driven and inspiring. The IBM team is a really well-rounded balance of fun and professional. They were so available and invested. I cannot speak highly enough of the integrity of the group and how generous they are."
Rothney, the founder of Pack for a Purpose, says the opportunity "reaffirmed her faith in people." She adds, "I was inspired by the younger people, who constantly opened my eyes and really stopped and looked for new ideas to make things much more effective and current.
"They [the students and IBMers] are innovative thinkers; their ideas are something I would never have thought of personally. They presented a solution, and once we have the ability to implement it, I think it will make a huge difference for the onboarding process for our partners who want to submit an application."
The IBM team developed many opportunities for the students to learn and leverage design thinking to assess the needs of the nonprofits and develop prototypes and service solutions that improved their clients' ability to make an impact on their mission. Lecturers were brought in to share experiences and perspectives on design thinking, user experience, empathy, and storytelling. One of the speakers whose message stuck with Altmann "spoke about empathy, and he had been in the military and was in a war zone, and he shared so much about how you express empathy," she reflects. This lecturer provided pictures of his experience that highlighted empathy in action, which had a powerful impact.
Aside from the benefit of working with real-world clients, many students identified the value of the playbacks or presentations that were delivered to the entire class, the clients, and the IBMers. There were several occasions during the semester in which each team was required to present their prototypes and service solutions. The students noted the value of this experience, both in the moment and for the future, when the skills could be applied to further college courses or entering the workforce.
On the final playback event, students presented their many prototypes, design decisions, visuals, and service solutions to each of their clients. "I think all the different parties involved learned a lot from each other," emphasizes Kim. "Students learned through the course, 'I have this skill that can be applied for change, and I don't need to wait until I graduate to make an impact.' And then the nonprofits were blown away by how design thinking really works, as they had not seen this concept before. They can use this for their business and their mission."
Nora Mishriky, marketing director of Freedom United and the organizations liaison for the course, was excited to be included in Design It Forward. Mishriky specifically encouraged students to look at ways to engage a broader audience within their mission's purview. "I was curious as to what they would provide and the solutions they would bring forth for a younger audience," says Mishriky. Freedom United's current audience is aged 55 and up. "Even though we have hundreds of thousands of supporters, we are not going to end modern slavery with the numbers we have. We need to acquire new members and supporters that will enable us to make a difference—to raise their voices loud enough and make change in regards to policy—to put an end around the world to what is going on with modern slavery."
The students assigned to Freedom United, including Altmann, developed several innovative solutions that can be implemented in stages. Mishriky says, "their solutions appeal to all ages, and they took the time to make certain they were relevant to not just age groups but to geography, which plays a part in our mission."
"I think the takeaway is that everyone learned a lot and can continue to use these skills in their day-to-day lives," Kim concludes.
IBM Design team members:
Kristine Berry, IBM Systems Design Thinking and Agile Transformation Leader
Clay Braxton, Senior Designer, IBM Blockchain Platform at IBM
Jacquie Goyena, Advisory User Experience Designer at IBM
Steve Kim, Design Director, IBM Blockchain Platform at IBM
Zach Nilsson, User Experience Researcher at IBM
Kevin Schultz, Senior Experience Designer at IBM
College of Design Teaching Assistance:
Penghui Jiang
Allison Whaley