A Journey to Design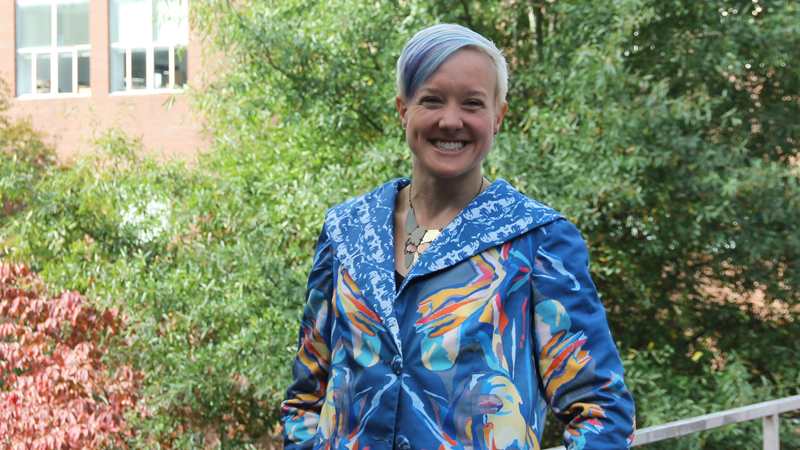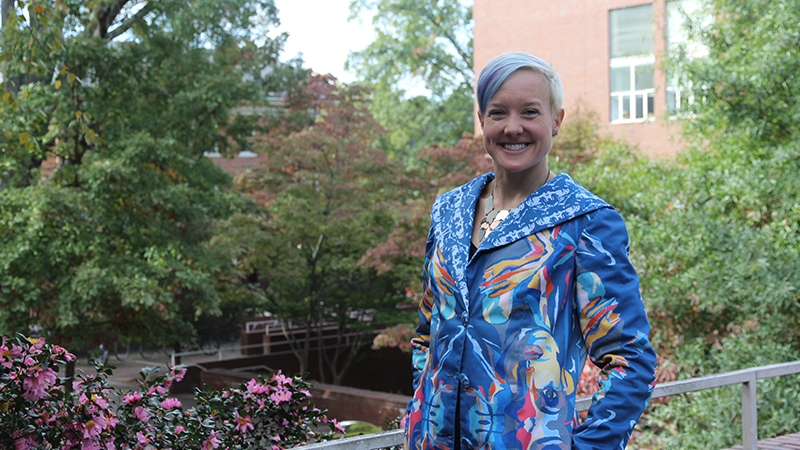 Laura Wyker is in the midst of a process of reinvention, stepping beyond a career in teaching high school science and digging back into early passions, including fashion and design. "I've always loved art. I double-majored in biology and studio art," she says. Wyker enjoyed teaching at a private institution, but she felt the pull of the arts on her life and is now pursuing a master's in Art + Design with a focus on Fashion and Fibers.
Wyker had some exposure to the College of Design before she made the change. "I took some classes at the Craft Center while I was teaching high school. I took pottery, metalwork, and jewelry and just loved it. I realized I was missing the craft of making. I hadn't done much since I graduated from college, and I wanted to get back into it," she says.
She visited for a tour and felt the College of Design was a perfect fit. "Seeing all the equipment and studios, the environment and what the students were working on—I knew I was missing that."
She was accepted into the graduate Art + Design program, however, without an undergraduate degree in design, she realized she wasn't well-prepared for graduate-level work and decided first to complete another undergraduate degree. This allowed her to hone her design skills and learn the basics. It also offered a chance to participate in Art2Wear (A2W) 2017.
After teaching for six years, Wyker admits, "It is different being on the other side, being a student again." Having to leave her job and pay for tuition has motivated her to make the most of the experience. "I tend to work hard to get as much as I can from the time I am here."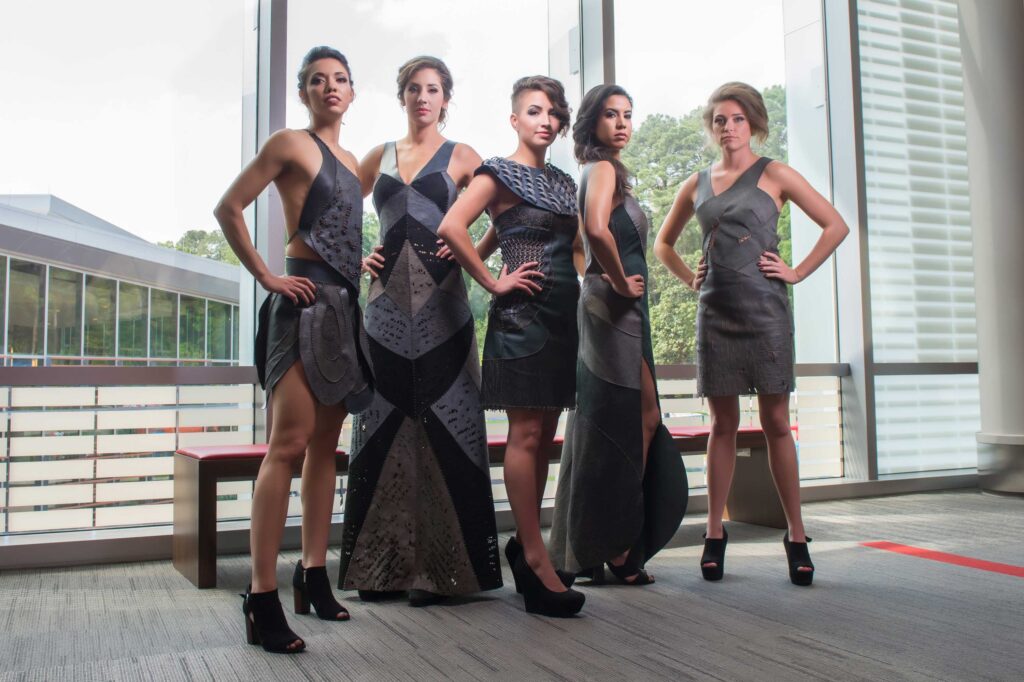 Her collection for A2W, "Imposteria," incorporated leather and metal in untraditional ways. She challenged herself to explore new techniques and technology, incorporating intricate designs or cuts in garments using a laser cutter and jump rings (similar to O-rings used in jewelry work) to connect different pieces.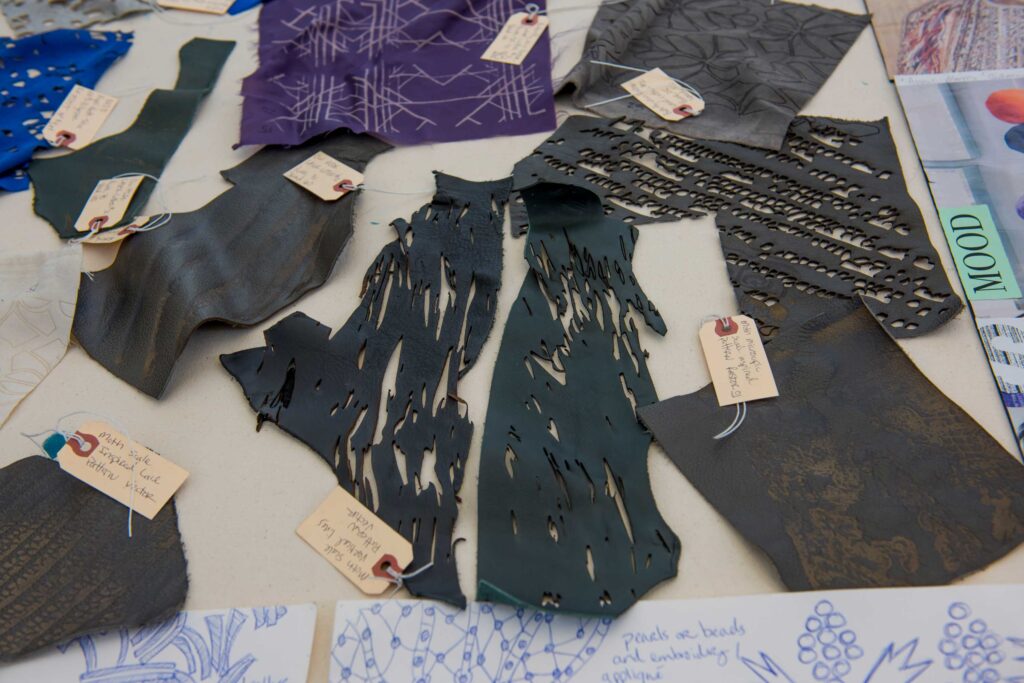 "I loved the outcome and the final results, and I'm glad that I pushed myself. It was a lot of work, but it was really rewarding. I was so excited when my models walked the runway, and it was an amazing night to be able to show all the hard work I put in," she says.
The experience infused Wyker's love of fashion, textiles, pattern-making, and her fascination with leather. "I fell in love with leather in sophomore studio through a bag making project. That is why I wanted to push leather for A2W, and the fact that it is a skin goes back to my biology background."
Over the summer she headed to London to take a five-week intensive handbag making course at the London School of Fashion. Encouraged by Assistant Professor of Art + Design Katherine Diuguid, Wyker once again challenged herself to learn new techniques and making processes.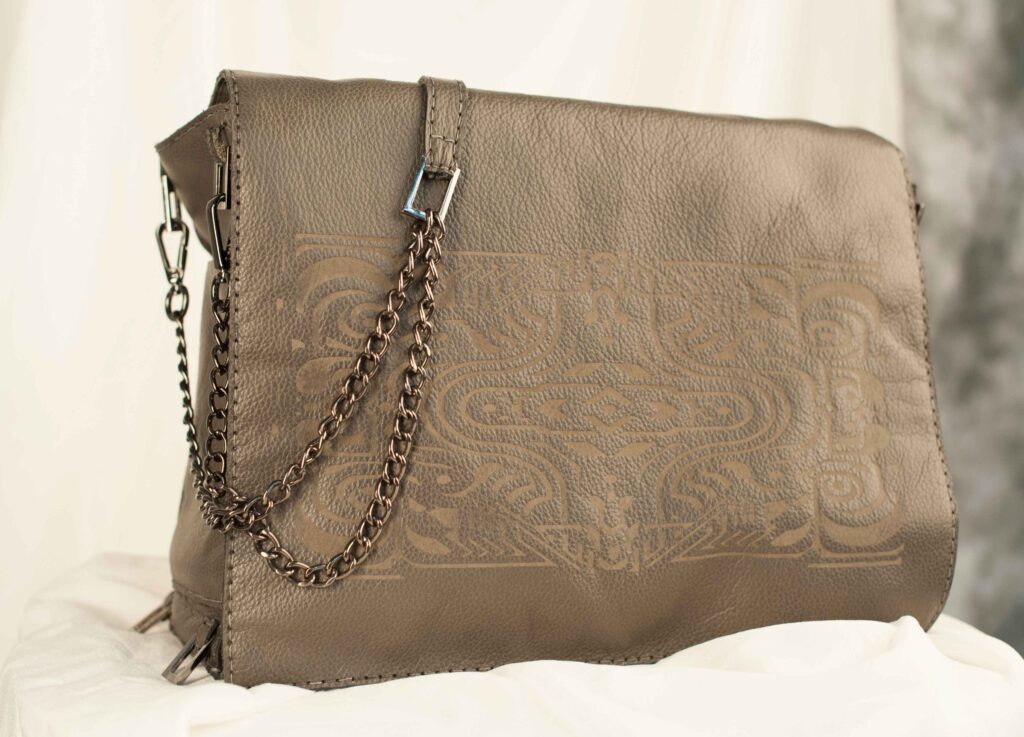 "I learned a lot more about leather. We used industrial machines, and I made three bags. We pattern made them—everything was by hand—and I did not realize how much glue or hammering was involved in making a bag." Bag makers employ manual labor with tools like mallets and hammers. The process of gluing and hammering is repeated often for structure and to help train materials to lay in a certain direction.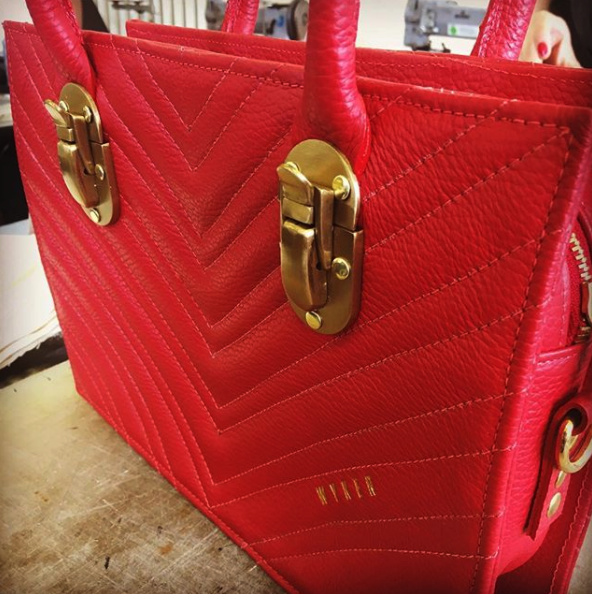 There is a lot of preparation and modification needed when making a leather bag—a lesson Wyker learned during her A2W experience. "Honestly, there is a lot of prep for all design. If you don't do this before you construct the final product, the end product will not come out the way you want it to be. Prototyping is critical."
The process of making a handbag is similar to designing a garment: paper patterns are cut, prototypes are made, and sometimes the pattern must be modified. The process is repeated until the maker determines that the pattern and the prototype fit exactly what they want.
The summer intensive was exactly what Wyker was looking for, and it solidified her intent to design custom bags in the future.
Wyker continues to develop her thesis, which is a combination of theory and design and a perfect blend of her passions and interests. She is an avid CrossFit participant and appreciates the empowerment and confidence it gives her. "For me and a lot of women who do CrossFit, it's about challenging yourself in a physical way to learn how to do things that are usually taught to men. It is also a group environment that is fun and motivating.
"For my thesis, I am researching femininity and strength and how I can combine these two into an image—into a design. The image of what a woman looks like is also changing; women are gaining strength in a lot of areas." She is exploring "a hybrid of femininity and strength and what it looks like."
In late October, the NC Museum of Art (NCMA) opened an exhibition, "Inspiring Beauty: 50 Years of Ebony Fashion Fair," which explores the 50-year history of the iconic charity fashion show that redefined the concepts of beauty, style, and empowerment for African Americans. The opening event for this exhibition included a runway fashion show and design competition, a display of 40 stunning ensembles (gowns, coats, and suits), and promoted the influence of Ebony fashion. The design competition invited all North Carolina students to apply to be considered for inclusion in the fashion show. Applicants were required to submit a sketch of their intended piece, a statement of purpose, images of current works to showcase skill level and talent, and to secure a faculty member as their advisor.
Two faculty members from Art + Design, Katherine Diuguid and Precious Lovell, are designers-in-residence with the NCMA and are an integral part of the exhibition, providing ongoing behind-the-scenes process and garment construction tutorials.
Wyker and Carly Owens, a senior in Art + Design, were among 12 designers to be included in the NCMA fashion show. They debuted their garments on opening night.
"I heard about this event at the very beginning of the semester, when Harriet Hoover from the NCMA spoke to us and asked us to consider submitting our work," says Wyker. "l researched Ebony Fashion Fair and I was super intrigued because it was all about empowering women, specifically black women."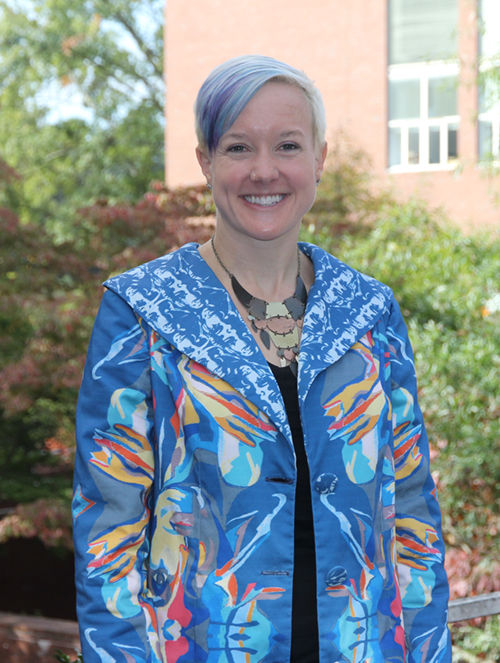 Again, Wyker was determined to challenge herself with a reinvention of her skills and process. She chose to design a coat, an item she had never made. Due to her research, her focus was going to be on the pattern "The main thing was the print—many garments in the exhibition had a lot of color and character. If you look back at African fashion and textiles, there is a lot of color and patterning, and so I wanted to do something special with a modern version." This project was a perfect synthesis of her thesis, and her pattern was based on a woman's face, designed with bold shapes and colors to express femininity and strength. She made her own print and fabric at the labs in the College of Textiles. Learning these new processes and their outcomes contributed to her growth as an artist.
Wyker was thrilled to see her design and the culmination of her hard work come to life as a model wore her coat on the runway on opening night. The finished piece is playful, with a confident, feminine silhouette. The way she has shaped the cloth is a testament to how Wyker has reshaped her own talents and challenging herself to grow and move forward.