Design Inspiration | Kathleen Rieder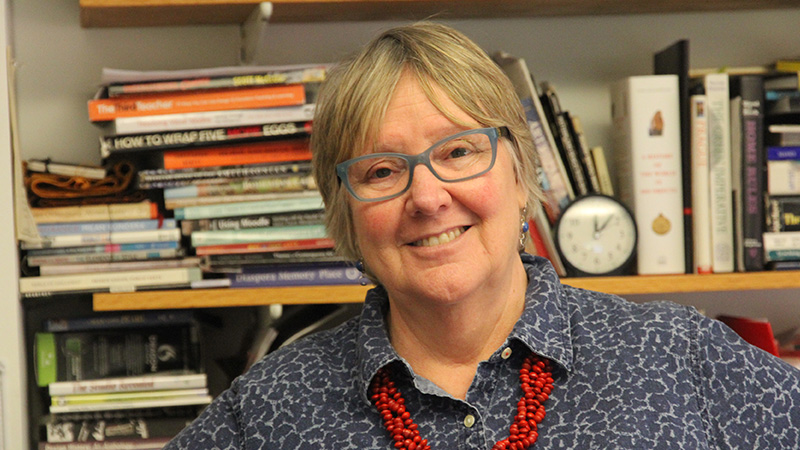 Associate Professor of Art + Design Kathleen Rieder bolsters her students' critical thinking and intellectual curiosity. She takes an interdisciplinary approach to teaching and has a long history of collaboration within the university and the broader community. Rieder asserts that "development of critical thinking skills is essential to understand how a community's values are influenced by the cultural history and how that influence impacts design decisions. Valuing questions and assisting students to differentiate among fact, bias, informed opinion, and assumption helps students to more clearly understand a problem, issue, or concept within its related contexts. I assist my students in awareness and understanding of the roles of memory, ritual, ceremony, and place in their perceptions." These principles informed her development of two seminars: Contemporary Issues in Art and Design and Design, Culture and Context. She has been on the faculty at NC State since 1989, teaching and practicing a variety of mediums—drawing, painting, color theory, mixed media installation, 2-D and 3-D design, and design fundamentals. She was on the first team of teachers to teach the First-Year Experience studios.
Rieder has been passionate about visual art since she was in high school. She loved to create paintings, collages, and drawings to complement school projects. "I was always trying to make something visual out of it," she says, and she received validation for her efforts from teachers, but her family was less enthused. "I think I took art for granted and I didn't value it as much because my family didn't value it; they thought I needed to go to college in the sciences—they didn't feel that I would get a job." But Rieder persevered and was offered a scholarship from the Columbus College of Art & Design. She received a BFA in Printmaking and Drawing and was introduced to design, which directed her path. "I realized it was my passion. I loved it."
Rieder attended UNC Chapel Hill for a master of fine arts degree in painting. She learned to balance her family life with her professional interests, exhibiting work in Raleigh, including at the Mahler Fine Art gallery (then the Raleigh Contemporary Gallery). Faculty from NC State's College of Design saw her work and asked the gallery owner to have Rieder apply for a teaching position.
"I was surprised; that wasn't something I was thinking about. I really went to graduate school because I wanted to know more. I wanted more experience," says Rieder, who at the time was raising three small children, exhibiting, and working part-time. She expressed to Charles Joyner (now professor emeritus of art + design) her desire to teach part-time, and several months later, he offered her a class. "It was one class, and I was thrilled. Teaching first-year students is a joy. To teach what I knew as an artist to students who would go on to architecture, or landscape, or graphic, or industrial, or art + design—it was an exciting time."
She has exhibited work in a number of venues, including the North Carolina Museum of Art, the Hanes Art Center at UNC Chapel Hill, the Weatherspoon Art Museum at UNC Greensboro, Meredith College, the College of Design at NC State, and the Louise Wells Cameron Art Museum in Wilmington. Rieder's work is complex and layered; she employs collage, repeated prints, and vivid colors. Her pieces incorporate text, found objects, and photographs. "I'm working in more of a process of hybrid medium, where I make something and then I photograph it, then I scan that work, and then I work a lot with collage. It traces back to my print-making experience; I like working with multiples." Moving forward, Rieder says, "my goal is to become more sustainable with reuse, repurposing, and redesign."
Rieder finds true satisfaction in guiding students in their personal journeys with art and design. "Questions are the heartbeat of research. My favorite part of teaching is enabling someone to own their knowledge, to be able to become a stakeholder in what they know, and helping them on the journey of discovering what they know and what they don't know. Acknowledging that you do not have the answers is not a bad thing. Intellectual curiosity and critical thinking are essential. Questioning is a constant. I love observing my students question each other."
She requires her students to write about their work, seeking out "connections and threads in history and contemporary issues. We analyze students' making, but we also analyze their writing, what they read, and what they're listening to, so it's more holistic, and we're realizing that there is a strength in the reflection and the questioning."
Rieder helped develop the Design Studies program, which included defining terms used in making. "It was exciting because everybody would contribute and they would possibly have a different definition. We're often asking our students, 'What is your vocabulary?' I want students to own their ideas. I've been excited about seeing the results of being steadfast to valuing questions and wanting students to own their knowledge." She insists that they go beyond Wikipedia and other easily accessed Internet sources in their quests for answers. "The Web opens the door, and then you go to another door and another door. It's incumbent on me to push for more documentation. We say if something can be answered with a yes or no, then that's not a very good question. It's pushing that."
Her approach also encourages diversity and inclusiveness among students and their work. "In Design Studies, we believe that design is inclusive. Design is in everything; if design is about human beings, then it's going to be in everything." Her commitment to these values is reflected in her continuing interdisciplinary collaboration and her community engagement. As a result of her service on the boards of nonprofit art organizations and local government art councils, Rieder has been able to create opportunities for internships in a variety of settings that match students' interests. Her students' successes have led to job offers and additional internship opportunities with sponsor sites.
She is continually impressed by the students at the College of Design, who inspire her to push her work further. "They are intense, ambitious, high-energy, competent people who 'bring it' on a regular basis."