Design Team Participates in LexisNexis Hackathon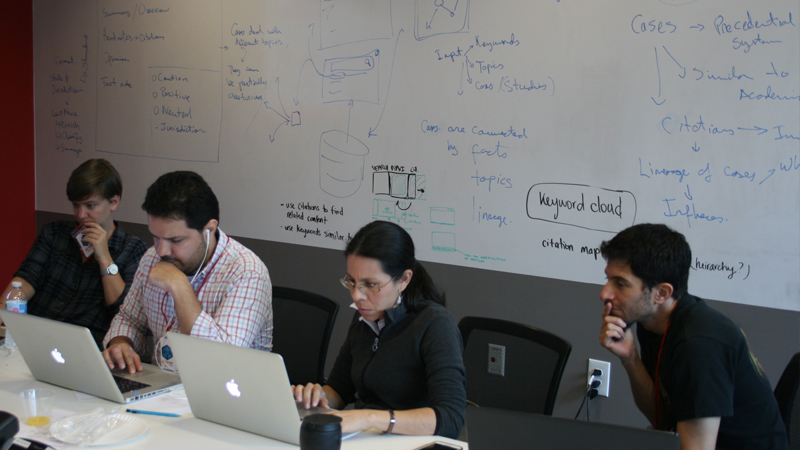 Last week, LexisNexis employees and local college students in the Triangle participated in the annual
LexisNexis Hackathon
. The event is organized by the LexisNexis technology team and open to, "technical and non-technical, including and not limited to, software engineers/programmers, QA engineers, UI, UX, database, DevOps engineers, product owners and anyone else we left out!."
Dates: October 13 – 14, 2017
Format: There was a set of six problem statements that were released for teams to choose from based on their interests and strengths.
• Teams had the opportunity to engage in a pre-work kickoff once their problem statement was selected. LexisNexis provides a mentor who helped with questions about their products, their business model, and the event's logistical issues.
• The
main event
was held on 10/13 and 10/14: 2 days of ideas and pure coding fun.
Participants: 120+ students and LexisNexis employees organized in 30 teams (divided students and employees).
Participants from the College of Design:
Andres Tellez [PhD '17]
Xing Huang (PhD Candidate)
Catalina Salamanca [MID '17]
John Lopez (MID student)
Alden Rose (MID student)
Katherine McCracken (MID student)
What is a hackathon?
"A
hackathon
(also known as a hack day, hackfest, or codefest) is a design sprint-like event in which computer programmers and others involved in software development, including graphic designers, interface designers, project managers, and others, often including subject-matter-experts, collaborate intensively on software projects.
The goal of a hackathon is to create usable software. Hackathons tend to have a specific focus, which can include the programming language used, the operating system, an application, an API, or the subject and the demographic group of the programmers. In other cases, there is no restriction on the type of software being created."
What was the purpose of LexisNexis Hackathon 2017?
In teams, work around 5 problem statements to improve or extend the functionality of existing LexisNexis software products. Each team selected one problem statement and worked on it during the hackathon.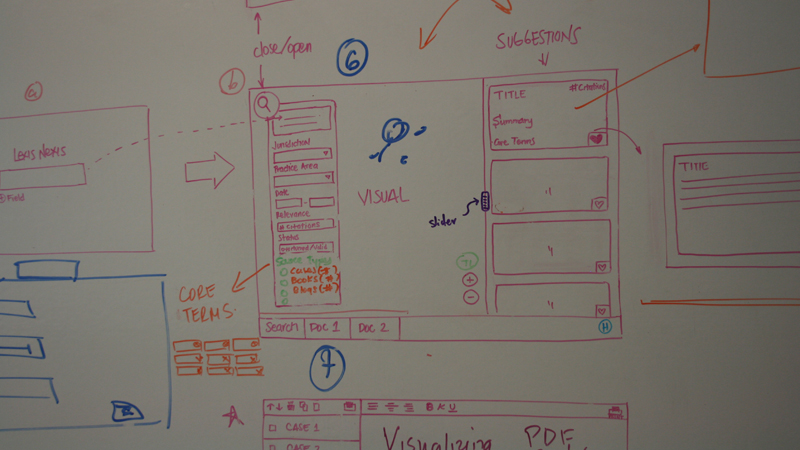 What did the team from College of Design do at the LexisNexis Hackathon 2017?
Our College of Design team worked on problem statement #3: "Visualizing the Case Network." This problem consisted in developing "a network map showing the citation linkages between [legal] cases." Our team developed the visual system to represent the network map of cases and the graphical user interface (GUI) to search, filter, and navigate this map.
What was the outcome of the competition?
Our team received a special mention for our user-centered approach to the problem and for an excellent execution in the final video-presentation (it was the only team to receive a special mention). We also received the 4th highest votes in the People's Choice Award. It's important to also note that our team was the only one composed of designers rather than engineers or computer scientists.