Building Community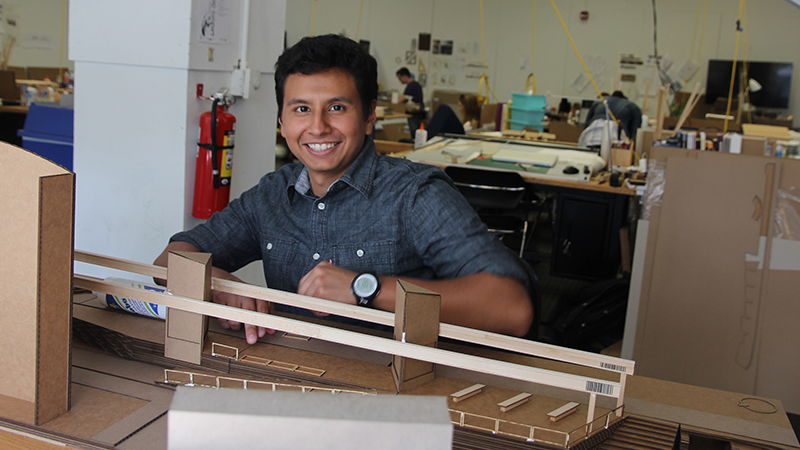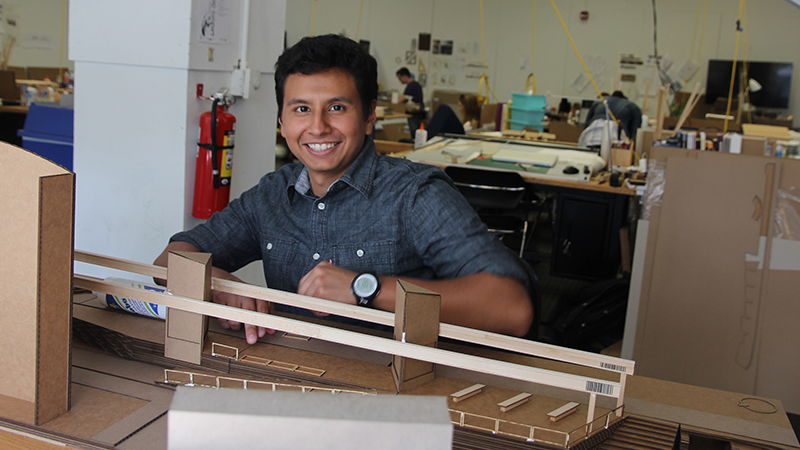 Carlos Torres-Cervantes was always passionate about architecture, but when he first came to the College of Design, he wasn't sure how to pursue it practically. He chose to study industrial design instead. "To be honest, when I first started in design [at the College], I didn't fully understand what design was. I knew that I loved being creative, but I wanted to try and turn that kind of synthesis into problem-solving," he says. He received his bachelor of industrial design in 2012 and began working in the community.
Torres-Cervantes embarked on a career in graphic design at a local research company, Innovation Research & Training (IRT), whose business services focus on enhancing the mental and physical health and quality of life of children and their families, the community, and organizations. "What I really like was that they are supporting the local Durham community and many of the projects have something to do with education. So, whether it was teaching mindfulness in school, helping them [citizens] understand what happens when you go to a doctor, or a program to help children integrate better into society—it was all via graphic design or online interactive programs that we created," says Torres-Cervantes.
The experience was influential. It enhanced Torres-Cervantes' passion to make a difference in the community, highlight the importance of family, and also to explore his original passion for architecture. "I realized it was an opportunity; if I wanted to go back and get my master's degree, it was now." So he returned to NC State to pursue a master's degree in architecture (M.Arch).
"This time, I felt more confident in myself and had more experience," he says. "I understood what design was; I think everyone can be creative, but there is a whole other aspect to it. It comes with working with a client and manufacturers, and a whole other team. There are so many other systems to interact with. This understanding really helped me cement what I wanted to do in that kind of environment."
Over the summer, Torres-Cervantes was able to intern at Duda | Paine Architects, a renowned Durham-based firm that is responsible for designing the award-winning Talley Student Union. Turan Duda, FAIA, Founding Principal, is also an alumnus and valued member of the College community.
The internship came about because of lots of preparation on Torres-Cervantes' part. He reached out to Kathleen Monroe Fenner, director of career and academic advising, who assisted him on improving his resume and interviewing techniques. "She [Fenner] did a mock interview with me, and this was very helpful in facilitating a better understanding of how to have a good interview," he states. Then Torres-Cervantes attended the Career Expo and was invited to interview with four different firms, among them Duda | Paine. His earlier efforts paid off, and he was offered the summer position.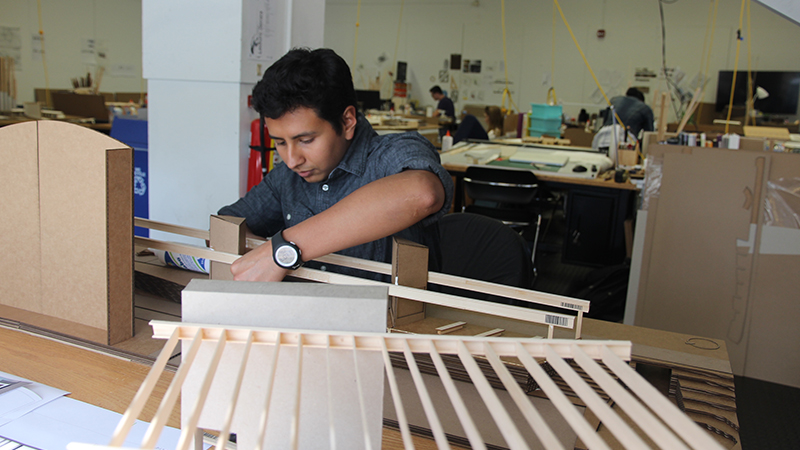 The internship was a great learning opportunity for Torres-Cervantes. It gave him exposure to the workings of an interdisciplinary team, and he learned to work under deadlines and saw projects get accomplished.
"The internship was amazing," says Torres-Cervantes. He was pleasantly surprised that much of the work was similar to that performed in a studio: modeling, diagrams, preparing for presentations, creating models in 3-D and 2-D using Revit, AutoCAD, and Rhino. But the experience was invaluable, and he adds, "working in a team with highly skilled architects who all taught me along the way—how to work in an office, work with the client, work with the structural engineers that we communicate with, and the renderers and landscape architects and interior designers—there is a whole new family of systems I wasn't aware of. To see it all orchestrated was impressive and efficient."
"I wasn't afraid to ask questions," he continues. "There are deadlines, and we worked together really hard to meet these deadlines, do presentations, and then eventually, pass along all this information to the head architects to meet with the clients. It was very fast-paced, and I was continually learning. Even though there was a lot of work, I felt like I was part of the team."
His industrial design degree and Materials Lab experience and knowledge of the tools came into play in the shop work. "It was helpful that I had experience in this. They have a shop in their basement that has a laser cutter, and I was already prepared to use these tools."
The work required using the shop to do quick ideation and modeling with foam. "Just learning how to ideate different designs through modeling—instead of just 2-D drawings or computer renderings—both the 2-D and 3-D modeling are valuable," says Torres-Cervantes. "Having the model in front of you, being able to hold it and pick it up, really helps everyone on the team to understand the design better."
As an industrial designer, the application of 2-D is important and the tools of the trade are also different. He explains, "ID helped me think in a 3-D manner; before, I was more of a 2-D thinker with Photoshop and Illustrator. Learning how to 3-D model and to make models gave me a better understanding of how an object gets built. It is easy to draw a shape, but to have it stand up and resist forces is something else. This skillset carried over and was evident in my original interview."
Torres-Cervantes wrapped up his internship and is back at the College with a better understanding of what it takes to be an architect, the work and collaboration that is involved, and the value of design thinking and ideation throughout the process. The exposure gained at Duda | Paine solidified his aspiration of becoming an architect, and he's seen the benefits and opportunities it offers to make a difference and impact others.
"There is something of value in working on large projects for a multi-million dollar corporation, but with a small project—you can see and say that the architecture actually helps people, and I hope to make that kind of impact."