The World of VR as Their Oyster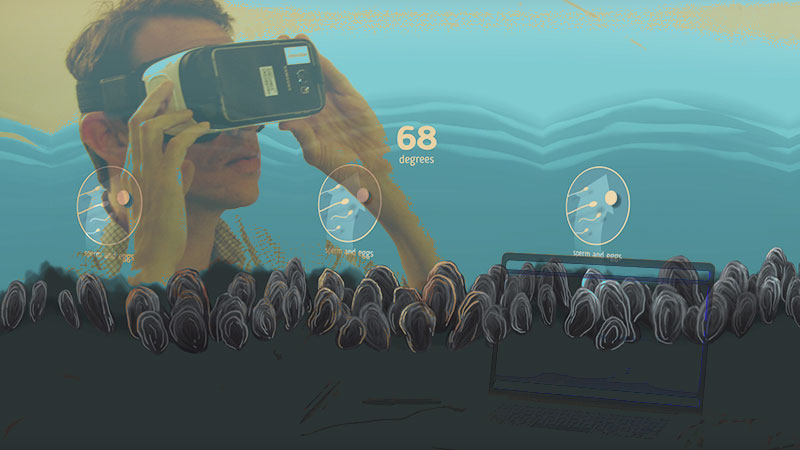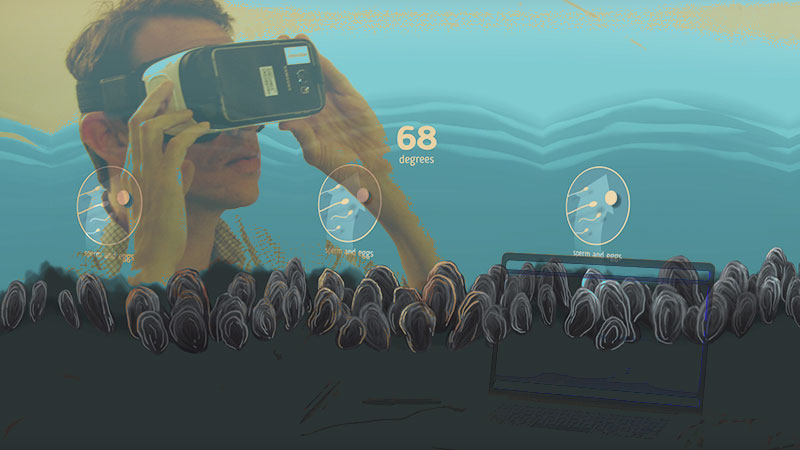 In 20 minutes, anyone can learn all about one of North Carolina's keystone species with Oysters: A Virtual Reality (VR) Experience, an app designed last fall by students in Associate Professor of Art + Design Pat FitzGerald's multimedia course. When viewed in a VR headset, the app immerses the viewer in 360-degree scenes filmed at the marshes of Stumpy Point, during the 36th Annual North Carolina Oyster Festival on Ocean Isle Beach, and in downtown Raleigh on Fayetteville Street, where an oyster store once stood. The app blends facts with animations and peaceful lapping waves over an oyster bed, for what FitzGerald calls, "a fun, cultural edutainment: it's lighthearted, not pedagogical." Most impressive of all, the app is one of the pioneering VR efforts undertaken by College of Design students, and it was developed by a team with little to no prior experience in VR.
"We wanted to venture into VR in a low-tech way, by getting VR into the hands of non-technical folks," says FitzGerald. Together with Lee Cherry, a technology and research associate, they devised the idea of focusing on VR in the course. They were advised by alumnus Mike Cuales, the Associate Director for Creative & Multimedia Instructional Technology Support and Development. Cuales has led groups at State for faculty and students interested in VR and is familiar with current software and cameras. He led the instructors to Wonda VR, authoring software that offered a storyboard-based approach to the interactions. The program especially appealed to them because it offered "space to take creative risks using new technologies and platforms to express storytelling ideas or narrative ideas in this new medium," says Cherry.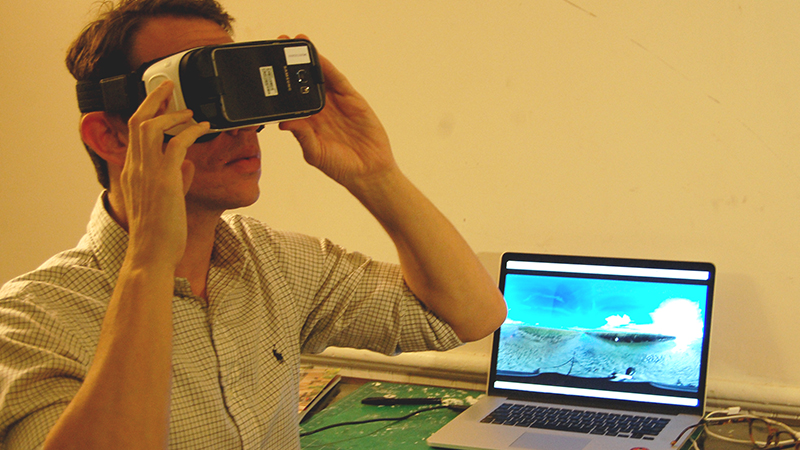 "The promise of VR has been there for a long time," FitzGerald adds. Improvements to resolution, the portability of VR tools, and processing power have made it both more accessible and effective. And, VR could be groundbreaking in terms of how people relate to the topics covered. "VR is called the 'empathy engine.' It creates a type of understanding that is potentially more emotional or immersive than, let's say, books or even film."
While FitzGerald admits that there hasn't yet been a "killer app" to propel VR into everyone's life, its newness lends itself to experimentation and openness. "That's our job: to try to do experimental things; it doesn't have to be commercially viable," he says. And it instills in his students a "creative bravery" that allows them to take risks they might not otherwise feel comfortable with.
ADN 491 brought together a multidisciplinary core of students. Last fall, it paired six undergraduates and graduates from a range of disciplines, including a computer science minor, a landscape architecture student, and an interactive animation designer. Each student was given a section to research and build, in order to promote teamwork and give responsibility equally to the entire class.
When considering the focus of the class, FitzGerald and Cherry knew they'd like to submit their project to the NCSU libraries' Multimedia Research Project. This year's topic is: "The Sustainability Balancing Act: Society, Economy, and Environment." While looking through back issues of Walter Magazine, it just clicked: The oyster is a North Carolina staple, a creature that has seen population loss and a resurgence, and upon which many technological efforts have been focused.
Interviews with Professor of Marine Science Dr. David Eggleston provided much of the audio dialogue for the app. Visits to the state archives revealed turn-of-the-century photos, including the view of the Italian oyster store on Fayetteville Mall, and turned up interesting and weird facts—did you know people once ate oyster-flavored ice cream? One student created animations of the oyster's lifecycle to accompany narration. Maury Beckmann, a graduate student in landscape architecture, filmed along sounds and waterways on the coast for many of the stunning 360 visuals in the app. After collecting footage, Beckmann used conversion software to stitch it together and then view and use it in a three-dimensional form.
Beckmann, whose background is in hand-drawn horticulture, believes the opportunities VR offers to those in his field are paramount. "For landscape architecture, one of the most important parts of building good designs is to collect good information, especially on-site. [The Ricoh Theta 360-degree camera] allows me to shoot footage and go back and maybe see things I wouldn't see if I sketched—see how people are using the site, hear the wind blowing, see the wind blowing—all different experiential qualities."
Beckmann didn't expect to work with VR at State, but now he says he is "absolutely" pursuing more opportunities with its applications. "One of my big goals for grad school was to become proficient with computer technology—I never dreamed I'd be doing this stuff."
The students presented the app for the first time to the public at the CAM Raleigh (Contemporary Art Museum). FitzGerald purposefully waited until the project was well underway to announce to the students that it would need to function in a public forum. "We have a design term we use, which is called the 'uglies,'" he explains. "We say, 'you're going to make an ugly; it's not going to have aesthetic expectations; you'll do it again; it will improve.'"
"There was no right way," says Beckmann. "We could go through these new technologies, these new programs and cameras, and carve our own little path out. We made ugly pieces, and by the end they aggregated into something that made sense."
To check out Oysters: A Virtual Reality Experience, visit virtualoyster.org.
---
 Julie Steinbacher [MFA '16] is a transplant from Parkton, Maryland. She writes science fiction, and her story "Chimeras" was a Notable Story in this year's Best American Science Fiction and Fantasy. She lives and works in Raleigh, NC, as a freelance writer and editor. To read her fiction, visit http://julie-steinbacher.com.