Looking Fine, Wolfline
They're a staple around campus and nearby neighborhoods. Red and white Wolfline buses are a travel lifeline for many in the NC State community, whether they use them daily to get to class or here and there to attend university events.
Recently, the Wolfline buses received a new look with the help of Ryan Williams, a senior in Graphic Design, and Hunter Williams (no relation), a senior in Landscape Design with a minor in Landscape Architecture. The Wolfline buses are commissioned for a 10-year contract, and in 2017 the full fleet was up for renewal.
Professor and Department Head of Graphic Design and Industrial Design Tsai Lu Liu, and Associate Professor of Graphic Design Kermit Bailey put Ryan in touch with Mike Kennon, the assistant director of planning and operations. Ryan attended several meetings to discuss the project requirements and parameters.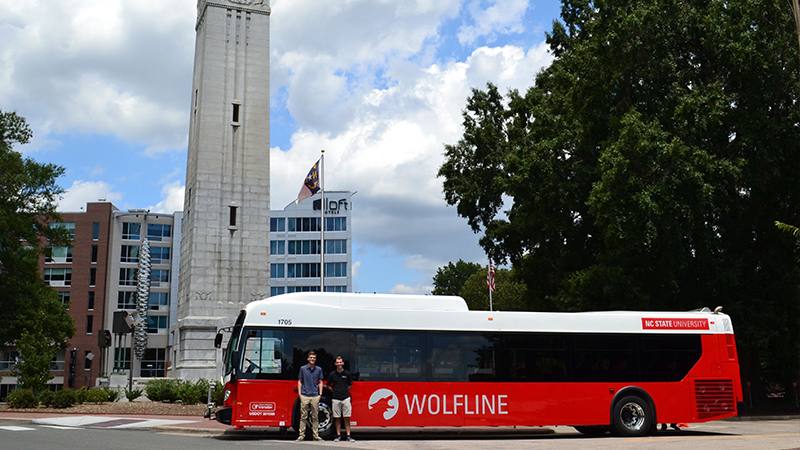 "The most important part of the project was the need to come up with a design that looked nice but avoided using a shrink wrap or other paint jobs that would be difficult or expensive to replace if the bus needed to be worked on (due to an accident or maintenance, etc.)," shares Ryan. Due to the criteria, the design needed to be simple and fit University branding. "The Wolfline logo is already fairly established, since it's already printed on the bus stop signs and other materials around campus, so we gave it some basic updates—smoothing and modernizing—so that it looked better but still similar to the old one," says Ryan.
He brought his roommate, Hunter, into the project to assist with some of the illustration work and ideation. "He created the slightly modified Wolfline circle logo," states Ryan.
Last week, the full fleet of Wolfline buses debuted their fresh new look. These buses will be providing transport to the campus community until 2027.
"It was a great experience to learn about working with multiple departments across campus and working on a project that had real-work stipulations. It will be weird to see our designs driving around campus for the next 10 years. Every time I see one go by, I just think about staring at Illustrator for hours creating the design, and it looks like my computer screen is driving down the street. It's a surreal thing," Ryan concludes.