Finding Her Stitch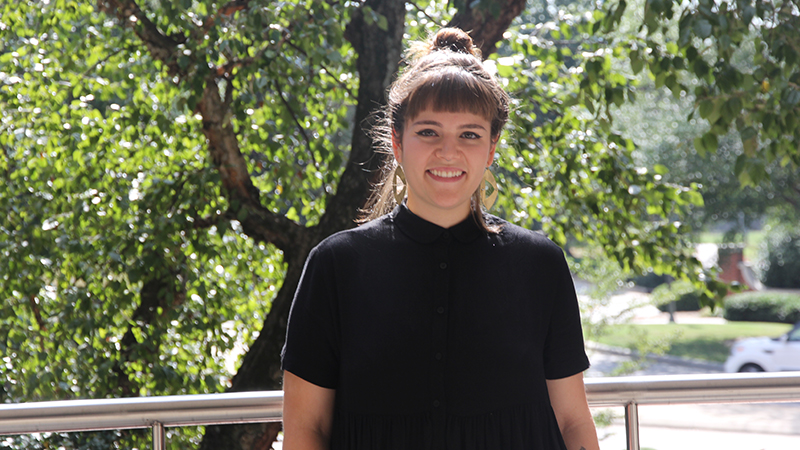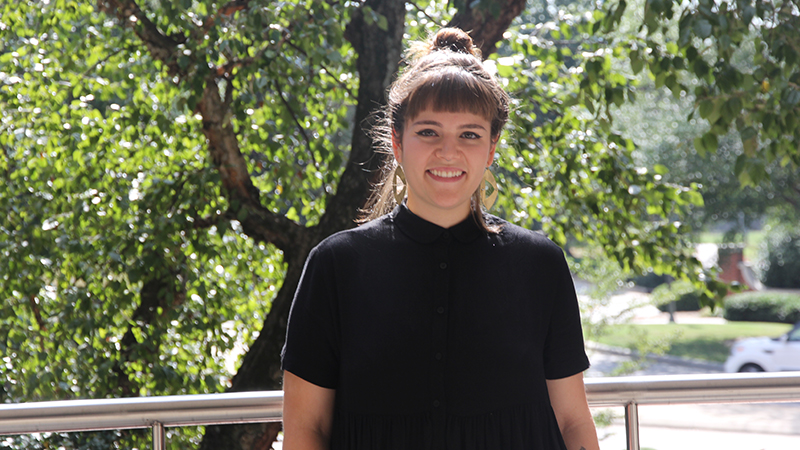 Last year, Carly Owens, a senior in Art + Design, participated in study abroad with the inaugural United Kingdom 2016 summer program: Stitching a Cultural Identity. The program was developed by Assistant Professor of Art + Design Katherine (Kat) Diuguid and based on more than a decade of Diuguid's personal travels and experiences. Her research focus and passion for stitching includes: stitch as decoration (as seen in embroidery), stitch as structure (as seen in hand dressmaking and tailoring), and the history and development of stitch in the US, UK, and France. The program partnered with the Royal School of Needlework and included a series of field trips that exposed participants to the history of stitching, the richness of museum and private couture collections, and training in various embroidery techniques.
This was Owens' first exposure to embroidery, and it was "amazing and extremely influential for me," she emphasizes. "I love the physical act of stitching. I am naturally a slow worker, and embroidery, is a technique that is meant to be done slowly and to take your time. I love the meticulousness of it and how time-consuming it can be. I have always been attracted to detail work, and so embroidery is like ultimate detail work."
Owens spent the last year continuing to hone her skills in embroidery and beading. As a designer in the iconic Art 2 Wear (A2W) student-led fashion show, her collection, "Haunt," utilized her new-found talent with an extraordinary amount of hand-beaded work and embroidery.
As luck would have it, Owens received the Noble-McDuffie Travel Scholarship, which has allowed her to further pursue her new passion. The scholarship provided Owens the opportunity to travel to Chicago in June to attend an intensive seminar to learn tambour beading with renowned Hand & Lock, the pre-eminent embroidery studio specializing in embroidery, tambour beading, silk shading, monogramming, and bridal embellishments. Tambour beading is considered "high-fashion" and is a very difficult and time-consuming technique in which beads or sequins are attached to fabric. Unlike traditional embroidery, this is accomplished with a special hook worked through fabric stretched very tightly over a loom or drum.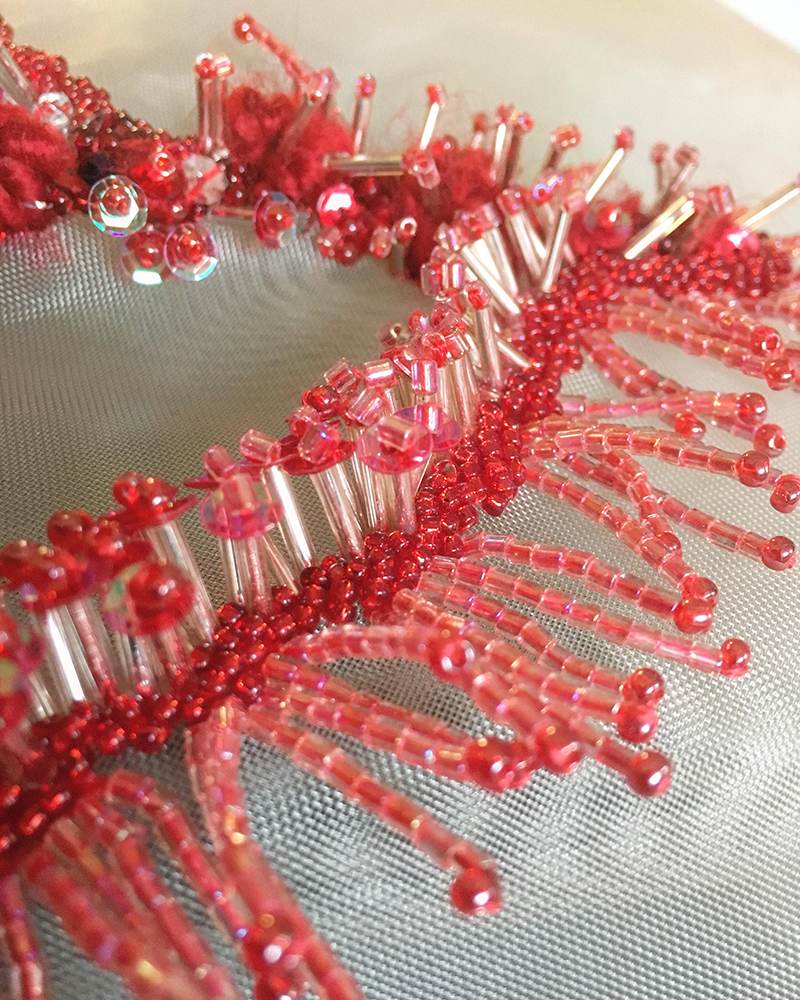 "I didn't know how to do tambour beading or even where to start with it," Owens shares. "Having the skill to do this is great, and it was amazing to learn. This is one of the hardest embroidery techniques, and if I tried to teach myself, it wouldn't have worked out as well. Receiving the scholarship was super beneficial, and I wish there were more scholarships like this."
Over the summer she interned as a couture embroidery intern at Marchesa, a New York City design studio that specializes in elegant eveningwear and one-of-a-kind couture designs. Diuguid's connections directed Owens toward the internship,  and the experience provided beneficial insights into how industry embroidery works.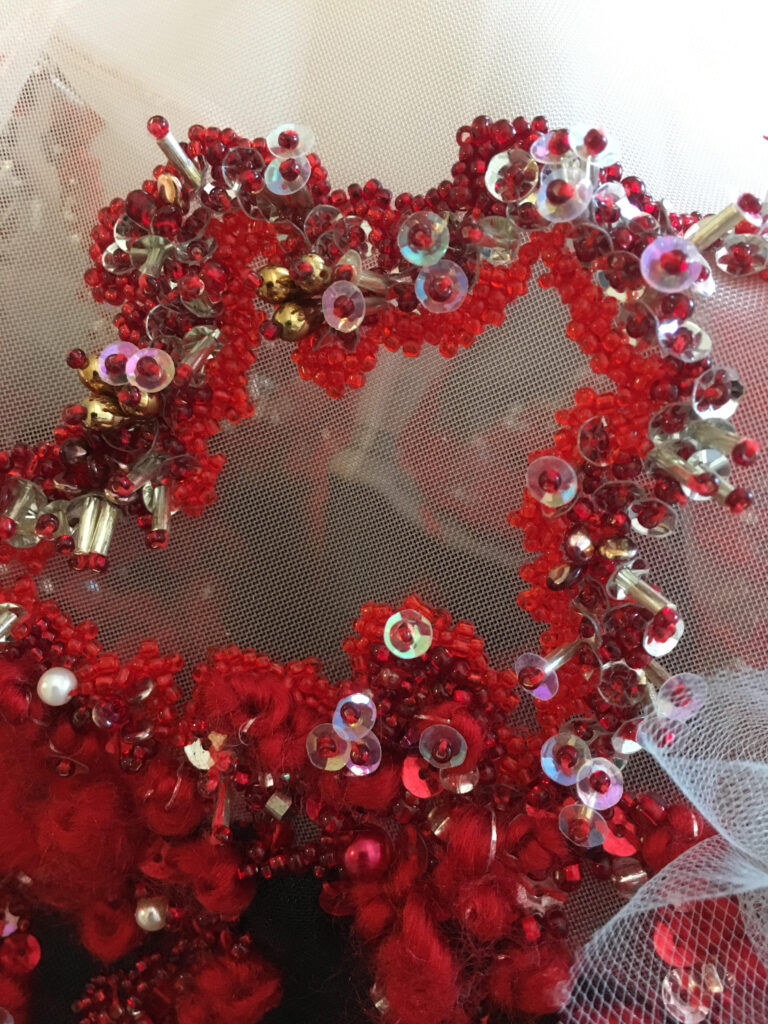 "I learned a lot and I worked a lot," Owens says. "My job was to design compositions and the layouts of the embroidery to go on the garments for the Spring/Summer 2018 collection. It will be cool to see the runway show and say, 'I designed the embroidery on that dress.'"
Owens' hard work is paying off in other ways—she is also a finalist in the prestigious Hand & Lock Prize for Embroidery. This competition is a global event that showcases the most exquisite craftsmanship, intricate details, and creativity of embroidery and embellishment in couture fashion.
Diuguid encouraged Owens to submit her entry to the competition. "I was taking Kat's graduate-level studio last semester, and she suggested I enter. I hadn't even thought about being a finalist. It was so exciting to receive the notice from Hand & Lock."
In about three weeks, Owens will submit her final piece to the competition. Her submission is her final garment from A2W with a plethora of supplemental embellishment. "The garment was already constructed with the bodice embroidered. I have been working on the bottom of the skirt with some additional detail work and have also added a lot more embroidery and handwork to the top [of the garment]."
As a finalist, Owens is paired with a mentor, Jenny Holmes, who provides feedback and suggestions on ways to improve the submission for the competition. Holmes, who is also a designer, also shares insights into what Hand & Lock are looking for when judging entries.
In early November, Owens will head to London for the awards ceremony of the competition, which includes live judging. "It's more of a meet-and-greet event," she says. Owens will get to meet her mentor, members of the Hand & Lock judging committee, industry experts, and other finalists. The winner will be announced at the event, but no matter the outcome, Owens' accomplishments point to great success.