Pieces, Parts, and Passion = Success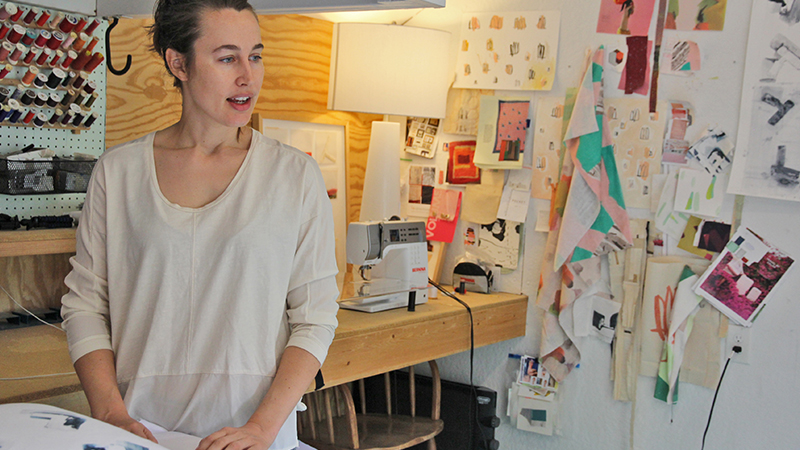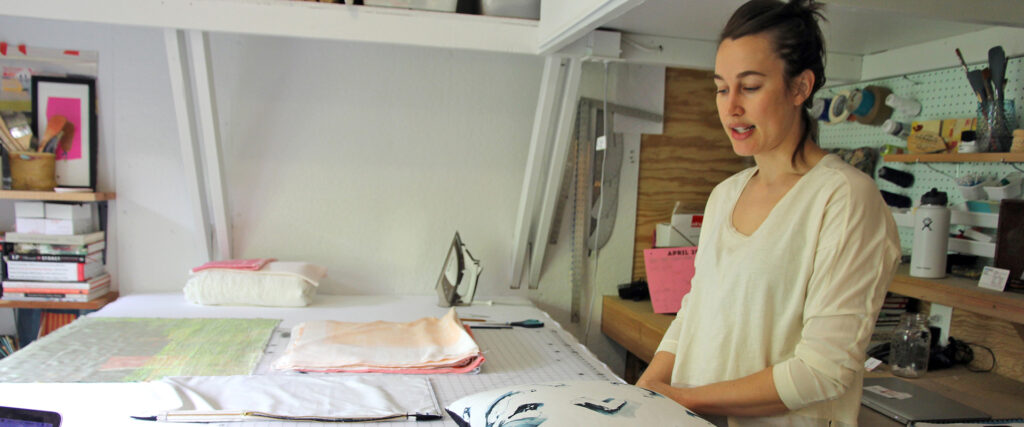 She is a self-described, "surface and textile designer who puts small parts together to create a whole," and who emphatically wants to make beautiful things. "You should be intentional about everything in your life, and if you are going to surround yourself with things, they should be beautiful, creative, and thought-provoking," states Brooke Heuts [BAD 04]. "You see a creative process, and it should stir something within you so that you react in some way."
In January, Heuts launched Grey Goods Studio, which is a passion, a business, and an integral part of her life. Since childhood, she has been interested in textiles, influenced by her grandmother, who was a seamstress. Although she has little memory of her grandmother, she fondly remembers the sewing trailer on their tobacco farm in Bunn, NC where she would play."[My grandmother] made my mother's clothes and all these quilts. I have always been attracted to textiles, the metaphors they hold and the idea of the history of the cloth. It has always informed my work," Heuts proclaims.
She came to NC State with the knowledge of the great design program, but she enrolled in communications before she applied to the College of Design. "I wanted something creative, and thought I would apply for Graphic Design," she says. However, while putting together her portfolio, at the last minute she decided to put Art + Design down as her first choice. This was a pivotal decision.
Heuts recalls taking a course at the NC State Crafts Center with Peg Gignoux [MID 04'], who was teaching an improvisational quilt-making studio. "The idea was to just do, without thought or plan," Heuts continues. "She taught us some processes, and I said 'Yes, this is what I have to do.'"
Heuts has remained connected with Gignoux, and, along with two other College alumni, plan to participate in an art retreat this summer at Gignoux's family-owned chateau in Anjou, France.
After receiving her bachelor in Art + Design, Heuts went on to receive an MFA from Arizona State University. She has continually experimented with textile and variable processes to explore surface design. "I love surface design; it's always dying, printing, stitching, and building the materials from the ground up," she states.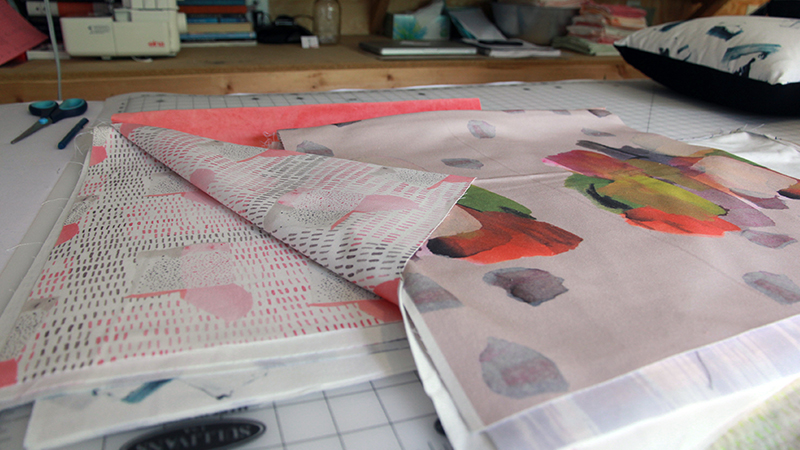 Her work is unique, vibrant, organic, and textural. It is more than a labor of love—it is an extension of who she is. "I started with textiles that are digitally printed, which come from different alternative painting and collage techniques. The common thread that runs through all of my art, whether fine art or textile design, is putting small pieces into a whole—putting together different processes and parts and layering them together."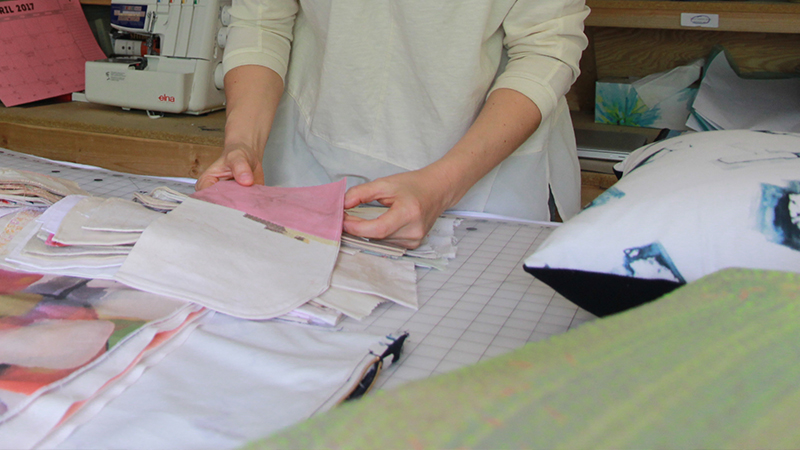 She shares some of her wares and fabric samples as she describes the importance of the process and results. "This is an alternative process of deconstructive screen printing, using dye to build up a screen. She explains that "every time you wipe it or squeegee it, it deteriorates, and you never know what you will get."
She takes areas of these prints into the computer, layers them, and then turns them into repeat patterns. This has been the first phase of her textiles, and she plans on developing more.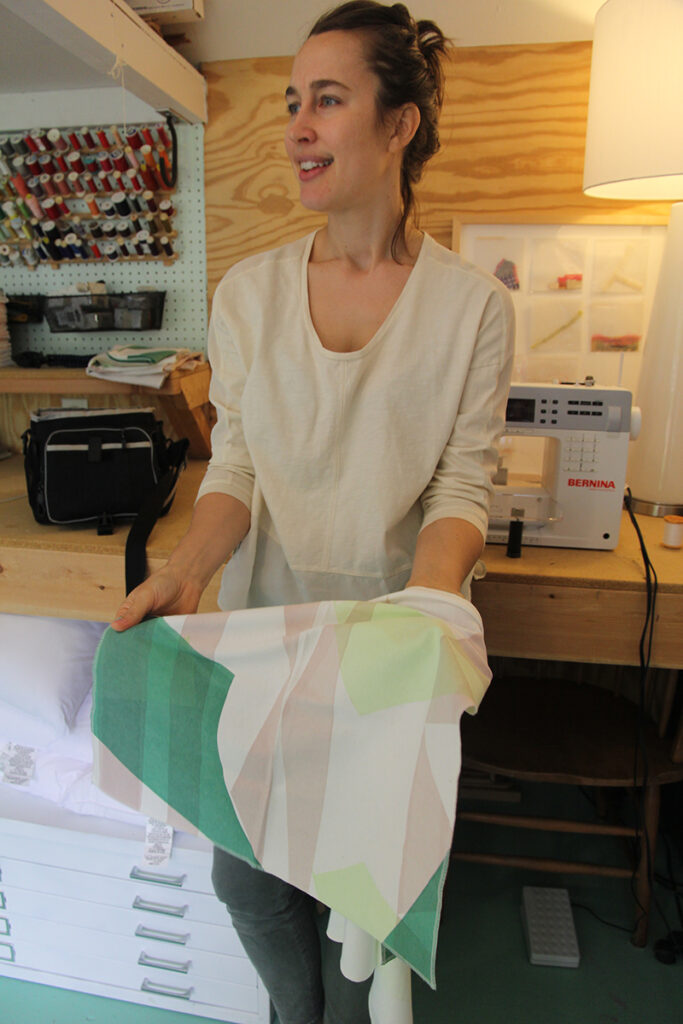 "The beautiful thing about digital printing is that you can get this waterfall, painterly effect. This is a digital reproduction, and I can make 10 yards of this, but you still see the hand in the process. It doesn't look like it is computer generated."
Some of her textiles are based on collage, as well as paper, ink, gauche, and different processes to make interesting collages that result into intricate, beautiful patterns.
"I do a couple of different things," Heuts shares. "One is these pillows that are layered—It's hand dyed silk cotton. This has some of my printed textiles, too, which I've hand screened and digitally printed. And then I layer silk on top and then stitch and stitch forever." These pillows are one-of-a-kind, and the amount of time, energy, and love that goes into each one is enormous. The hand stitching is fluid but systematic. "When I am stitching, I am always responding to the last mark."
"I love making these—it combines all the processes I love and the saving of materials. For so long, I have been making these materials. And putting them together to make these collages, I just stitch on top; every night I stitch. It's combining all the processes that I love and savoring the materials."
In addition to the detail of the process that is important and intuitive, she is intentional about not wasting a thing. Whether it's the scraps of materials or the amount of fabric or supplies she purchases. "It's important to me — I don't want to add more things, I try to minimize my footprint wherever I can." She lives in a modest 684 sq. ft. home with her partner, Braedyn Mallard, where they grow as much of their food as possible, while carefully selecting materials that are sustainable, cruelty-free, and eco-friendly.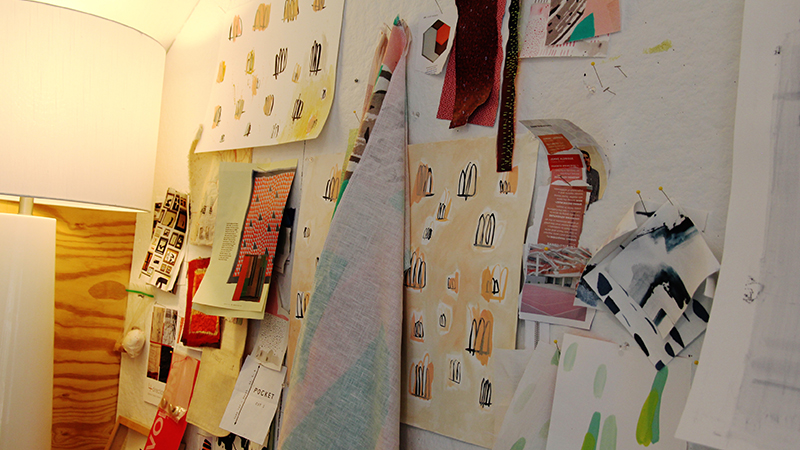 Grey Goods Studio may be in its infancy as a business, but Heuts has plans to grow it. She is enjoying the process of being an entrepreneur. Future goals are to expand the line of products, promote the brand, and get involved in the community. "A big place of interest is collaborating with other designers. I would like to be in the fabric swatch books of as many designers as possible—those kinds of connections are the ones I am going to focus on this summer."
In June, Heuts and Grey Goods Studio will be the featured artist at Port of Raleigh (416 S. McDowell St., Raleigh, NC 27601) and she will be at the Outdoor Market Series at Rambling Supply Company (123 E. Martin St., Raleigh NC 27601) on July 15th. You can visit her site at: https://www.greygoodsstudio.com/